Write For Us Program is a wonderful opportunity for outside contributors to publish their guest posts on Fincyte. The Fincyte Team welcomes well-researched guest posts / articles from new as well as experienced writers.
If you've new ideas and topics and want to share your experience with our audience, we welcome you. Here at Fincyte, we accept guest posts in the following niches:
Furthermore, you can also submit your article, if it falls in the following domains:
Productivity
Entrepreneurship
Success Startup Stories
NOTE: 
Please do not submit press releases and irrelevant topics. We will not approve and publish it. Furthermore, we are no longer accepting infographic these days. Please avoid contacting us for publishing your Graphic Contents. 
If you are interested in writing for fincyte.com, please carefully read the following procedure to submit your guest posts.
Important Notes For Write for Us Program
Before guest post submission, kindly follow our guest posting guidelines and fulfill our submission requirements which are mentioned below:
"Write for us" Guidelines
Make a punch line of your idea which grasp the heed of the audience and it should be very attractive and innovative. Then further on, highlight the mandatory facts of your findings.
Your next step is to link your findings with the evidence. Once you gather all of these facts and figures now your basic material is done. Now refine your topic according to your idea. Some basic guideline to write an article:
Keep your content simple
Never use too long terms and sentences, where short can work.
Break down your article into multiple headings for better understanding.
Use new innovative words and represent in a reasonable way that a reader can find it interesting.
How to Contact Editor for Guest Post Request/Pitch?
Share your topics ideas with admin at the rate of fincyte dot com. 
Important Note: Please do not write irrelevant stories. Keep your email simple and to the point. You must include relevant topic ideas (max. 5) for pitch. Generic/Copy Paste request emails will not be entertained. Moreover, you must include [GPR: Fincyte.com] in your email subject. Otherwise, you will not get any response.
If you do not get any response from our editor(s) within 3 weeks, probably your G.P request(s) has been declined.
Once your topic is approved, you'll need to submit your final draft for editorial review.
Submission Requirements For Contents (Final Draft)
Submit your article in Microsoft Word File. Don't add your images in the file. Attach them separately.
You must include your short biography 2-3 lines maximum. Further, you can add your personal website link (SEO optimized anchor text are not allowed) and social media profiles in your author bio.
Article must be original, unique and free of plagiarism. Contents generated through AI tools are also not acceptable.
Make sure, there are no grammatical and spelling mistakes in your final draft.
Length of article shall not less than 1000+ words.
Cite authentic & helpful links to make your content trustworthy. It will also helpful for our readers to cross verify your source information. Don't add spam links for the sole purpose of SEO & link building. We also discourage links that point toward home, sales and affiliate pages.
All outside links will contain Rel = "nofollow" as per Google Policies.
If you want to submit your article with relevant images, then you shall hold the rights.
Publishing process may take up to 3-4 weeks due to numbers of guest post requests. Your patience will be highly appreciated.
Once your article is published and you want to remove that content from our website for any reason(s), we may charge an editorial fee to take down your content.
PS: If you disagree with the above-mentioned submission requirement(s), your content will not be processed and published. Further, if you raise demands which are against and prohibited in our submission requirement(s) after publication of content, your content will be forfeited and your email will be blocked in our record.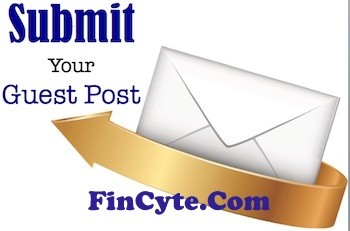 If you want to sponsor your content with us, feel free to visit our Advertise With Us page. Please visit the following pages to avoid violation of website rules and regulations.
We look forward to your contribution.
~ The Fincyte Team ~