People prefer chat apps to communicate because it's easy to use. As a marketer, chat apps can also be used for your SMS blasts especially if you're a startup.
Surely, you're all too familiar with chat apps and how it changed the way you communicate either for personal or business reasons. It has provided a new platform for people to exchange ideas and opinions or simply just chat an old friend.
Facebook, WhatsApp, Line, and WeChat are some of the most popular apps where users can communicate person-to-person or in groups (which used to be not allowed on SMS). Also, you don't worry about SMS messaging rates. As long as you're connected to the Internet, you can send as many messages and other types all you want.
In general, chat apps allow you to have a seamless chat experience. There's easy access from one chat box to another, along with better sharing of media like images, videos, and even links.
Due to the presence and rise of chat apps, it has changed SMS marketing in more ways than one. From the get-go, SMS marketing already has a 98% open rate—an outstanding number compared to email (20%). Moreover, it's expected that by 2018, chat apps will have 3.6 billion users.
Here are some changes that happened to SMS marketing since the entry of chat apps:
4 Ways Chat Apps Are Changing SMS Marketing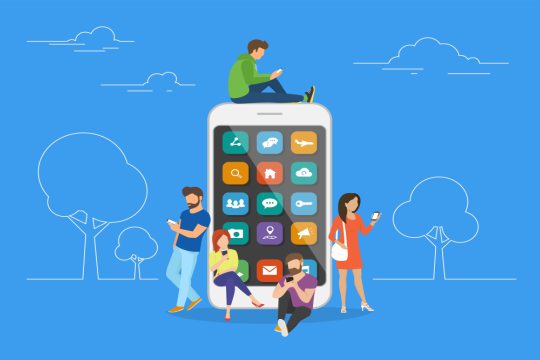 1. Chatbots
 Start a conversation with any brand's social media page, and a chatbot will most likely entertain you. These chatbots are the newest innovation in the messaging aspect.
Because businesses can't attend to their customer's needs 24/7, a chatbot is set up to handle most of your business conversations such as online orders.
Naturally, these bots get smarter as your customers continue to have conversations with them. Also, you and your developers should always tweak the code for these bots to be accurate in dealing with your customers.
In line with this, chatbots also create a fun and engaging atmosphere through live chats. Content such as quizzes, games, surveys, and even tips and tricks are the reason businesses who use this experience 3-4 times higher open rates for push notifications.
2. Customer service
In the business industry, it's one of the basics that startups use SMS for customer service. Since this is one of the most efficient platforms without spending too much, startups have seen the reach and engagement of SMS to be beneficial.
Chat apps changed SMS marketing because it has allowed brands to have private and somehow, personal conversations with their customers. Also, doing customer service through chat apps feels more real time.
Chat apps have introduced the terms "delivered" and "seen" that assure you of the message's status. Other chat apps also allow you to see if the person you're talking to is currently typing.
Customers really appreciate it when you value their time. The last thing they want to happen is to be passed from one person to another only for their problem not to have a solution. By utilizing chat apps for customer service, you provide an all-in-one channel for them to air out their concerns.
3. Referrals
It allows you to target and retarget your customers better. Since some of these chat apps are connected to a social networking site (e.g., Facebook Messenger, WhatsApp, Twitter DM), you can also use the data available in these channels for your business' digital marketing strategies.
Your SMS blast can include a link that rewards your customer for their referral. To show your business' appreciation, you can sneak in discounts and promos to keep your customers interested.
In line with this, chat apps make sharing a lot of easier. Most of these apps provide a sharing button which allows you to share a message right there and then. There's no need to switch apps and close tabs.
4. Curated content
On your daily social media browsing, you've experienced what they call an information overload. There are a lot of information out there on the Internet, and sometimes, it can be challenging to find what you really want to read about.
Well, chat apps are there again to help. By simply messaging a brand that provides content such as news sites and magazines, content can be delivered to you directly. You can simply send a keyword, and it'll already give you a list of articles on that topic.
As a reader, it'll make you feel special because a brand just attended to your request. Big names like Buzzfeed and CNN use chat apps as a strategy for their SMS marketing.
As you use this feature, the brand will get to know you better as a customer and will soon send you a well-curated content recommendation.
Chat apps remove the restrictions on social media. While some social networking sites have character and media size limits, chat apps give you the freedom to share anything you want. This goes the same for SMS marketing. Metrics are not based on likes or comments, rather the quality of the conversation. At the end of the day, marketing starts with the strike of that first ever conversation.
It's safe to say that SMS marketing is now more dynamic than ever. There are new ways to reach and interact with your audience from time to time. You can still launch your promotional campaigns and SMS blasts with higher open and engagement rates.
It's up to you how to learn, adjust, and maximize these platforms to suit your business' needs.
Oscar Cruz
Oscar is known to be a man of few words. But when it comes to SMS Marketing, he'll talk about it all day and night. With his undying passion and dedication, he aims to bring Semaphore to bigger industries and larger platforms.