Dogecoin: the people's currency, the Underdoge, and what started as a cryptocurrency joke. Although the currency had a unique beginning, the currency is now well on its way to taking over the world of digital currency.
Its valuation casually increased to over 50 times in value. If you're thinking about investing in DOGE, the most recent dip might just be that you need to ride the coin to the moon.
To understand the hype behind the coin, here is a brief overview.
The History of Dogecoin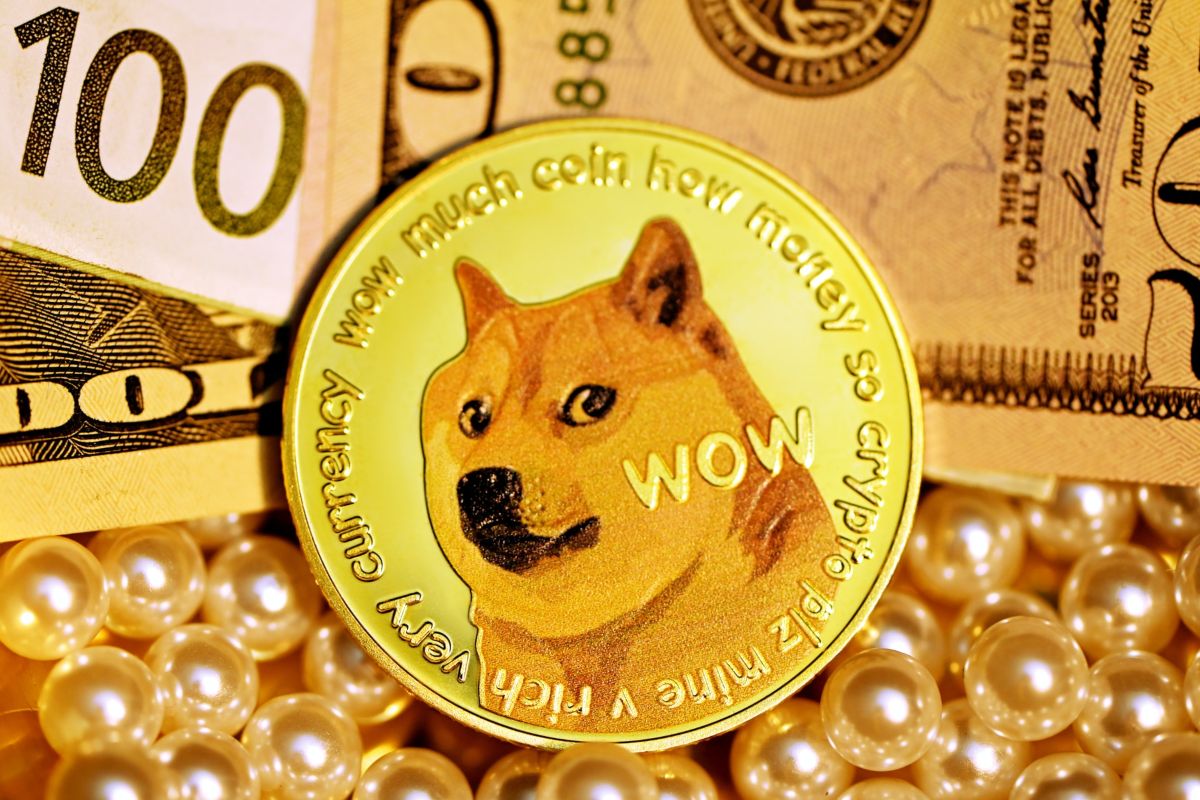 Dogecoin was introduced to the world as a public awareness initiative back in 2013. The coin got its name from its mascot, the Shiba Inu, the same dog as the "Doge" Internet meme.
The coin quickly gained momentum and press, now becoming the 6th largest cryptocurrency project according to market cap. While the original plan was to limit the amount of DOGE in circulation to 100 billion coins, decision-makers determined the supply would be limitless.
Cryptocurrency enthusiasts can trade Dogecoin through an exchange using fiat currency or an alternate digital currency to exchange for the coin. Alternatively, investors can use an online broker to make bets on the future prices of the asset.
How Dogecoin works
Dogecoin uses the same Proof of Work (PoW) consensus algorithm as bitcoin. As a recap of this algorithm, the network must rely on currency miners to validate every transaction. For bitcoin, this has proven to require a significant amount of energy.
Dogecoin uses the script algorithm to address this, which allows for lower hash rates and less energy. It also makes Dogecoin easier and less resource-intensive to mine.
How can I buy Dogecoin?
The first step is to open an account on a crypto exchange that has DOGE. There are currently a few ways to purchase DOGE with fiat money like the US dollar. In most cases, you will need to buy bitcoin or another cryptocurrency that has a trading pair with Dogecoin.
Pairings will typically be bitcoin/Dogecoin or Ethereum to bitcoin, although this may vary depending on the exchange used. Before joining an exchange, you will have the option to browse through available trade pairings.
Once you have found a platform, you can create your account. Many platforms are easy to use and will only require a username and password.
At most, you may be required to answer a few questions about yourself to verify your identity in alliance with the Know Your Customer (KYC) compliance protocols. The exchange will then review your information which may take a few hours or up to a day if there is congestion on their network.
Users can then add fiat currency to their account through Interac eTransfer, bank wire, or credit card once the account is set up. With this balance, they can seek out the best pairing to complete their purchase.
Before buying DOGE, take a look at the current valuation. Although the prices may vary, there will be "dips" in the market that make a more opportune time to buy. Nobody can time the market perfectly, it's true. But, methods of dollar-cost averaging can help to ensure you aren't paying top dollar.
Store Coins in a wallet
Once the exchange has fulfilled your order, you might consider options for cryptocurrency wallets. Although you may store your currency on the exchange in an online wallet, this is typically viewed as a riskier alternative and may put your assets at a larger risk of hacking.
If your exchange allows you to hold your private key, you can transfer your funds into what is known as a cold or offline wallet. Hardware wallets are not free but do offer maximum security.
Recommended Wallets
There are several wallets that you may choose from. Here is a shortlist to get you started.
1. Elliptical Titan
The Ellipal Titan allows users to store multiple currencies, including DOGE, Ethereum, and bitcoin. The wallet doesn't connect to the internet, so online hackers will be unable to steal your assets. Funds can be transferred to and from this wallet through the QR code in a couple of seconds.
2. Ledger
The Ledger Nano S and Nano X support Dogecoin and a host of other coins and are other good options for storing your assets.
Selling Dogecoin
After holding the coin (and watching it go up), you might decide it's time to take your profits. The exchange you purchased the currency from will likely allow you to reverse the trading pair you started with. That is, investors might need to exchange their Dogecoin back to bitcoin or Ethereum and, from there, cash out.
Alternatively, you may have the option to sell Dogecoin for a fiat currency. To do so, you will need to verify your identity and proof-of-residence documents if you haven't already. From there, you can fill out an order form and select "sell." You will want to consult your DOGE price charts again to ensure you are making the highest profits possible.
Also, be sure to note the cost of the cryptocurrency at the time of sale. In most cases, the action of selling Dogecoin will be taxable as a capital gain or loss and will require taxpayers to recognize them in their documents.
When should I sell Dogecoin?
Like any other digital asset, there are a few times that might be advantageous to sell your holdings. Among the most common include:
When you have achieved a gain that meets your investment strategy.
When you are looking for a more stable investment, such as when you begin saving for retirement.
When prices take a turn for the worst, and you want to minimize losses.
When your long-term portfolio strategy has changed, and Dogecoin is no longer advantageous to hold.
Say you plan to hold the coin for a while. A suggestion from the cautious investor is to wait for the asset to go up 100%. Even if it appears to continue on the upwards trajectory, sell half of your holdings to cover your initial position. Doing so will ensure any additional investments are all profit.
Read Also:
Author: Suvendu Mohapatra