Being a graphic designer, you cannot stick to one of the graphic design software for a longer time as it bores you out of the routine.
Search for free online graphic design templates to fill colors to your work. It will work correctly for you and help create real stunners to be involved in your online design portfolio. Here are some of the online tools that you can utilize:
Best Online Free Graphic Design Software
1# Design Wizard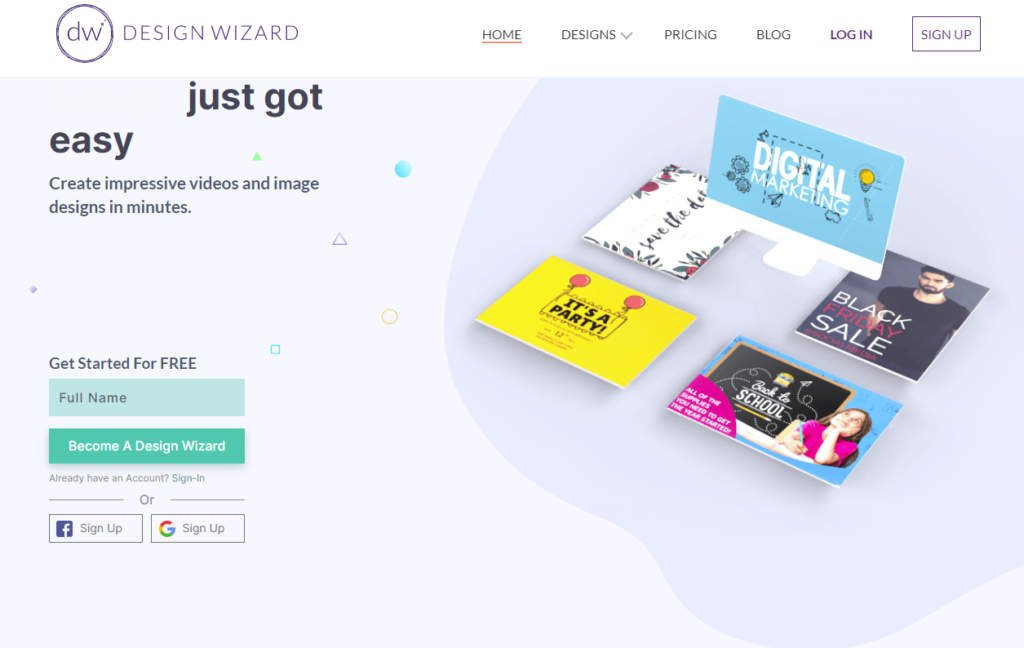 Design wizard is the tastiest graphic design software option when it comes to the variety in spicing up the life. It is one of the best free graphic design websites which is easily accessible by everyone.
Design Wizard provides several aesthetically pleasing templates for both print and social media with its deft attention to visual details. It also has over a million high-quality images such as vectors, icons, and transparent images.
The visual library curate by the experts updated regularly and is chock-full of so many videos, graphics, and illustration options. Everything is entirely ready for use as it is licensed. It has a range of packages, which starts from free to $16.95 monthly for the experts.
2# BeFunky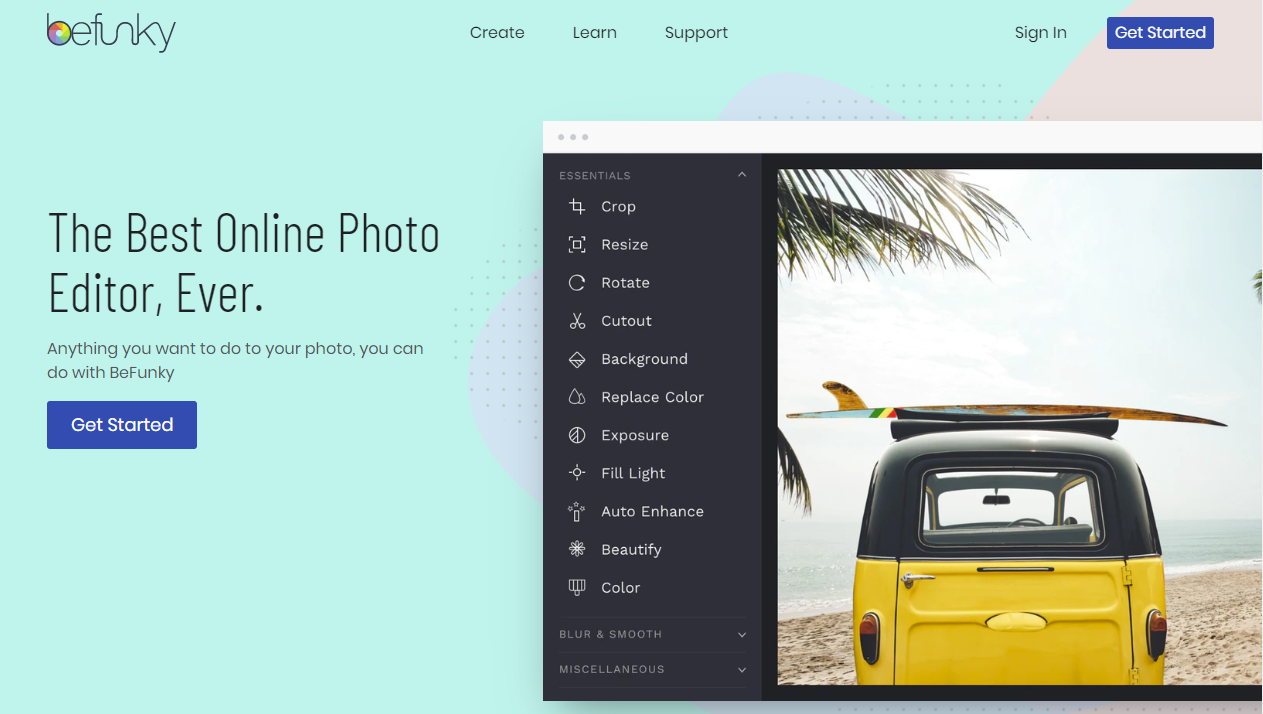 Anyone can make professional-grade and captivating visual content with this free version of graphic designing software.
The main offer of BeFunky comprises of three creative tools, which are simple and easy to use for the beginners but are dominant at the same time for tackling different projects.
It includes Collage make, designer, and photo editor. "Fun and functional" design software provided by BeFunky proves that one does not need any background in designing and producing astonishing results.
When it comes to working from home, there is a ton of creative flexibility using a beautifully pre-designed template or building up your model from scratch.
3# Canva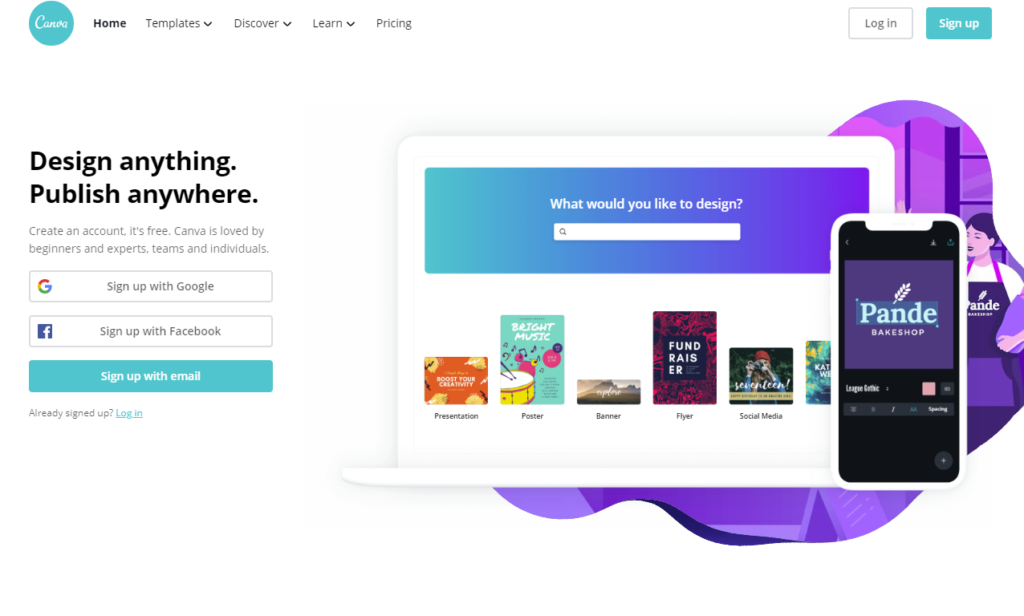 Only if making a beautiful visual canvas were as easy as drag and drop, Canva would have been the best online design tool.It makes it possible by prioritizing affordability, simplicity, and variety along with affordability.
You will be asked to indicate what you are using this canvas as soon as you visit their website. It may give you options for small businesses, large companies, education, non-profit, and many more. Canva serves the best of its services for the designers of every kind to make good use of it.
Canva is a veritable Swiss army knife, which is billed primarily as a photo editor. It also serves as a font selection tool, color palette generator, infographic maker, and photo collage assembler.
It also shows several free design elements for every kind of project. Canva also provides online resources for educational purposes.
4# Pixlr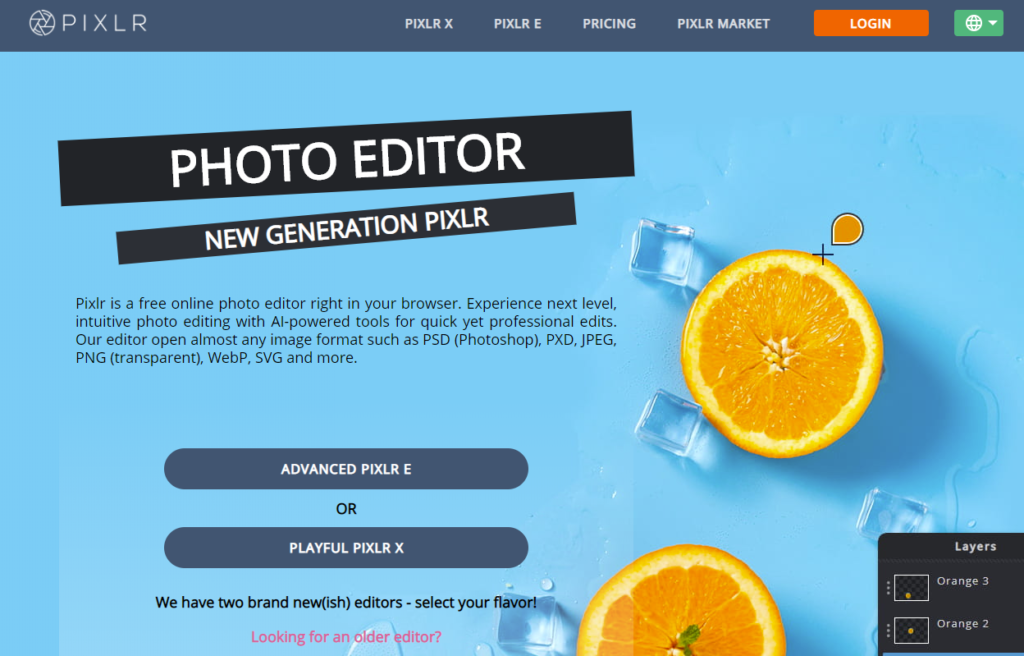 An intuitive and powerful free version, an alternative to Adobe Photoshop that is the best free online photo editor, is called Pixlr. Besides, 500 million users are a fan of this software and use it extensively.
However, Pixlr holds a reliable graphic design software option, especially when we talk about the beginners who cannot invest too much money and time to learn a complicated application straight out of the gate.
You can quickly start making and editing beautiful images with Pixlr's robust toolset in just some minutes. It can help you do the work directly via iPhone or Android apps or in your internet browser without installation procedure.
Although Pixlr is best for providing a free vector editor or for editing photos on the go along with the free graphics, font, and images; however, certain features of Pixlr require Pro account. The amount is $5 a month.
5# Crello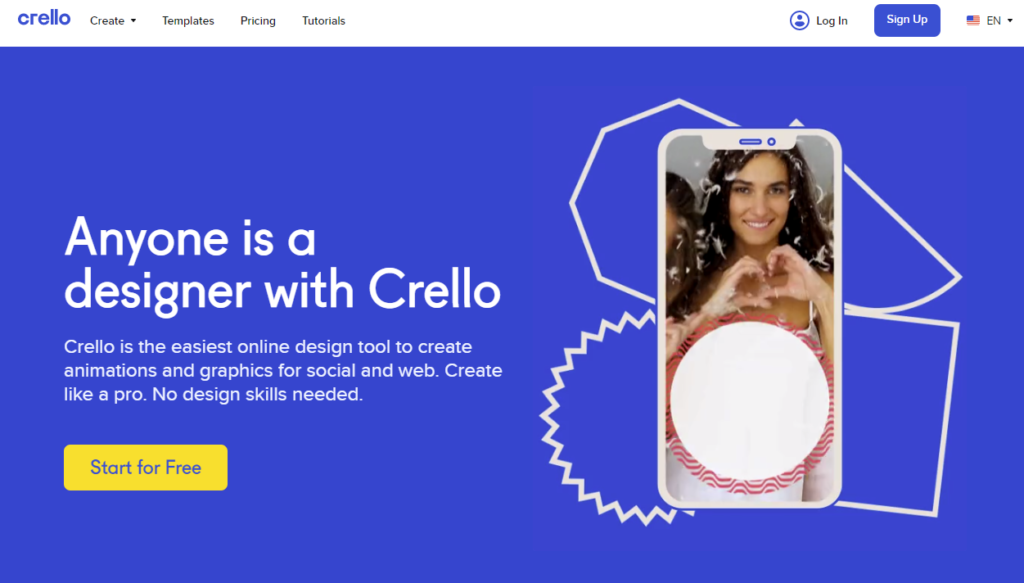 Crello is a frontrunner for most professional graphic design software options on the list, especially when it comes to an astounding image archive of over 65 million files, hundreds of fonts, and 12,000 templates.
Crello makes designing enjoyable with expertly made templates, which can be customized in a streamlined and straightforward way. This design software can help you make an extensive array of aesthetically astonishing designs for digital ads, print materials, and social media posts.
You can also create animated graphics with the help of Crello, whereas; visual assets are made into the themed collection to help in inspiring you.
However, for some advanced features, you can go for its paid version for featuring unlimited commercial use without Crello watermarks or branding, and it is worth it.
6# Snappa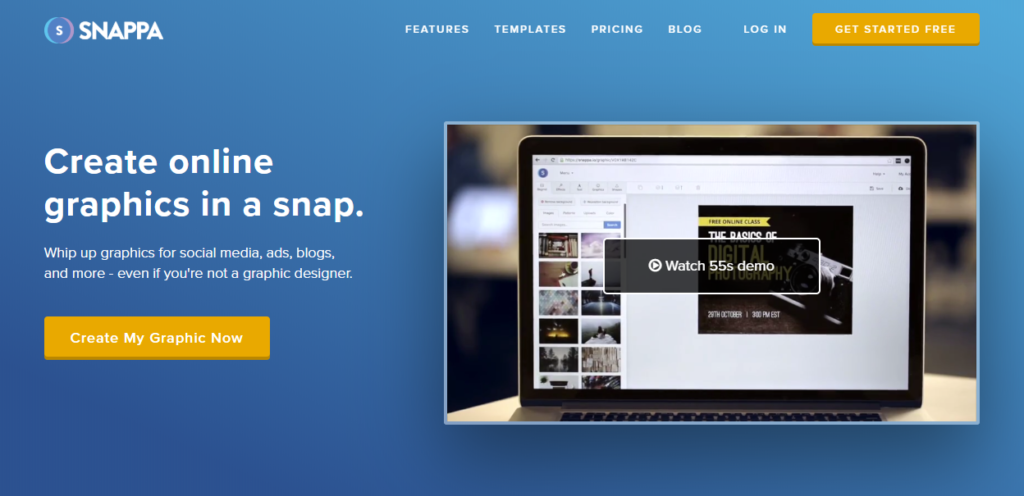 One of the best graphic design softwarefor beginners is Snappa, as it makes designing feel like a snap. By entering Snappa, the graphics software will allow you to start designing like a pro.
Snappa breaks the design process down into manageable and actionable steps. You can search for the perfect image dimensions, whether for a blog, email, ad, or social media platform, just in one go.
You can choose from thousands of crowd-pleasing templates in just seconds and take advantage of over 5 million high-quality and beautiful stock photos only in seconds.
Further, you can connect with the Buffer account to Snappa to re-schedule your posts, effects to images, and add a variety of texts to resize graphics for posting on the cross-platform and utilizing many other desirable features free.
7# Infogram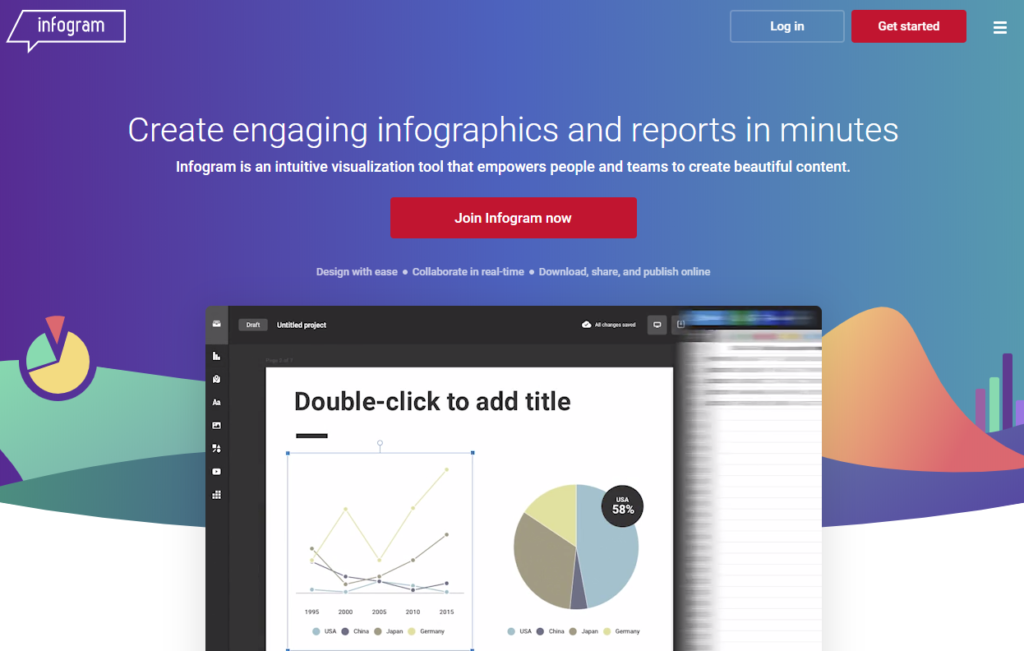 Infogram is one of the popular online graphic design tools that transform graphs, maps, graphics, charts, social media visuals, dashboards, and other little work of art.
The design appeal of the Infogram spans several industries, including the non-profit sector, government, education, and online publishing.
It helps in every kind of business developing their brand themes. You should select from 20 professionally designed items or go rogue with your logo, color palette, or fonts. Intuitive drag and drop editor of Infogram allows you to plug in your data by transforming it into something astonishing and beautiful quickly.
Besides the personalized design option, there is a pricing option for every entrepreneur, creative, enterprise, and business.
8# Tinkercad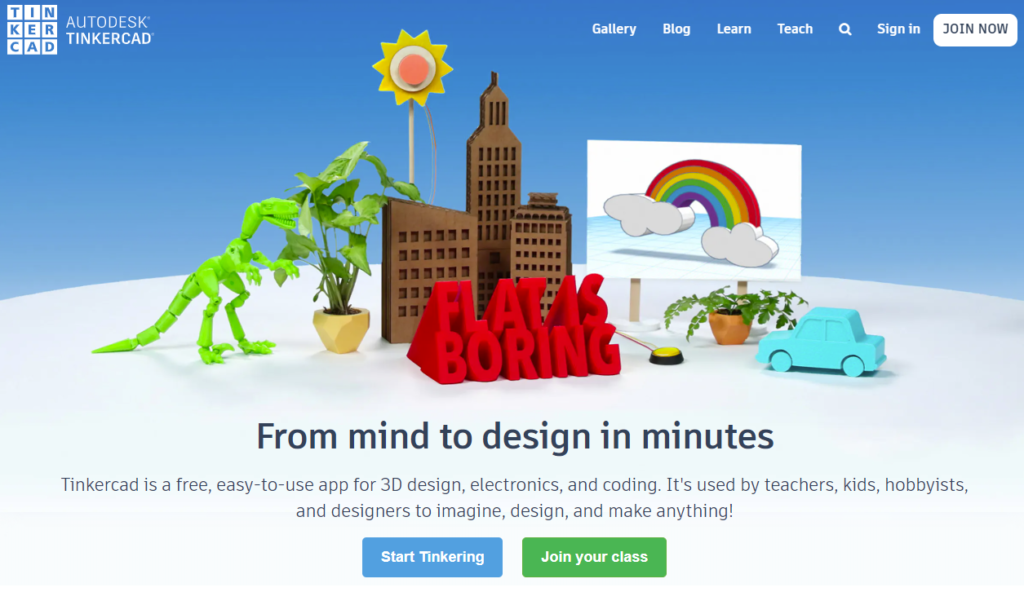 By taking your 2D ideas and bringing them in your life with Tinkercad, it is an effortlessly simple and free of cost graphic design tool for making innovative 3D coding and designs.
Catering to creativity and designers of all levels, this software is very open, and you can get started immediately.
There is nothing to download or, as such, a lengthy installation procedure. You will be itching to learn 3D design with an irresistible gallery of designs conceived by a community of creators that spark your inspiration.
9# Gravit Designer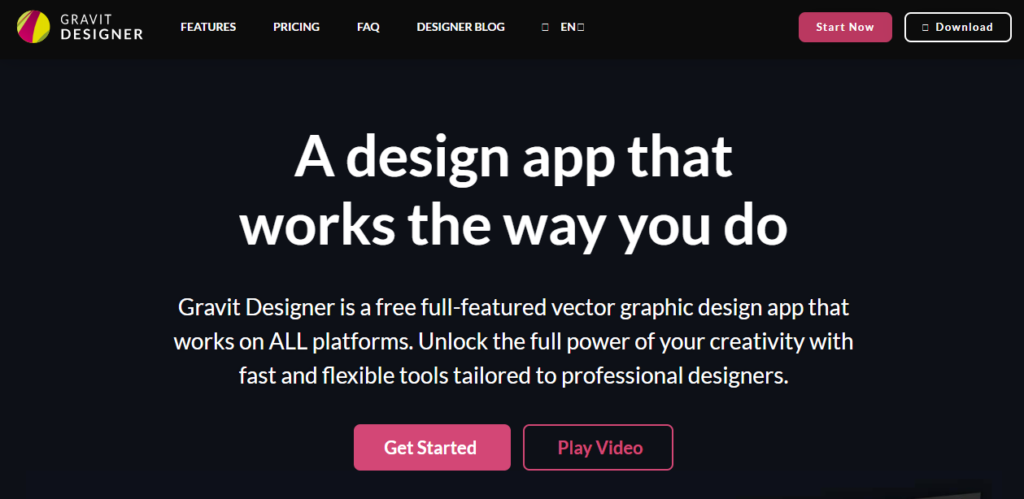 You may be familiar with this free graphic designing software because of its name that was Gravit previously. Billed as a cross-platform designing tool, it delivers the best services according to the 21st century's demand.
Gravit is an incredible source for vector designing with a robust toolkit, either you use it online or download its app. It covers illustration work, icon designs, logo presentations, animation, and text integrations.
It is designed for ease of use and simplicity on the platform that is granular enough for a wide range of projects.
10# DesignCap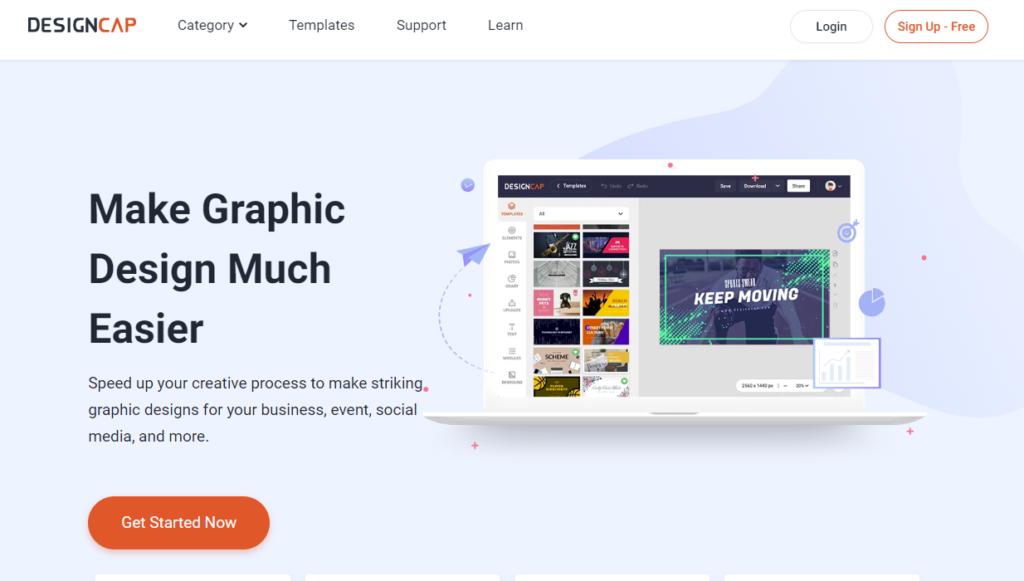 last but not least, one of the most excellent free sources is DesignCap that gives you access to countless templates and resources to boost your creativity and vector designs.
Unlike other tools, it makes designs, which stand out from the crowd in minutes for free. Even the beginners can use it with all the required ease and design things like a pro without a steep learning curve.
It has simple yet powerful editing toolkit that enables you to edit your designs according to your choice.
Wrapping Up
These are dozens of more graphic design software, tools and photo editors online but the mentioned above are among the best ones. With these tools you can edit and redesign images without any penny.
Hope, you find this list useful. If you know any good online free graphic designing tool, feel free to mention it in comment box 😊
Read Also: