The masses might have stopped reading paperbacks and newspapers, but that doesn't mean they have stopped reading altogether. People are just as hungry for knowledge as ever before; the only thing that has changed is the medium. Over a billion of the world population was found searching on the web every day in 2017. These numbers are only increasing every single day.
There are about 4.57 billion people on the internet, and most of them are looking for some kind of information – answers to their questions and solutions to their problems. This shows how big of a demand there is for information.
However, as people find out how things work in the digital world, i.e., anyone can create content, their distrust is also growing. According to the 2018 Digital Future Report, only 32% of users consider most or all of the information available on the internet as reliable.
Do you know what this points to?
It's a sign that there is a huge gap in the demand and supply of information on the internet that needs to be met with reliable content. This is where eBooks come in!
Since eBooks are the extension of books, they enjoy similar (if not the same) significance and reliability. But, when used the right way, eBooks can offer more benefits to entrepreneurs and their businesses than print books.
The availability of various competent freelance eBook writing services has also significantly simplified the process of book writing. eBooks are easy to create and deliver and offer an amazing ROI.
The Benefits of Creating an E-Book for Your Business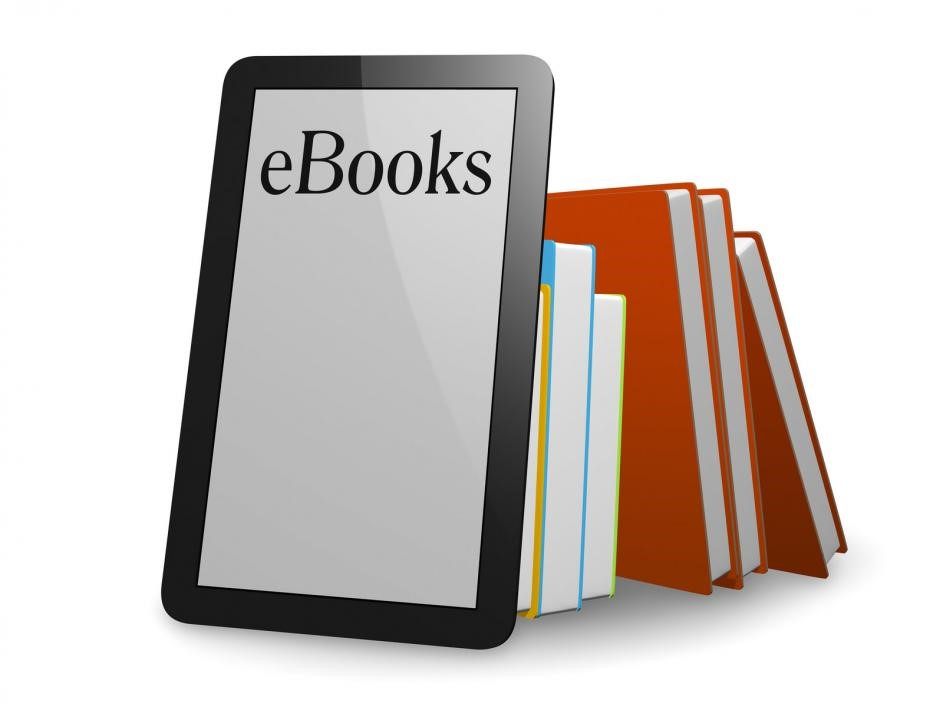 If you need more convincing for using an eBook as a marketing tool for your business, here are a few major ways eBooks can bring value to your business:
1. You Offer a High Consuming Product
A business that offers a product that is high in demand and is one of the first ones to do it always benefits from it. eBooks are such products. Their demand is higher than it was ever before.
At the beginning of the pandemic alone, the eBook readership saw a 30% rise. eBook platform Libby got 247,000 downloads in just one week of March 2020.
This means that people are willing to read eBooks, as long as they are offered valuable ones. eBooks that offer excellent content make one of the most highly consumed forms of content. The high demand for eBooks makes it a worthy investment.
2. Increased Website Traffic
Getting high website traffic is the first step of a business towards success because the higher the traffic, the more chances you have to convert visitors into paying customers.  Although there are several methods for businesses to achieve high traffic, eBook is one of the few reliable methods to bring organic traffic.
This means it isn't random people who are visiting your website. These people were specifically looking for the products and services you offer, they were seeking valuable information on it, and hence the eBook lead them to your website.
With an eBook, the people who visit your website are precisely the target audience that can soon become your potential customers. If things are done right, an eBook can soon boost your sales and give you an edge over your competitors.
3. Covers Topics Meticulously 
Not every business relies on eBooks just to boost sales directly. Some businesses simply want to establish a new industry, introduce a new niche, dabble in a novel product, or simply introduce a new feature. One of the best methods to do to launch an eBook that covers a topic in-depth.
Sometimes an eBook is the only way to convey information on a complicated subject. At the same time, eBooks give you a space to deliver organized information and create compelling visuals to keep the readers occupied.
It also gives you a chance to one-up your competitor. People who downloaded your book might already be invested in your product; this eBook is your chance to sell it in a way your competitor couldn't. Tell a better story and win over your potential customers.
4. eBooks Builds Credibility
It's difficult for startups to establish themselves as an expert when their competitors already have a massive reputation. While your business is working its way towards growth and a brand image, you can give it a push with an eBook.
When a business imparts wisdom and knowledge with research and encourages learning in their target audience, they build their credibility.
A well-written eBook helps businesses to take the station of an industry expert and maintain a positive reputation. The latter is the key to success in the business industry.
5. eBooks are Distinguishably Valuable
Not many platforms in the content writing niche have as much of a perceived value as eBooks. If you ask people for their emails or contact information in exchange for reading your blog or article, they will close the window faster than you can say 'customers.' Fortunately, that is not the case with eBooks.
These digital pieces of literature have value, and people would be willing to give you their contact information and, in some cases, even money in exchange for the information shared in the eBook.
Not only do the consumers feel that it is a fair trade, but they also get instant gratification with the eBook they get on the spot.
6. eBooks Help Grow Your Email List
Remember how we talked about eBooks having a perceived value in the last point? Well, this value is paid in emails. Email-list isn't to be taken lightly.
The bigger a business is, the longer its email list. And if you manage to keep this email list interested, your business is likely to keep growing in the long-term.
An email list allows you to keep in touch with the people already interested in the goods and services you are offering. That's a one-way ticket to boosting sales, and eBook helps business with that.
7.  eBooks Build Brand Loyalty
Once you gain a reputation with your eBook and manage to impress your potential customers, you can easily turn them into your paying customers.
When a customer has read genuine information shared by you and perceives you as an industry expert, they are also drawn to your business and its product. If the product is up to their expectation, it won't take long for them to become loyal to your brand.
Brand loyalty doesn't happen in the blink of an eye. It's a process, and well-crafted eBooks can play a significant role in that process.
8. eBooks are Elusive with the Sales Pitch
As consumers, we all detest sales articles, pop-up ads, paid promotions, and MLM schemes. Anything that is too in-the-face sales, we steer clear of it.
So, how can businesses boost sales without overwhelming potential customers? Via eBooks. eBooks are subtle with sales and still manage to boost sales with class.
eBooks provide potential customers with an option to learn more about the products and services in question without being pushed to flush out their money.
The key is to provide incredible information and sell yourself as an expert in your eBooks. If you succeed, the sales will boost on its own.
How to Create an eBook?
Now that you know the importance of eBooks for a business, let's discuss how and where to start. The first focus should be the topic. When deciding on the eBook's subject matter, make sure you think of yourself as a reader. What would interest you immensely? Which topic would make you sit and consume an entire eBook with patience and curiosity?
Once you have decided on the topic, start developing the content. Remember, you need to be subtle about promoting your offerings; hence, all your focus should be on providing relevant, unique, consistent, and clear.
Since writing isn't the niche most businesses deal with, it's best to hire a professional book writing service that will serve quality and help your business establish itself as an industry expert with credibility and reliability.
Bottom Line
Seeing how eBooks bring value to the business in various ways, a smart entrepreneur would focus their content marketing towards eBooks and quality content.
Keeping in mind that billions of people are currently on the web seeking information, a successful business would work towards supplying this high in demand commodity!
Resources:
Author Bio : A Sr. Editor at Ghost eBook Writers – a company renowned for its superior eBook writing services. Rob Davis helps individuals and small to mid-sized businesses in book writing and publishing across various topics.