From last two decades, internet has revolutionized the world. No matter whatever the places people are living in, they can easily connect with their family and friends. Due to internet, World is now become a Global Village. There are no boundary restrictions on the internet. We all know that social media websites on internet have played a significant role in connecting the people from all over the world. Facebook, Twitter, Google+, LinkedIn, YouTube, Instagram, Tumblr and Pinterest are the major social media marketing websites which are helping people to surf their time on it. According to Statista report (2015), Facebook has more than 1 billion registered accounts. More than 1.4 billion internet users daily visit the social media websites to connect with people and also to share their life experiences.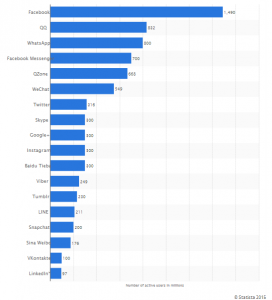 We all know that humans are social animals so that's why social media websites have got high importance in our social lives. Everyone wants to share their life experiences on the social media websites. Due to high attachment of people with social media websites, now small and even multinational companies are creating their fan pages on social media websites especially on the Facebook and Twitter. Through social media, these firms can easily connect with their potential customers and even they can easily advertise their new commodities in order to update their buyers.
Marketing is considered as the backbone of every small business. Due to effective social media marketing, small business can grow and make strong position in the particular market. Social media marketing requires huge capital in order to promote and advertise the products and services of small businesses. But we cannot ignore the marketing fact that small businesses often generate 70% of their revenues from marketing. In this regard, social media marketing have played a great role in the growth of small businesses by reducing their huge marketing expenditures. In fact, social media marketing is now considered as the new effective tool of small businesses marketing. The owners of small businesses often think that presence on social media is a luxury rather than necessity. But previous researches on social media have proved that marketing on social media can lead the small business up to the next level. In this article, we have mentioned some helpful tips on social media that can boost your small business.
5 Reasons to Use Social Media Marketing for Small Business
1). Largest social media marketing networks
Facebook and Twitter are the largest social media networks. These networks can improve your customer relations. It is evident that 72% people often place their future orders from small business because they had already interacted with small business pages on social media websites.
2). Selling on Social media
Small business should market and sell their commodities on social media websites. Selling on social media websites are generally known as social selling. The main reason of selling on social media websites is that small business can engage their customers effectively. They can monitor the latest trends and manage their customers' complaints efficiently and quickly.
3). Online brand reputation
In businesses, trust is highly important in order to gain the customer loyalty and one of the best ways to obtain the customer trust is giving easy online access to users on social media websites. Ignoring social media presence can decrease the chance of gaining new customers.
4). Large target market
Small business can target their customers internationally. No country's boundary can restrict them. That's why small businesses are growing day by day and becoming multinational companies.
5). High return on investment
As we mentioned above, marketing generates more than 70% revenue of small business. Presences on social media can double the investment of small business. They just need to spend some time in order to provide excellent customer services and then surely they can enjoy high return on their investment.