Before we dive into how to obtain a bond, let's explore what a surety bond is. A surety bond is a three-party relationship between a principal (the person or business required to obtain a bond), an obligee (the entity requiring the bond), and a surety company.
The bond is a form of financial security, utilized by the obligee, that holds the principal liable to operate in accordance with the city, county, and/or state laws applicable to their permit, certification, registration, or license.
If the principal fails to comply, a claim can be filed against the surety bond which will be paid out by the surety company to the person or entity financially harmed. 
Surety bonding is required in many different industries and is a powerful way to instill trust in the person or business in operation. A few industries/professions that commonly utilize surety bonds include construction, transportation, and banking/finance. This article simplifies the entire surety bond process so you can get the coverage you need quickly and focus on your work! 
6 Easy Steps To Obtaining A Surety Bond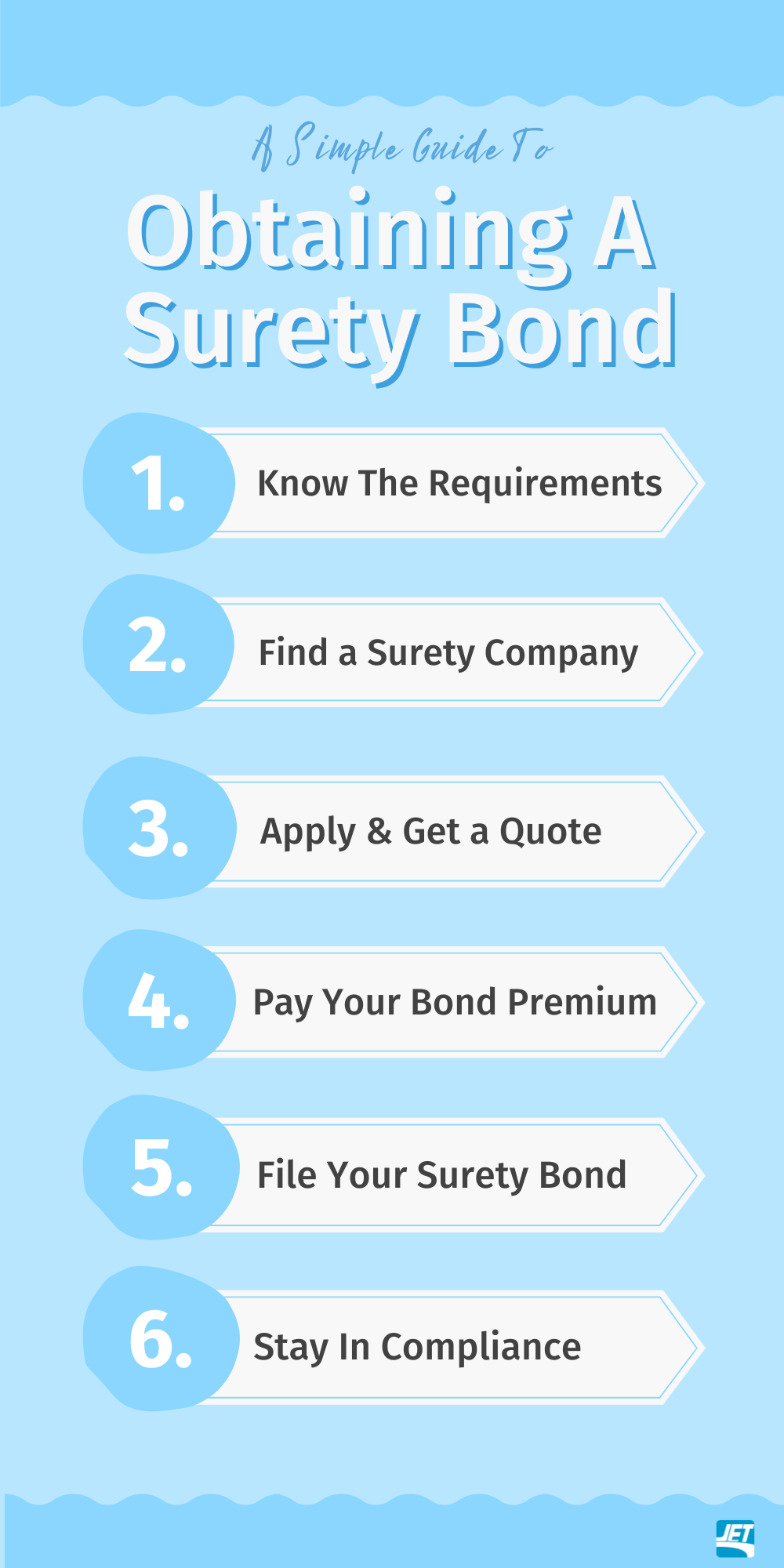 Step 1: Understand the Bond Requirement 
Start by researching the bond that is needed to operate your business. This may be a requirement to obtain a permit for a specific project or to be a licensed professional or business. There are several bond requirements (over 9,000 to be exact), so it is important to be certain of what you need before you move forward in the process. 
Some bonds have several categories and varying bond limits. For example, Oregon contractors are classified based on the type of work being performed (residential, commercial, specialty, general, limited). While a residential general contractor must hold a $20,000 bond, a commercial specialty contractor needs a $50,000 bond.
The bond limit is determined by the obligee based on the risk presented, which is true for all types of surety bonds. Not only is the right type of bond important, but also the correct bond amount. 
Step 2: Find a Surety Company 
Do your research! There are tons of surety companies out there. When choosing a place to get a surety bond quote, ensure the company is licensed to do business in your state and has a good reputation. Pick a surety company you can trust—checking customer reviews will set you in the right direction. 
Step 3: Complete an Application to Get a Quote  
Most surety companies have an online application to keep the process as quick and simple as possible. Each bond application requires specific information about you (the principal), including business name, address, phone number, and social security number for a soft credit check.
The soft credit check is utilized for almost all bond types across the surety industry which helps underwriters determine what rate the principal will be approved for and their likelihood of paying back a claim, should one occur—don't worry, though, it will not affect your credit score. 
When getting ready to apply, make sure to have all of the necessary information ready to make it a seamless process. Sometimes, depending on the riskiness and amount of the surety bond, further information will be asked of you by the underwriter, such as business and personal financial statements.
Following your application submission, there are a few scenarios:
An approved rate will be ready for purchase.

The application will be sent to an underwriter for review and a rate will be delivered shortly after.

The application will be sent to an underwriter for review and the underwriter will request additional information/documentation. Once that is received and reviewed, a rate will be delivered. 
Step 4: Pay Your Bond Premium
The cost of surety bonds is generally between 1% to 15% of the bond limit and is determined by the amount of risk your company has based on the information provided in your application.
With most surety companies, you are able to complete your bond purchase online. License bonds are typically paid for in a lump sum for a one-year term. However, some companies provide financing options, which may work better if you have a large bond limit and/or high premium.
If it's a permit or contract bond you're after, financing options are not generally available due to the short duration the bond is needed for.
Once you complete the payment, the surety company will provide you with a receipt and send you the bond form so you can continue the bonding process.
Step 5: File Your Surety Bond 
The way your surety bond is filed depends on the obligee's requirements. Some obligees require the original hand-signed bond with a surety seal to be mailed and kept on file at their office.
Other obligees allow for electronic filing via their website or email. The obligee will usually have bond filling instructions on their website or other licensing documentation.
Step 6: Stay In Compliance
The surety bond must be kept active for the duration of the permit, license, registration, or certification. For most bond types, the bond will need to be renewed on an annual basis, but some surety companies will allow you to purchase multi-year terms.
While most surety companies will notify you of your upcoming bond renewal, it is recommended that you keep track of it on your own to ensure there is no lapse in coverage. Also stay on top of license, registration, or certification regulations that apply to you as they can change at any time. 
Another part of staying in compliance is addressing complaints or disputes that may arise to avoid a surety bond claim. Bond claims that are paid out by the surety company on your behalf are not a handout.
Unlike a typical insurance policy, the bond only pays out for negligent or fraudulent acts that the principal fails or refuses to address. Because of this, paid-out claims must be paid back to the surety company. However, bond claims can be avoided by following all legislation, contracts, and obligee rules.
Surety bonding doesn't have to be complicated. It is a necessity to make sure you are trusted by the public and to mitigate any potential financial damage that could occur.
More Reads:
Author bio: Maggie Accardo is a lead content creator for Jet Insurance Company. With a passion for learning new skills and helping others, Maggie's niche is in writing original articles and creating infographics for the surety industry.