Two latest transaction technologies that have emerged in recent times are Quick Read (QR) code and Near Field Communication (NFC). Both are used to make transactions, share files, and do much more with the help of NFC and QR-enabled devices and applications.
QR is a matrix barcode that is readable by machine using optical labels with information about the attached item. The contents of the QR code include tracker, identifier, and locator data that redirects to its dedicated web app.
NFC payment solutions enable mobile devices with close field interactions that operate within the connectivity of 4 cm to perform a transaction.
It uses a wireless connection to connect one device to another, allowing two-way communication. While QR relies on internet data, NFC does not require any other network connectivity as it works on infrared waves.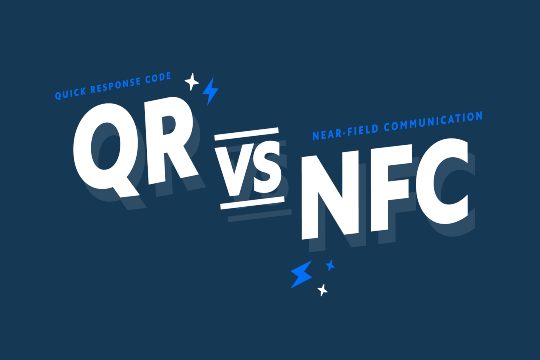 Here are a few of the commonly found pros and cons of NFC and QR codes.
NFC Advantages
1# Simple and Expansive Wireless Technology
NFC is expansive and straightforward as compared to QR codes, as the former is easy to set up and deploy. It does not require any manual configuration or pairing like Bluetooth to enable automatic connection and speedier transactions.
On the power front, it requires almost nil to little power for both – one-way and two-way communication.
2#  Enabled Wireless Connections
Since it is easy to deploy the NFC payment system, it enables initiating and bootstrapping connections that use advanced wireless connections like Wi-Fi and Bluetooth. This means it leverages an android beam for a quick file transfer that is possible using Bluetooth.
The best part is the connection is automatically terminated once the file transfer completes which ensures power saving.
3# Contact-less Payment Mechanism
Using NFC as one of the critical digital payment solutions will have another advantage over QR by making way for a contactless payment system using the application. Many businesses have implemented the contact-less payment system using NFC technology.
Such an implementation safeguards any identity theft through while fostering convenience to users and encourage more of such transactions.
Disadvantages
1# Connectivity Speed and Range
As compared to its counterparts like Wi-Fi and Bluetooth, the quantity of data it can transfer is quite less and also the speed is limited.
At the most, NFC payment solutions, when implemented, can only offer the transfer rate of 424 kbps, whereas Bluetooth can transfer at pace up to 2.1 Mbps.
Therefore, NFC is of no use if one is looking to transfer multimedia or a large chunk of data files.
2#  Lack of Encryption and Authentication
The creators of NFC and its enabled devices have integrated methods for authentication and encryption to offer security and data protection.
But, there are possible middle-man attacks and chances of eavesdropping in NFC is it does not guarantee that. It is so because the plan NFC does not have any systematic, assured encryption and authentication.
Such assurance is needed because NFC is for short-range and there are chances of some signal interferences which can disrupt the established NFC communications between two devices.
3# Cost Implications
RFID offers a somewhat cheaper alternative to the NFC payment system when used as a standalone is a technology for tagging and identification. This means QR codes are a better option as compared to NFC while the former providing faster connection.
NFC also requires more development time and expensive hardware, which shoots up the overall costs.
QR-Codes Advantages
1# Large Information Storage
It gets tough to put forward everything on a single page for the client and also the long-boards can get boring with too much text. Bring in QR code to store all the information in it, which can have users to read from it.
Its ability to hold the bulk of information and even to drive the users to a web page is an essential element for dynamic digital money solutions.
2# Versatile Uses
The versatility of QR codes makes it easy to use for multiple purposes. It is possible to promote business with QR branding.
Moreover, offering online payment through QR codes also helps the business to open another source of revenue while ensuring secure transactions.
With QR code uses aplenty, it is up to businesses to figure out in which way they want to leverage this technology.
3# Technology for Advertising
Rope in the QR technology for your business to create a whole new business image of being progressive.
Use QR technology for efficient advertising as branding and advertising with QR codes is less expensive than conventional advertising methods, albeit with higher impact.
This is because QR code helps to disseminate marketing message through transaction effectively to the target group via digital sources in less time through peer to peer payment app.
Disadvantages
1# Limits audience reception
Scanning a QR code will require users to have a QR-readable device or a smartphone to make way for beneficial digital money solutions.
Nowadays, smartphones are easy to spot, but finding the right app for using code is a must as only a few would bother downloading it.
Also, there are only a few seconds that user points their QR scanning device to the code, so the retention too is less. Ultimately, it is an innovative technology which may cause its users some problem for rapid information gathering.
2# Lacks information clarity
Most people find QR codes scanning to be out of a structure and also tad out of shape. There are big brands that package the products with QR code embedded on it; unfortunately, only a few people would bother extracting information from it.
QR codes for information require guided interactions and a knowledgeable audience.
3# Lacks user-friendliness
QR code technology for eWallet app development comes with a little problem in terms of running into maintenance issues and connectivity flaws.
People who prefer to get things done and do not like to get involved in a complex mechanism of code scanning.
Especially when the accuracy is arbitrary and speed is an issue to connect, which shuts them off completely without even using it for once.
Conclusion
While both the technology has its share of boons and banes, it all boils down to what purpose the business is looking to serve. Such a decision requires prioritizing the deliverables to weigh in more pros and negating the perils.
Offering digital payment solutions will need the service provider to be aware of both sides of the story, be it adopting NFC or QR code.
Author Bio: Nikunj Gundaniya, Product manager Digipay.guru, one of the leading Digital wallet solutions, which provides mobile finance application development services. He is a visionary leader whose flamboyant management style has given profitable results for the company. He believes in the mantra of giving 100% to his work.