According to the Center for Exhibition Industry Research (CEIR), trade show exhibitors shell out over $25 billion per year on exhibition space, design, show services, shipping, staff training, travel, entertainment and other show-related expenses.
But with the big spend comes a big return, research shows. And it's even greater for the show-goers who funnel extra thought and money into their booth design.
Showing up at major industry events with a bold, eye-catching display can double or triple your returns, so it's not something you want to overlook.
8 Ways To Rejuvenate Your Trade Show Booth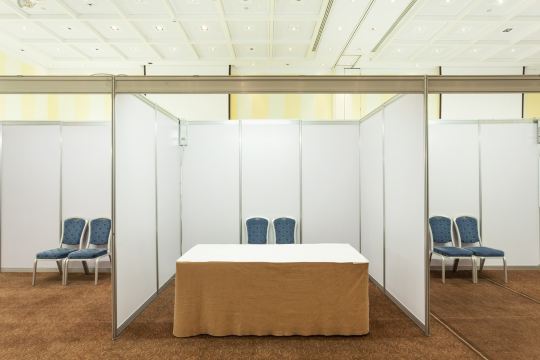 If you're working on a tight booth budget, consider some of the following tips to help you rake in more leads without putting undue strain on your budget.
It's all about finding affordable new solutions, spiffing up the components you already own and getting creative with your designs every step of the way.
1# Upgrade Your Table Throw
It's such a simple thing, but your trade show tablecloth can really make an impact, and it doesn't cost very much either. Not only do they cover up dull and dingy tables, they can also greatly contribute to the theme and feel of your display.
We recommend upgrading to a custom table throw branded with your company's logo to make a big impact for very little investment. You can also spiff up your space by replacing your plain white cover with something that better complements your theme.
2# Keep it Portable
The experts say you can save a pretty penny when you purchase portable and reusable displays instead of heavy, custom displays. The reason behind this is layered.
First, there's a good chance you're going to want to upgrade your displays as your goals change and your brand evolves, and you can do that more affordably with small, portable components.
Second, pop-up booth displays are lighter weight and generally don't require any hefty tools, so they're easier and more affordable to transport and set up.
3# Add a Brand-New Backdrop:
By far the easiest thing you can do to jazz up your booth in a hurry is to swap out your backdrop for something new and exciting. The walls of your booth set the stage for your entire aesthetic and vibe, so it's important that you don't skimp here.
Upgrade to custom-made floor displays that showcase your images, logo and brand narrative beautifully. These backdrops are guaranteed to command attention, so they can help take away from other parts of your booth that you aren't able to upgrade yet.
4# Consider Incorporating Flooring
Flooring is often way at the bottom of the priority list for budget-focused exhibitors, and we understand that. Many show-goers can get away without using any kind of flooring at all, so why waste the dough?
But floors can really help tie together your theme and add an inviting, unique feel that sets you apart from the rest. Consider investing in affordable custom carpet that you can easily transport and display from event to event.
5# Refresh with New Colors
Ever think about what your brand's colors say about your business? When designing trade show banners and signs, we usually automatically take the obvious route—our brand's colors. With that said, sometimes we want to convey a different idea when we're out in the field selling our goods and services.
Even if you're selling something that's meant to elicit feelings of calm and serenity, you may want to encourage excitement and invigoration during the sales process. The good news is that you can easily swap out your banners and signage with your new design without spending a ton.
6# Add Some Temporary Style
Each trade show is unique. Different locations, different industries, different sizes and different markets affect the overall feel of different events.
Thus, sometimes it makes sense to adjust your décor for your specific audience. Think about having a few affordable options on hand that you can rotate for different types of shows.
Maybe you have a few different banners or signs or maybe you add special components like flowers or balloons, depending on the event.
7# Make it Smell Great
Creating a compelling trade show booth is all about making it enticing to the masses, and what's more enticing than a sweet-smelling aroma?
Companies have long been using scent to influence shoppers—think the fresh coffee smell wafting out of Starbucks and the signature smell of Abercrombie & Fitch cologne, which has become synonymous with malls everywhere, surrounding its storefront.
The most important thing to know about this approach is that you should keep your aromas subtle and universal, as many attendees will be turned off by scents that are too strong or unpleasant. Stick to electric warmers and diffusers, as many convention centers won't allow you to burn candles.
8# Bring in Some Seating
What do guests want more of when they're tired and overstimulated at big industry events?
A place to sit back and relax!
Add a few comfy chairs to your display to provide a respite for show-goers and to make your booth more appealing to the masses. The beauty of this approach is that it doesn't cost much but still makes a massive impact, especially when you choose furniture that contributes to your display's overall aesthetic.
Give some old chairs a fresh coat of paint or some new upholstery for an affordable way to cozy up any booth.
Minding the Trade Show Budget
While showing up with enticing displays can help boost your trade show returns, you have to keep it within reason to ensure that there is a return at all.
It's all about maintaining, refreshing and upgrading rather than trashing everything and starting anew with each new show. With all of these great tips in mind, you'll surely bring in new leads and convert trade show attendees to loyal customers without a massive spend.
Author bio: Leslie Pierce is the VP of Marketing for Half Price Banners. She has a demonstrated history of working in the wholesale industry and has been with her company for over 10 years. She is skilled in luxury goods, sales, retail, store management, and sales operations.