Understanding the latest SEO trends 2016 is critical to the success of your digital marketing campaign. How we approach SEO this year is different than last year, and we can be sure new challenges are lurking around the corner. Google's Panda, Hummingbird, and Penguin spam-seeking algorithms are updated regularly, and adopting the latest best practices is the only way to avoid penalization. Here are five essential SEO techniques 2016 that you should be implementing in 2016.
5 Actionable White Hat SEO Techniques 2016 for Beginners
1. Link Building
Link building is certainly not a new concept in the world of SEO, but it is currently more important than ev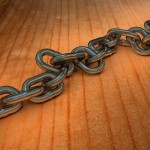 er. One of the best ways to gain inbound links is to report broken links and offer a suitable replacement.
First, use a tool such as Screaming Frog to locate relevant Web Pages with broken links. Next, check the website for any contact information. If you're not able to find an email address, go to Google and search 'whois' followed by the domain name and if you still can't find the contact info, get in touch with the company that hosts the website.
If you already have content that fits the context of the broken link, simply provide the link to the webmaster as a substitution for the dead page.
But if not, either write relevant content yourself or hire someone to do it for you. This technique is particularly effective because you are doing the webmaster a favor, which means you are likely to get one in return.
2. Videos
Of course videos are not new, but they are becoming increasingly prominent. In fact, the experts at Forbes recently predicted that video content will overtake written content in ROI for B2C industries and brands in 2016. High-quality videos are becoming easier to make as equipment becomes more accessible, affordable, and easy to use. While the days of written word are far from over, it is important to take a multifaceted approach to how you get your message across. Videos attract visitors, which boosts your overall Google ranking.
3. Guest Blogging
Writing a quality article for a reputable blog is a great way to increase brand recognition, add credibility to your organization, and gain an inbound link. As long as you write for a blog relevant to your niche, guest blogging also introduces your link to your target demographic directly, opening up the possibility for additional shares and backlinks. Make sure you check the blog's guidelines before you submit your guest post, as many prohibit promotional material.
You may like to read: List of 100+ Websites that Accept Guest Posts
4. Key Words and Phrases
Although the keyword cramming days are long over, there is still tremendous value in using the right keywords throughout your content. Use Google Keyword Planner to find keywords that have a high amount of average monthly searches and low competition. For example, in the picture below you can see that 'SEO tips,' 'marketing trends,' 'search engine,' 'SEO techniques' and 'SEO updates' are all ideal choices. To decrease competition further, you may want to clarify by adding a niche word to narrow it down further, such as a specific location.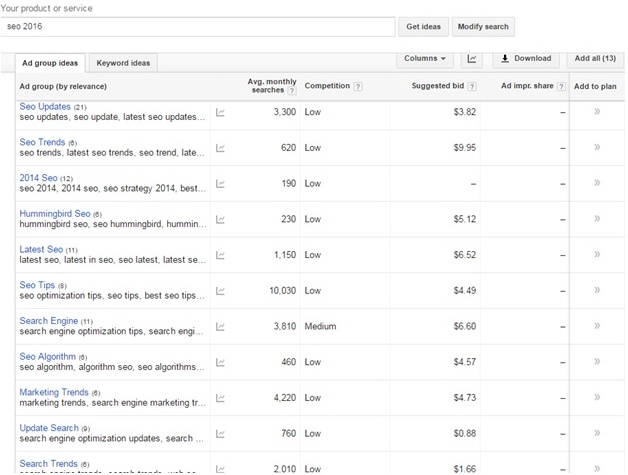 Read Also: 5 Top Marketing Apps To Help Put You On the Map
5. Quality Remains King
"Quality is king" is a phrase that has been beaten into the ground over the past few years, but is has never been so relevant as it is today. In the past, that strong focus on quality was simply to appease visitors and keep them coming back. As the CEO of Coalition Technologies once stated, "Nobody wants to read an article that was clearly written just to increase rankings, and now people don't have to sift through a garden of thorns to find a rose."
Today, however, high-quality content is also absolutely essential if you want to rank high in SERPs. Google's Panda update – also known as the "Quality Algorithm" – is capable of detecting low-quality content, and According to Google themselves, the Panda penalty is the most common one, affecting nearly every website. Your content should be written by a legitimate authority on the subject. It should be trustworthy, free of spelling and grammar errors, and completely unique. If you are not capable of producing high-end content yourself, hire a professional.
Keep Your Ear to the Ground
While these five staple principles are not likely to change, it is important to note that SEO terrain is always changing and evolving. The best Search Engine Optimization tip in 2016 is to be prepared for anything. Webmasters who did not change their websites to fit new Google guidelines last year are undoubtedly experiencing the backlash now. Keep all of your SEO techniques 2016 legitimate, keep track of Google algorithm updates, and recognize when it's time to change your strategy.