The biggest challenge faced by any upcoming or established entrepreneur is not only getting prospective clients but converting them into permanent customers. The first and surest step one can take towards this is by presenting an appealing business proposal for clients.
An impressive proposition will not only have a positive impact on the potential customer, it will also enhance your reputation as a professional. Let's have a look at how this goal can be achieved.
10 Steps for Making Attractive Business Proposal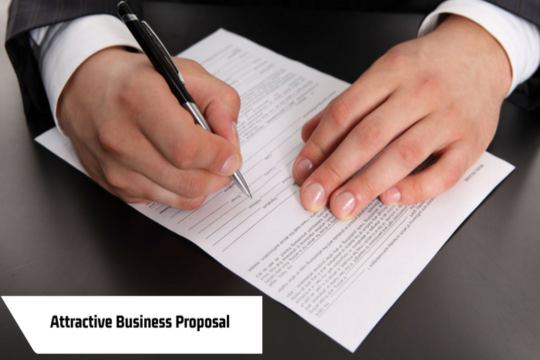 1. Planning
The proposal is the first formal offer of your services to your client and it needs to be meticulously thought out. Never think of it as a plan, which is more detailed, whereas it needs to be brief, highlighting the challenges of the project and your organization's ability to handle them smoothly.
Think about your audience and what problems regarding the proposed work are foremost on their minds and then present them with a plan detailing why your organization is suitable for finding the solutions.
Keep in mind that you are not the only one trying to win the contract. Taking into consideration the suggestions that your competitors are likely to offer and focusing on your own assets will give you a fairly good idea of what to write in the presentation.
Taking time to find out some information about the client's background and his position in the decision-making chain will give you a fair idea of how to list the contents of your also.
2. Content
All your planning will not result in a positive outcome if the content is not presented in an orderly and engaging manner. The following steps listed pagewise will help you in assembling your content matter in an attractive manner.
3. Title
Grab your prospective customer's attention right from the title page itself by using a clever title along with a brief one or two line engaging overview.
4. Cover Letter
A formal introduction of your document which should include a brief introduction of your establishment and a short synopsis of your company's experience in the field that your prospective buyer operates in, its tone should not be over friendly or self-promotional but it should encourage the person reading it to come forward with questions, if any.
5. Table of Contents
The list of what the reader should expect in the presentation. It should not be too long and if you are sending a soft copy, them making this list clickable will be a nice touch.
6. Executive Summary
An important part of a business proposal for clients, this is the brief overview of the whole plan and starts with basic information about your company, followed by your business model and target market details and ending  with what makes you perfect for the project at hand.
7. Proposal
This part is where you either win or lose the contract and handle it very carefully by starting with stating the task at hand followed by a description of your approach to its solution. This approach is further elaborated by describing, if possible point-wise in a bulleted list, of the methods you will employ to execute the project. This is of prime interest to the user and ensures that you do not omit any of your services and at the same time not mention anything that you are  incapable of doing. A common mistake that small enterprises make is that sometimes they misrepresent the facts which result in not only loss of the contract but also a dent in their reputation.
Good informational data presented with the help of infographics will make it more readable and easy to understand besides aiding you in stating your point without sounding coercive. The data should be collected from verified sources and checked diligently.
Mention clearly and honestly the time expected to complete the work as again misleading the customer here will result in a negative outcome. The client is also most interested in the costs involved and this is also of utmost significance to you.
Moreover, it is a potential matter for dispute and it is better if all the problems regarding it are taken care of right at this stage itself. Detail all the costs included in the execution of the plan and the payment system that you propose should be designed taking into consideration the supposed milestones and timelines. A neat and easily understandable pricing and payment schedule presented in a tabular form help the buyer make a speedy decision.
One should also list the members of the management team along with their qualifications who are expected to oversee the venture as this will  giving him an idea about the capabilities of your team with respect to the proposed job.
8. Terms & Conditions
Specify the duration of the project, a summary of the timeline, payment details and dates and also how and when modifications can be done in the future. This part is basically a synopsis of the agreement that both parties may sign.
9. About Us
In this part, including a description of your organization and what makes you appropriate for the assignment, outlining your experience and highlighting your previous successes, awards and your involvement in social initiatives.
A brief summary of past assignments undertaken by your concern can also be included with their images. Notable members of your group can also be named here along with their short introductions, achievements, and photographs.
Include all the communication details like email, phone numbers- landline and mobile, fax numbers, company website and postal addresses of the head office and branches, that the reader can use to contact you.
10. Conclusion
A good proposition should end with the proposer again emphasizing his suitability for the job and asking the potential customer to get in touch.
EndNote
This document is the first impression that one makes on a potential customer and it can be the last one if it is not handled carefully. Composing a good business proposal for clients keeping in mind the above-mentioned points will surely help in finding success in your endeavor.
Author Bio: George Dille is a Business Adviser at BusinessVenturesIndia Ltd, a company that provides company registration services in a convenient manner. He is a passionate writer and loves to share Business related topics.