The way the construction industry makes construction bids has greatly changed since the pre-1980's when estimating and takeoff was completely done by hand and was made on bid day. In the olden days, a sub-contractor phoned or faxed costs while estimators recorded all of it on paper.
Today, most the climate when it comes to construction bidding is slowly changing with the introduction of the internet and web-based construction bid management software.
A construction bid management software is basically a software program that was written  for the construction industry to simplify the projected construction cost for a construction project , and thus, rendering the  construction bid procedure quicker.
There are hundreds of construction bidding software out there in the market, each catering to a specific construction niche – commercial, residential, industrial etc. And, if you are in commercial construction, and are in the market to find the best commercial construction tender software, here are the three base things, in addition to whatever else that you think your company needs, that should be present:
BASIC FEATURES THAT ANY COMMERCIAL CONSTRUCTION COST BIDDING SOFTWARE SHOULD HAVE
a). Takeoffs For Adjusting Estimates
When looking for a construction bid bidding software, it should have at least some form of takeoff that lets you make a list of everything you'll need to start a construction project, and this doesn't include labor and overhead costs.  The software should automatically calculate a price for the data of available prices.
b). Database for prices
Regardless of which software you choose, the software should provide the latest prices of materials and equipment from a regional source over the internet. It should update this database to check the ever-changing cost of building materials.  In addition to this, the best software should allow you to add prices from your own personal suppliers to compare prices.
c). Construction Plans Viewing and Editing
Construction software should have the ability to let you upload construction plans in blueprints in a CAD or BIM file.
BEST COMMERCIAL CONSTRUCTION BIDDING SOFTWARE
We've searched the internet and we've come up with the best commercial construction bidding software that you can start your search with.
1. Procore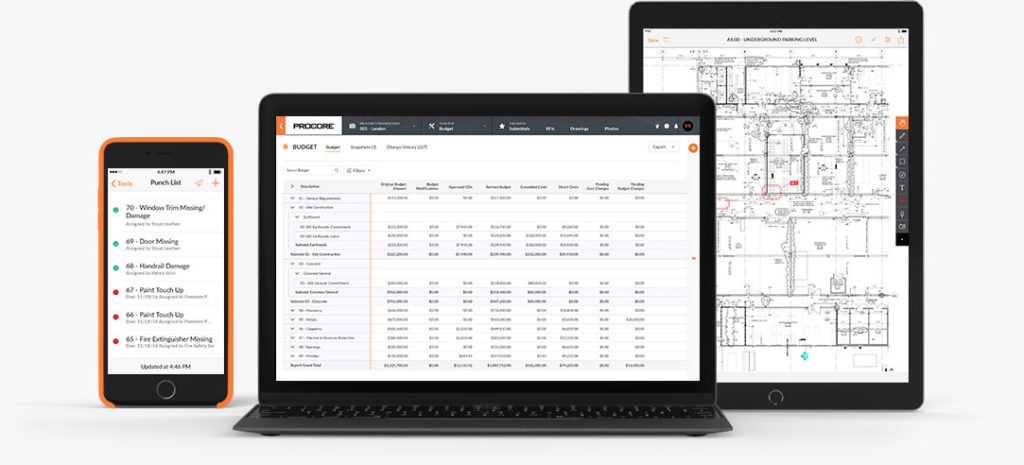 The first software in this list is Procore, constantly rated as the #1 construction bidding software by almost every reputable source out there.
Procore has a comprehensive tendering history for every project and tender package. All emails that are received and sent are attached to a Vendor Record inside Procore's Tendering Feature.
It also allows you to track if there are any changes made with every proposal item, as well and who did that, and when it was done. It also has a feature that allows the user to send a reminder email to tenders who have not yet responded.
This software solution makes it simple to manage documents included in a proposal bid. Proposal documents can be in any file format, and, after these documents are uploaded to Procore's central storage site, these documents can be sent out as download links without file limitation.
Procore allows an effective and speedy evaluation of the key issues used to choose the best contractor for a specific scope.
2. Sage Estimating
Sage Estimating is part of Sage's business suite solution that you can purchase as a standalone product. This software can integrate with project management, accounting, document control, reporting, payroll, and procurement software. It has easy to use interface and has a quality estimating and cost-tracking tools.
Sage has an intensive database that's preloaded with thousands of industry-standard items, as well as a takeoff digitizer and scopes that lets you see across your vendors, suppliers, and subcontractors; as well as pricing in a clean overview spreadsheet.
And while it helps you make a good estimate, it also includes scheduling tools and databases to allow you to define labor crews and equipment which helps in contract generating and change, as well as purchase orders.
3. ProEst Estimating Software
ProEst is a powerful digital takeoff tool that features a comprehensive database as well as an interface that mirrors Microsoft Office both in the way it looks and in its usability. This feature makes this one of powerful commercial estimating software out in the market.
ProEst gives the user to scan and import digital files like PDF.TIF, CAD and more. With this, the user can use the digital takeoff tools and ProEST database to make an estimate. It gives the user the power to interact with the digital blueprints or CAD designs in various formats for a quick analysis of these plans so that you can make your estimate faster.
ProEst is also compatible with many project management and accounting solutions in the market today which includes QuickBooks, Microsoft Project, and Primavera. This integration allows you to take the bids that you've made in the past and ProEst can take these pieces of information and integrate it into its database for archiving.
However, ProEst has one feature that's missing – it lacks the ability to use the program while away from the office. ProEst doesn't have a mobile app, so you still have to calculate your estimates and create the final bid when you've returned to the office from the field.
4. Pro Contractor Estimating by Viewpoint Construction Software
Pro Contractor Estimating includes functions that help the user see the actual cost of an item and then have the ability to compare it to the estimate. You can either update the central cost list or create your own custom price book. It has change order processing tools that let you update an existing estimate with new pricing so that your final bid will reflect the actual cost.
The software Pro Contractor Estimating allows the user the ability to import CAD designs and interact with it. In addition, with is Pro contractor uses 3D visuals so you can see everything about the project starting from the foundation, all the way to the top, both inside and out. This is a useful function because it allows you to determine labor and material needs and cost.
Pro contractor has mobile capabilities. Pro Contractor is available to be downloaded in your smartphone and tablet which allows to you have freedom of mobility.
You can take your device with you to the client or to the job site and enter the updated information into your bid, as well as send a completed estimate from your mobile device which can help you save time and meet any pending deadlines in the pipeline anywhere, everywhere.
5. B2W Estimate Software
B2W is an estimating software was originally built as a highway construction project software but it has evolved to cater to various construction including civil and industrial project, as well as smaller projects like new home construction or remodeling.
This software boasts of an excellent job and costs tracking tools. It has change order processing tools that allow you to adjust pricing to a bid after your company has won the bid and the construction work has started to reflect the actual cost from suppliers and subcontractors. The user then can save these changes to a master list or use them to create a custom price book that can reflect the new pricing.
In addition to its powerful features, B2W is easy to use and has an intuitive interface.  And, for users who are new to the system, or team member who has never used a construction bidding software before, B2W offers detailed and personalized training.
Their training varies from onsite training and classroom coaching an independent learning center. Or, if you want, you can receive training in their headquarters in New Hampshire. If these don't float your boat, continued training is also available online, as well as video tutorials and prerecorded webinars.
More Read: 101+ Business Tools for Online Startups 2019
Author: Qaiser Soaz