Whether you have just taken the plunge and decided to launch your own screen printing business or you have been in business for a while but aren't generating as much revenue as you would like, growing your business is something that takes a lot of hard work and dedication.
Being a business owner is no walk in the park, but for those who persevere and work through the difficult parts, it is very rewarding.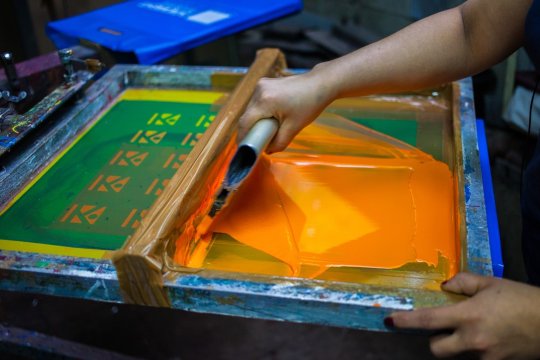 Screen printing businesses provide valuable services for customers, so there is always money to be made in this type of work. Building a strong reputation and a large customer base can be tricky, though.
If you are wanting to take things to the next level and grow your screen printing business, keep reading to discover some helpful advice.
5 Ways To Grow Screen Printing Business
1. Find a Wholesale Partner
If you are trying to grow your business but spending a fortune on supplies, you are going to have a tough time getting ahead. Running a screen-printing business means that you need a lot of blank t-shirts, sweatshirts, hats and other apparel and accessories.
If you do not have a relationship with a wholesaler, you are majorly lowering your profit margins. It is much easier to make money by screen printing wholesale apparel than by printing garments and accessories you purchase at retail prices.
When shopping for wholesale t-shirts and apparel, keep in mind that "wholesale" doesn't necessarily mean that you need to order in massive quantities. Many vendors allow you to score great deals on the best t-shirts for screen printing when buying as few as a dozen pieces.
This means that you can save a substantial amount of money on your supplies without needing enough storage space for hundreds (or even thousands) of blanks. And all of the money you save on supplies can go toward initiatives to grow your business.
2. Put Your Customers First
As a screen printer, you provide a service for customers. Whether you are designing t-shirts for a baseball team, making hats for a family reunion or working on any other type of project, your customers rely on you to deliver high-quality products that meet (or exceed) their expectations.
If you want to have customers practically banging down your doors and placing tons of orders, you need to do everything in your power to put their needs first.
Strive to offer a quick turnaround time, fair pricing and exceptional customer service. If something goes wrong, do everything in your power (within reason) to make it right.
Listen to the feedback your customers provide and do whatever can reasonably be done to meet their needs and ensure a great experience.
Making a great impression on your customers ensures that they will come back to you and recommend your business to others.
3. Set Yourself Apart from Your Competitors
There is a lot of competition in the screen printing industry. Chances are unless you are in a really small town, you have several local competitors that offer basically the same services that you offer. If you want to grow your business, you need to figure out a way to set yourself apart from the competition.
Are you really good at a specific style? Are your prices the lowest in town? Can you guarantee faster turnarounds than your competitors?
Are you able to offer a specific product that they don't? There are all sorts of ways to make your business unique. Think about your skills and capabilities, and you will surely come up with an idea that you can promote to set your business apart from the rest.
4. Be Active in the Community
Staying active in your community is always a great way to attract new business. Consider doing things like sponsoring a youth sports team or providing promotional materials when a new business opens up in town.
Connect with the chamber of commerce and ask them to mention you when business owners are in need of services that you can provide.
Work to build a relationship with the local school district. Schools always need t-shirts, hoodies, etc. for things like athletic teams and clubs. Work out a special deal for them and provide them with excellent service, and they will likely to return to you when they have additional needs.
When you build a relationship with a school district, parents in that district are also more likely to choose your business for their personal screen printing needs.
5. Build an Online Presence
Even if you prefer doing most of your business locally, building a strong online presence is highly beneficial when it comes to growing your business. For starters, make sure you have a website that promotes your business and showcases the products and services you offer.
If possible, have your site built by a professional. If a professional web designer isn't in the budget, there are plenty of website builders that are easy to use and have pretty impressive results.
Create social media profiles for your business, too. Share pictures of recently completed projects to give potential customers a feel for what you do. You can also share pictures of your shop or screen printing equipment or videos that show off how the process works.
People love "behind the scenes" looks at various types of businesses, so posting videos and pictures on social media is a great way to connect.
Stay active and engage with your customers. This will help you build relationships and encourage people to choose your business for their screen printing needs.
Conclusion
Whether you are just getting started or you want to take things to the next level, there are all sorts of things that you can do to grow your screen printing business. Think about your goals and then get to work figuring out ways to meet them.
The suggestions listed above are just a few of the many things you can start working on today to start building the business of your dreams.
Remember to be yourself and work toward creating an amazing business and running it in a manner that you can be proud of.
Make smart investments, take care of your customers and you will be well on your way to meeting your business goals!
Read Also:
Author Bio: Brenda Kimble