In the recent time, blockchain technology has revolutionized the way people are doing business in different industries. However, it is not necessarily right for every industry and company, said Derek Martin, a cloud solution architect at Microsoft.
In addition to this, blockchain technology is mainly established as a supporting technology for cryptocurrency Bitcoin; however, today, it is considered as a distributed ledger that tracks every single transaction, connecting them to other transactions nearby.
It securely encrypting the information. Moreover, this high-end technology has already proved that it has the larger value of cryptocurrencies, using for almost all the industries, along with digital currency.
What is Blockchain in simple words?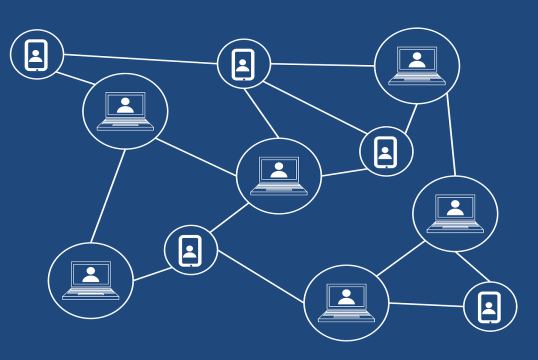 In simple words, Blockchain is a resourceful invention, a brainchild of a person or group of people that known by Satoshi Nakamoto. The technology has created the backbone of a new type of interest by allowing digital information to be distributed, but not copied.
Mainly invented for the digital currency, this powerful technology is now giving other potential uses for varied industries, including Healthcare, Retail, Banking and some other big industries. Irrespective other industries, Blockchain can revolutionize 3 major industries, allowing businesses to expand their business worldwide.
In this blog, we will look at three industries that could find great solutions to some of their major problems using blockchain technology constantly, so let's move ahead:
How Blockchain Technology is Transforming 3 Industries
#1. Real Estate
Real estate is one of the major industries that can be disrupted with the use of Blockchain technology. However, the industry is quite long overdue for a change in its systems and processes; however, it has been stuck with the old and traditional processes.
When any person decides to buy a new home, he/she looks for a realtor, get preapproval from the bank and then start looking for houses by setting up meetings with sellers. With this extremely long process, it takes a lot of time for any person to buy a new home.
But Blockchain technology can revolutionize the real estate industry because there will be no need of a realtor to provide a search service for properties that fit your financial and location requirements. Moreover, it can also be utilized for drawing up smart contracts between landlords and tenants.
Let's take an example of LAToken that makes use of cryptocurrency in the traditional economy, enabling people to build and sell asset tokens. Mainly useful for the real estate industry, it also allows the tokenization of real estate assets for tractional investing. So, developers can make use of this platform in order to be more retail investors into the industry by listing top real estate properties.
#2. HealthCare
As you know that healthcare is one of the main industries that need high level of security while sharing and storing data. Therefore, a same and secure platform, using blockchain technology, can be helpful in this regard and build stronger trust between consumers and the healthcare providers.
With blockchain technology, hospitals can safely store data and share within its industry and the patients. Moreover, the technology can be paired with a patient's current electronic medical record to deliver a new level of data integrity and accuracy.
Then patient's data and important information can be easily shared across organizations without compromising the security of the information. The technology can help hospitals to create a smart health profile that allows financial and patient information to be securely stored and accessed.
Let's take an example of Patientory, which mainly aims at making healthcare industry more safe and secure by storing and easily managing health information on blockchain. Moreover, it will help patents to communicate with healthcare providers, know about their condition and connect with a community of people that has similar conditions.
#3. Government
Apart from two above mentioned industries, government industry can also be transformed through Blockchain technology as it can increase the transparency and traceability of how money is spent in government departments. Asset registration like vehicles can be easily done with this technology. Overall, it can reduce the number of frauds and operation costs.
If blockchain executed accurately in the government industry, it can deliver a complete transparent record of the truth, and it is changing how organizations carry out trusted transactions.
In addition to this, government departments across the world have already started exploring blockchain such as the U.S state of Delaware is making use blockchain technology in order to help companies incorporate and currently, Sweden is using this technology to test a land registry, where property purchasers and sellers, their banks and land registry authorities can check and accept transactions on the blockchain.
Apart from these two countries, Dubai has also decided to run its entire government and its related transactions on blockchain by 2020 with the help of blockchain technology companies as it will digitize all its public docs onto this ledger to boost the speed and capacity for new transactions.
Final Thoughts,
So, these are the three top industries that can witnesses a big disruption from the blockchain technology as world's some of the biggest companies are pouring millions into blockchain technology to revolutionize the way they perform business.
The companies are looking for hiring blockchain developer so that they can build a platform that smoothens the process of handling customers, employees and help them serve their customers better.
What do you think about blockchain technology? Do you think it will revolutionize different industries? Share your views where blockchain technology can be more useful by commenting below!
Related: How Can Block chain Technology Help Transform The Finance Industry
Author: Jyoti Bharwani