In this digital age of smartphones, the expectations and behaviors of customers have been changed. Almost all your customers have a smartphone or tablet in their hands. And, the total time spent with mobile apps is also increasing.
Like other industries, hospitality is also realizing that there are enormous opportunities, which result from these changes.
Today, hotels can also embrace mobile technologies that will not only boost the customer experience but also benefit hotels and resorts monetarily and operationally.
Why Should You Make an App for Your Hotel or Resort?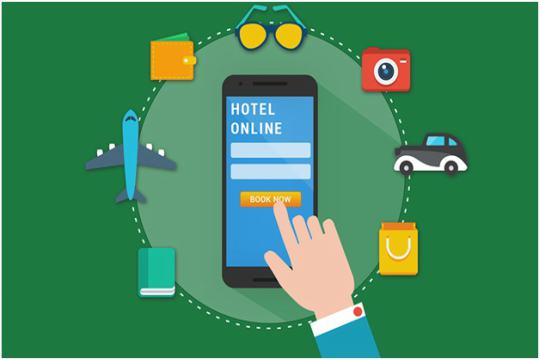 Mobile apps are not only for big and successful brands. In fact, there are various small businesses or startups in the hospitality industry that are making the best use of the mobile app for the hotel. They are opting for a hotel booking app so that they can retain their old customers and attract many new guests.
As hotel businesses mainly depend on online reviews and feedback from clients, it would be a great choice to make a hotel reservation app for your guests. Today, many people expect to book hotels rooms quickly and easily so that they don't have to face any hassle when they travel to other city or country for their business and holiday trips.
Read Also: Top 8 Small Business Technology Trends
They also want to be capable of choosing how they interact with hotel staff and services. For instance, many people like to check in on their mobile devices instead of waiting in the long queue at the front desk. Here are some of the use cases, where people can make use of hotel booking app:
To make reservations for dinners at hotels or resorts.
Booking appointments for spa or massages
Ordering Room service
Check in and check out
Ordering food, drinks, towels, etc. through GPS and beacons.
Paying bills directly from their bank account
Having a hotel booking application will not only benefit your customers, but it can be also beneficial for the operational viewpoint. You can allow your customers to book services, make reservations and customize their hotel stay with just click.
Make Hotel Booking App that Stands out from Your Competitors
If you have decided to make a hotel reservation app that gets huge popularity on the web, it is important that you define its essential options. Making a popular hotel app is not child's play, you need to go deep, comprehend your guests' requirements and make a list of features that you want to include.
Let's take an example of Booking.com, a successful hotel reservation app. It provides an excellent platform for its clients to post reviews and rate their hotel services and many other advanced features.
Have a look at the essential options of this app that you can also consider while making your own hotel booking app.:
1. Easy to Use & Interactive
For the hotel industry, this is a highly useful function as it allows your guests to access your application easily and without facing any issue.

As you can see in this above image, the user of Booking.com finds this app easy to use and interactive. So, it would be good for you to go with easiness and interactivity rather than confusing your guests.
2. Offering Paperless Confirmation & Check-in
Considered as an essential feature, booking.com offers its guests a paperless confirmation and check-in that allow users to save their time by not standing in the long queue at the front desk.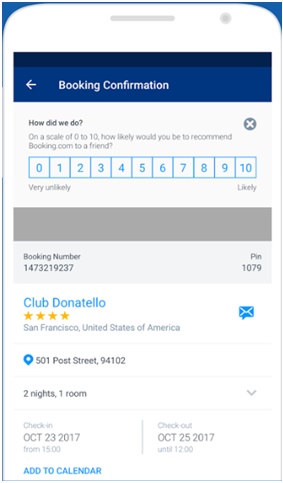 They can instantly get paperless booking confirmation and check-in in the hotel room to make their stay convenient. There is no need of printer, data or wifi.
Related: Moving Towards Paperlite and Environmental Sustainability
3. Showing Accurate and Precise Information
Do you know your guests love to hear and see the truth? They love to get accurate and precise information that save their time and give them what they are looking for.
Rather than showing fake and stretched information, you can give laconic information about hotels, its rooms, and services that offered by them. Booking.com is known for delivering accurate and precise information to its users and it is also appreciated by its users as you can see in the above image.
4. Booking Messages Interface
Booking.com also provides booking messages interface that is a chat-inspired communication platform, allowing customers and accommodation providers to connection with each other from the moment a booking is made.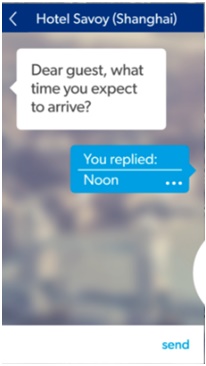 Featured with automatically pre-translated templates for certain predefined requests like check-in and check-out times, this interface is also best to communicate about parking and bed preferences all in real-time.
5. Allows Creating Wish Lists for Your Upcoming Trips
One of the most useful functions of this app is that it allows creating wish lists for your upcoming trips. You can create a wish list of different places to stay for your upcoming trip and can have them on your device until you book your next trip.
By offering this type of feature, you can allow your app users to create their desired wish list of different places like a weekend away wish list, etc.
6. Directions Through Maps to Help You Find Your Way
It is also a great feature of Booking.com app is it directs users through maps to help them find their way to the hotel that they have booked.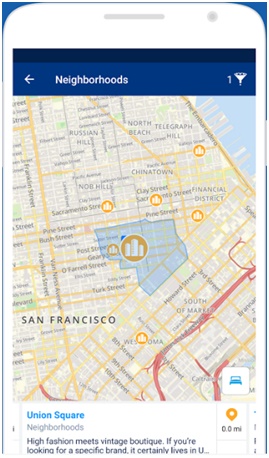 They can also view maps to ensure that their hotel is where they want to be. Not all applications are offering this feature to their users, so it considered as a useful feature for users to have it in an app.
7. Access 24/7 customer service
By providing customer service 24*7, you can easily tempt people towards your application as they always look for the rich and on-time customer service so that they can get an answer to their questions and instant solutions of any issues.
Booking.com is the most popular app that offers its guest 24*7 customer service, giving solutions to their problems related to bookings, etc.
Conclusion
These are some of the examples of exclusive features that booking.com offers to its users. You can also make difference in your guests' life by offering such mobile app for a hotel that makes it easy for them to book rooms at last minute, reserve tables, and access other services conveniently.
You can discuss your hotel booking app idea with a leading mobile app development company that already developed such apps for its clients.
Read Also:
Author: Jyoti Bharwani