When you think to start a silk screening business, the first and foremost thing is to make some investigation about several markets that are already running this business. Screen printing is considered to be a modern terminology in business and it is commonly called as silk screening.
It is used for printing a great number of useful and famous products. There are lots of different things like electronic parts, wallpapers, apparel, bulk fabric, etc. that can be printed by this useful and versatile process.
Some particular equipment, a specific ink and chemicals and different techniques are required in this process. The process of silk screening is considered to be one of the oldest processes of printing.
Some people also opt it as a hobby and it is very easy to learn for them. However, at a commercial level, this process really required advanced techniques, high quality equipment and products. If you want to start a silk-screening business, there are some steps that you should follow:
5 Steps To Starting a Silk Screening Business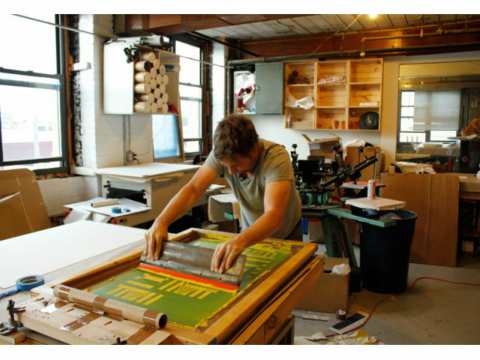 Step #1
The first thing is to make a plan for your business. This plan should include all the major as well as minor details about your business including the methods for marketing, operational costs, formulas for pricing and other specifications.
If you think you can plan about your business well, then you can make the plan of your own and write it down, otherwise you can also take help from a professional.
Step #2
The next thing is to decide about the structure of your business. This business can be operated as a sole-proprietor or you can also go for partnership; it depends on your requirements, your business model and things like that.
The necessary paperwork can be filed with the local as well as the state government at the time when you apply for the license of your business and other permits.
Step #3
Applying for a local permit to start up your silk screening business is also an important step. The certificate for state tax registration can be obtained from the government. There are several other certifications that should also be taken like the employer identification number in case you have planned to hire some of the employees.
The other certificates are for the inspection of safety and health. All these certifications and licenses are important to be obtained before starting your business officially.
Step #4
The next step is to secure a facility for printing. If you want to use the garage and basement of the building, you are dependent on the local ordinances in this regard. However, if you go for warehouses or any other rental space, it will offer you more exposure and greater credibility.
At the place where you start your silk screening business, there are some of the things that you will need; for example, adequate electricity, water, control over climate, sufficient ventilation, drainage for wastewater, etc.
Some of the municipalities also require a system to filter the waste for preventing the waste product to enter their municipal system.
Step #5
The last step is to do enough research and to do some surveys. Then you are supposed to purchase the required equipment and everything else. The equipment would definitely be according to the printing services that you will plan to offer.
However, the things that are generally required in a silk screening business include a normal computer that has an arts and design program installed in it, specific types of inks, different chemical products, squeegees, screen exposure unit, a washing tank, etc.
Read Also: How To Start an Online Tshirt Business From Home