From Pygmalion's Spectacles to Oculus Rift, we've come a long way in virtual reality and augmented reality. But there's still a lot to achieve in Augmented reality and virtual reality, especially in real estate.
AR/VR in real estate are still newer concepts, and very few real estate companies have fully embraced them.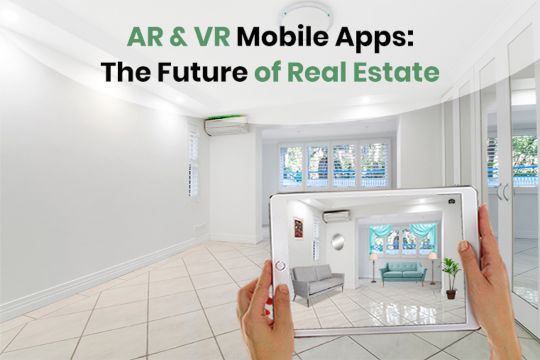 But the trend of real estate mobile app development with AR and VR features is catching on fast. It will be one of the significant technological highlights in real estate business vertical.
Today's customers believe in online shopping more than going for something offline. Even if the store is just two minutes away, you think of the convenience the online approach offers you. That's what the real estate buyers are also getting interested in.
They want the ease of access and an incredible online experience in buying property the same way they are getting while buying their groceries or clothes online.
Not all real estate dealers have integrated such modern technologies into their sales pitch. But the old school realtors are a dying breed in these times.
If you wish to be the realtor of the future who has one hand on technology and the other on lucrative property deals, it's the perfect time to build your own AR/VR real estate mobile app for customers.
VR in Real Estate
The technical definition of Virtual Reality is that it's a three-dimensional, computer-generated environment used by a person to explore and interact with using a headset.
In layman's terms, it is as the name suggests, a virtual environment that is designed for users to see and feel any kind of ambiance that they require or desire.
VR was widely accepted into the gaming community as it gives a 100% immersive experience. But lately, this modern technology marvel has found its way into several other industries. We'll be talking about one such industry that is benefiting a lot from VR integration, Real Estate.
AR in Real Estate
The textbook definition of AR is to create an enhanced version of reality by adding digital information on top of real captured images, videos, and real-time feeds.
In simple terms, it is when you add a digitally created object into a real image or video. The best example is the doggy filter we see on Instagram, which puts dog-like ears and tongue in front of your face in real-time.
Both AR and VR in real estate have different uses, and when you bring both on the table, you get the best digital tools that a realtor needs to sell houses in 2020.
Now we'll talk more in detail about how VR/AR are changing the landscape of the real estate.
How Does AR/VR in Real Estate Help You Sell More?
You must have already known or guessed the main use of virtual reality and augmented reality in the real estate business.
It is to showcase homes without having to go visit the actual home. This new feature changes everything; how realtors used to sell houses, how potential buyers used to see houses, and the time taken to see and confirm a property.
We'll discuss all these points and several others that are lately raising the interest of real estate buyers and sellers.
A VR estate tour reduces the number of unproductive visits to the benefit of generating and following more serious leads by realtors.
90% of households today begin their real estate search on the Internet, with more than 50% of searches made on mobile devices. So, if your real estate company has its own app where people can search listings and also view a digital 3D model of the houses, you'll be ahead of at least half of your competitor real estate firms.
The buyers can also make more educated selections by using AR and VR technologies that give them immersive experience for each listing. You provide the buyers with a spatially richer experience than showing mere photos or videos of the property listing.
Once they see the virtual vision of the property, potential buyers can decide whether a specific property is "worth the visit" for them or not.
With an AR real estate app, the clients can see in real-time how furniture would look in the empty spaces, and which wall colors would look better. They can add and remove any object on the visuals of the home via an augmented reality real estate app.
How Will Your Realtors, Work with AR/VR Real Estate Apps?
Give technology in the hands of a teacher, and you get an educational revolution. Give technology in the hands of doctors, and you'll see a medical revolution. Similarly, giving technology in assistance to your star realtors will bring a sales revolution in your real estate company.
Builders and realtors will need to start leveraging storytelling techniques to communicate with potential buyers. Any realtor worth his/her salt knows that you need to be first a storyteller and then a salesperson to sell people their dream house.
Using AR and VR in real estate will further enhance your storytelling and sales pitch such that your buyers can visualize what you are saying and get an extremely personal feeling even without visiting the house.
Bring in seasoned graphic artists to work remotely with the realtors to virtually stage a property in real-time based on potential client feedback, which will definitely further help in making the sale.
Real Estate Mobile App: The Best Chance of Winning in Real Estate
If you are planning to become the most prominent real estate agency in 2020, you must go for the real estate mobile app development approach. As we talked before, the majority of potential buyers start their search for properties online from their mobile devices.
Investing in AR/VR app development, 3D modeling, and staging techniques is a very beneficial call that you can make for your real estate company's future.
If you have decided to go the VR/AR real estate app way, the next step is to choose the best real estate app development company to build your real estate application.
Author Bio: Paresh Sagar is the CEO of Excellent Webworld, IoT, web, and mobile app development company that helps startups and enterprises to enable mobility solution. He's an avid blogger and writes mainly about the latest technology trends.