Thanks to our busy schedules, we barely find the time to visit shopping malls to tick items off our buy-list. With the long queues in the billing counter and the dingy and claustrophobic dressing rooms, shopping sure isn't a great experience anymore.
We could really do without the needless encounter with the intruding salespersons breathing down our necks, trying to talk us into a poor deal.
With advanced digital and mobile technologies taking over the world, things are changing for the better. We no longer have to step out and stand on the sidewalk, hailing cabs in the dead of the night – thanks to online cab bookings. Neither do we have to run to get groceries from the supermarket! We can stay put in our home in our PJs and just 'e-order' the things we need.
Virtual reality (VR) and augmented reality (AR) is here to transform how we shop minus the queues and the crowd. The future of shopping is all about interactive experiences that inform the customers and keep them entertained at the same time.
The key players of the online industry are creating images around a customer to give them an insight into the details of the product. Consumers have the option to upload a photo and check how they would look wearing an outfit before they hit the button to make a final purchase.
Along with a combination of IoT and AI, the leading brands are trying to create a customised experience for every customer based on the data collected through machine learning.
Use of AR & VR to enhance the shopper's experience in the future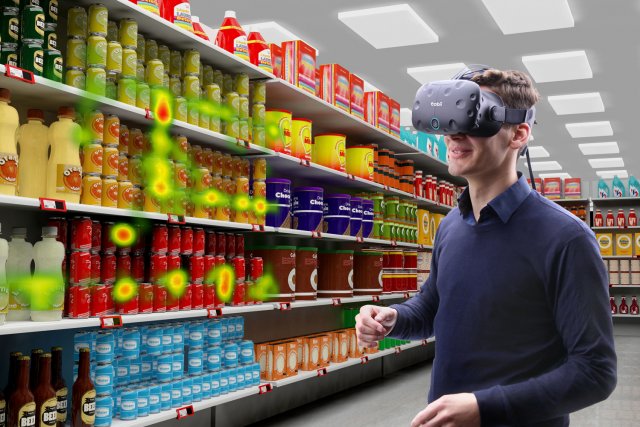 According to Goldman Sachs forecasts, we can expect to see a 33% rise in the use of AR and VR in the retail industry by 2025. Leading retails brands have already taken the lead to facilitate the purchasing experience of the buyer. Here are some brilliant ways how retailers will be tapping the potential of these technologies to bid farewell to common shopping woes.
1. Testing or Trying on Merchandise
Even though online shopping has been in the scene for quite some time now, the risk of buying merchandise of the wrong material or the wrong size continues to bother us.
Compared to online shopping, it is the only advantage that in-store sellers enjoy over the former. Online shopping has come a long way to enhance the experience of the buyer.
If you shop on apps, you will be able to upload a full body portrait, and the AR solutions will show you how you would look in the clothes. Same goes for furniture shopping.
All you need to do is take a picture of the space, and you will be able to preview how a desk would look in it. When you visit stores in future, you will be able to avoid the dimly lit trial cubicles that you abhor. With virtual fitting rooms being the new big thing of 2019, customers will be able to virtually try on garments available in the store using hand gestures.
2. Creating Virtual Encounters
Car shopping can be annoying, owing to the boring and technical jargon about the nitty-gritty of a car that we barely understand. It can be the primary reason why the number of average car buyers visiting auto dealerships has come down from 5 to 1.6 in just ten years.
Implementation of AR or VR can help car manufacturers to overcome this hassle. Customers always want to make sure that they check the specifications of the car. They want a person to guide them through features like navigation services, auto-gears, etc.
VR will come to the rescue with car brands, offering virtual test drives. At present, Lexus is making the most of this technology. The company is allowing the consumers to take a test drive and explore the insides of a car even when they are unwilling to visit a store.
3. Virtual Browsing
Tell me how tedious it is to fish for the right size of a top or select the colour from a pile of clothes during a sale? With online stores, that isn't a problem anymore. Online stores are organised, and it is just going to take you a few filters to find the item you are looking for.
Even when it comes to physical stores that are VR-equipped, customers can browse the store irrespective of their location, and buy items through a fashion showroom. Companies that provide online assignment help are already the most of virtual browsing by allowing the students to scroll through existing samples on their websites.
This not only eliminates the shopping woes that consumers want to avoid, but also reduces the cost of establishment for the seller. The seller will be able to use panoramic views and 360-degree images to showcase products without having to pay rent for the store space.
4. Personalised experience with custom-made goods
Let's walk you through an example. At times, we might want a piece of furniture, but prefer a minute change in it (like a closet with an extra rack for your parkas and coats). Providing directions for a custom order can take a lot of time, and you might face communication gaps with the seller.
AR and VR in retail will be able to help overcome such hurdles by producing virtual versions of the desired product. The reports are in, that top retail brands will be combining AR and projection technology to enable a customised design according to the requirements of the buyer– something that Zara has been doing already.
5. Offering Product Info in the Context
While buying a product from a physical store, you are unaware of the experiences of the previous buyers. With online shopping, you will get a view of the minutest details about a product. You will come to know the details involved in manufacturing the products through VR frames. Also, you can find authentic reviews posted by the buyers.
Following in the footsteps of Starbucks, brands will be using AR to blend the experiences of in-store shopping with online shopping.
In future, visitors at the store will be able to point their smartphones at a piece of equipment and check how the item is being processed, before they finally place the order.
Parting words
The future of implementing AR and VR in shopping shines bright. AR is already solving problems regarding how a product will look after consumption – be it a shirt that you don or furniture for your living room. VR, on the other hand, is replacing brick and mortar establishments and shelf assortment.
Consumers are excited about these shopping trends and are ready to usher in better user experience. It will not be wrong to assume that virtual reality will revolutionize shopping in more ways than one.
Read Also: Visual Identity: Key Factor to Influence Consumers to Patronize a Product
Author Bio: Eliza Clara is a ecommerce solution provider; she is also a technical content writer. Her career focuses on consistently delivering measurable results with greater product success. She also specialized in social media trends & set up business Strategy. Presently she is part time writer at MyAssignmentHelp.