Even though you might not be able to give out large bonuses during the holiday season, it does not mean that you should just hand your employees a boring Hallmark card.
You need to be a little more creative than that. According to a Spherion Staffing Services survey of 970 workers over 18, a vast majority of employees (over 90%) would rather receive a non-typical gift from their bosses.
Of course, shopping for people in the office is easier said than done. So in order to inspire you and give you a few good ideas, here are 10 unique and – more importantly – inexpensive holiday gifts for employees you can give in holiday season.
10 Inexpensive Holiday Gifts For Employees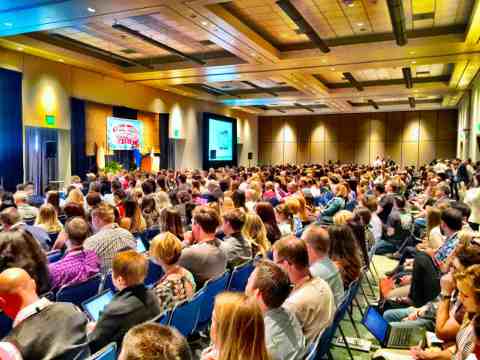 1. Starbucks Ceramic Traveler ($12.95)
In all probability, you have quite a few coffee lovers in your office, and if they are fans of Starbucks, a 12 oz. travel mug could be a hit with a number of people on your list.
The mug has the classic white paper cup look, and its double wall construction helps hands stay at their normal temperature, while the press-in lid minimizes spills.
2. Ceramic Grill Pan ($24.95)
You have at least one person on your list that just loves outdoor grilling, and this grill pan from Williams-Sonoma not only looks nice, but it also helps creating some good-looking food.
It's glazed, non-stick surface makes grilling of all sorts of meats and vegetables easier.
3. Apple Breakfast Tote ($29.99)
A gift that always goes over well are gift baskets, but instead of the usual chocolate or cheese, you not try something a little unexpected?
This tote gift comes with an apple cinnamon pancake mix, cinnamon maple syrup and delicious apple butter.
4. Visa and Eftpos Cards ($25.00)
Sometimes, all you need is something that will put a smile on someone's face, and everyone loves gift cards.
According to BankRate research, more than 80% of Americans have received a gift card, and more than 70% have given one. Therefore, you should consider the wide range of eftops and Visa gift cards from the GiftCardStore.
5. Corkcicle ($12.95)
Most of you are probably wondering what exactly a Corkcicle is. Well, it is an in-bottle cooler that can keep a bottle of wine cold.
Wine lover on your list will never need an ice bucket ever again. The Corkcicle only needs to be frozen for about 90 minutes, and it is ready for use.
6. Magic Cook Lunch Box ($34.99)
Many employees bring lunch from home every day, and if you don't have a microwave at your office, the Magic Cook Lunch Box is a perfect gift.
The lunchbox, featured in an episode of the popular reality show "Shark Tank", uses only water and a heating pad to reheat food.
7. Flashlight Umbrella ($14.99)
You don't want your employees to get caught in the rain on their way to work, this particular umbrella has a build-in flashlight to help light the way on stormy days.
The umbrella costs less than 15 bucks, and for additional $2.44, you can even print a logo of your company on it.
8. Bubble Wrap Calendar ($25.00)
Uncommon Goods has a perfect gift that will help your workers stay organized and even have some fun with their bubble wrap calendar.
The concept is so perfect and so simple – the calendar lets you check off each day by popping a bubble.
9. Juniper Bonsai ($34.99)
Every office needs greenery, so a desk-friendly plant makes for a great gift. The Juniper Bonsai is not your average plant – it is steeped in tradition and makes for an unforgettable gift for anyone on your little list. This bonsai tree comes in a smooth ceramic pot on top of a rock humidity tray.
10. Tracking Tags ($40.00)
In the past, too many people have been late for work, due to misplaced keys, but you can make that excuse obsolete with a Bluetooth tracking tag.
Once the keychain is connected to a mobile device, the tags can quickly be located through a downloadable app.
In addition, there is an "alert button" on the tag, so in case you have your keys, but you lost your phone – you can easily find it.
Conclusion
As we said before, choosing the right gift is hard, as a matter of fact, almost three out of four people don't like the gifts they receive, according a recent Rakuten survey. So if you really want to make an impression, you have to work the extra mile.
No matter the number of your employees and the size of your budget, you want your gifts to be top-quality and memorable.
If you are looking for products that will impress your workers, and thank those who have helped make your company a success, these gift ideas are a good place to start.
You May Like To Read: