When you freelance, you would know how to make the most of freelancing portals. We have collated a list of the top five portals for freelancing.
We will take you through every platform's features and hiring process that will help you decide which portal can be the most beneficial for you.
5 Best Freelancing Portals
1# Freelancer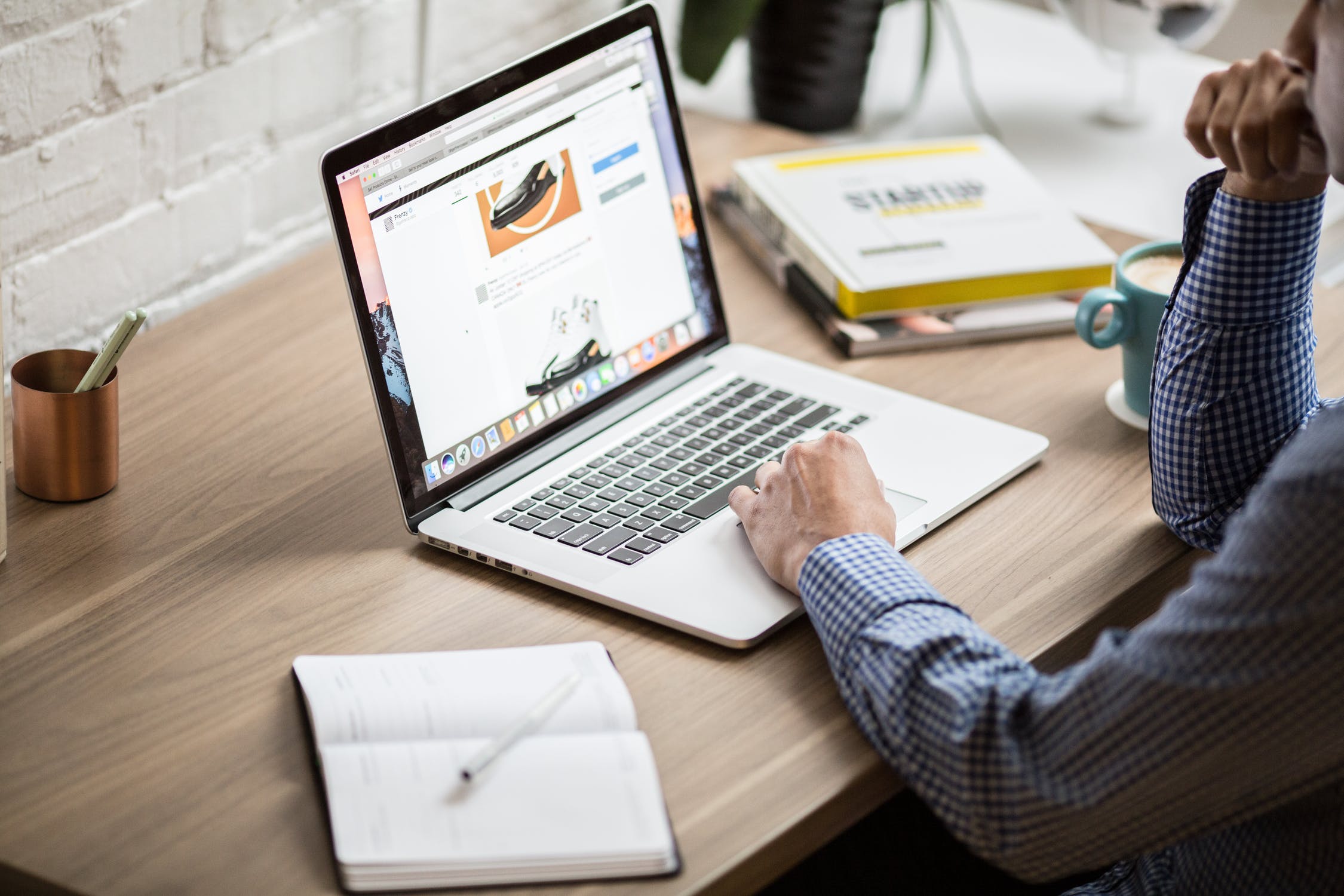 Freelancer is the world's largest freelancing marketplace. It is a general all-purpose freelance portal. It connects more than 44 million employers and freelancers. People from over 247 countries use this portal to find freelance work.
Many small-sized businesses use this portal for tasks like web development, mobile app development, logo design, writing and marketing, among others. When companies or businesses are looking for freelancers, they can simply post jobs here. Shortly after that, you post bids on the job.
When you are selected for your bid, you complete the task and are paid safely through the portal. On your profile, you can also share examples of your previous work, have reviews from your former employers, and have conversations with the prospective employer using the live chat function.
Following is their hiring process:
Clients can use the search filters, identify the freelancers that are suitable for the job and approach them directly.
Clients can post jobs, and you can bid for the project.
Further, clients can organise contests. You, among other freelancers, can present your ideas, and the client will select the most suitable one.
Key Features
For every freelancer, the platform creates a thorough work portfolio. This portfolio will help you in getting more jobs.
It confirms every freelancer's competency by taking certification exams.
It offers active customer support with an organised dispute resolution system.
To safely earn money, you can request for milestone payments from your clients.
2# Upwork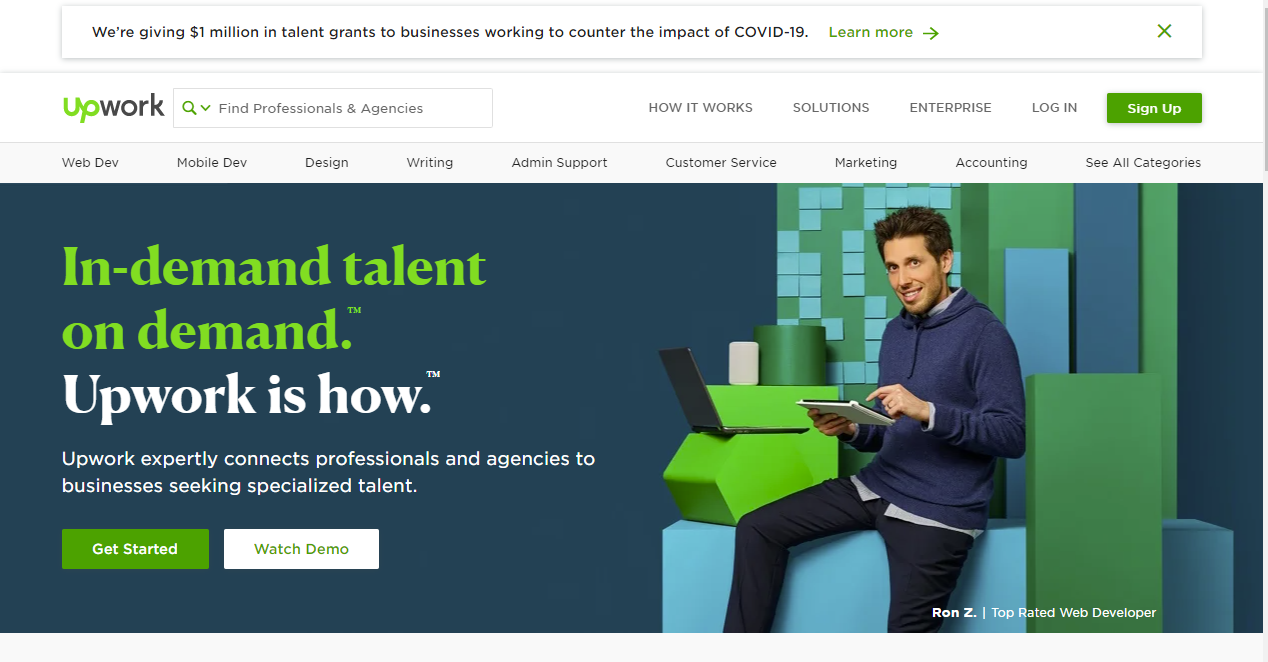 Upwork is used by many companies who are considering hiring freelancers for bigger and complicated projects. You can look for jobs in many fields like web development, software development, mobile app development, design, sales, marketing, customer service and admin support, among others.
When a company posts a project, you can apply to associate on that project. You can opt for long-term or short-term projects. You and hirers can coordinate with each other using the online chat and video call feature, and this helps them maintain transparency with jobs.
Following is the hiring process at Upwork:
Hirers can post a job listing, and you can reply to the listing.
Hirers can visit freelancers' profiles and approach them regarding the jobs.
Key Features
You can use search filters to select the job according to your preference.
You can use the built-in online workspace to coordinate with the hirer and receive feedback. And you can also send and receive files.
You can submit timesheets through Upwork for hourly work. For fixed-price projects, you can set milestones, and your payment would be released using Upwork escrow features.
They have great programs that you can add to your profile.
For greater efficiency, you can use many features on their mobile app as well.
3# Fiverr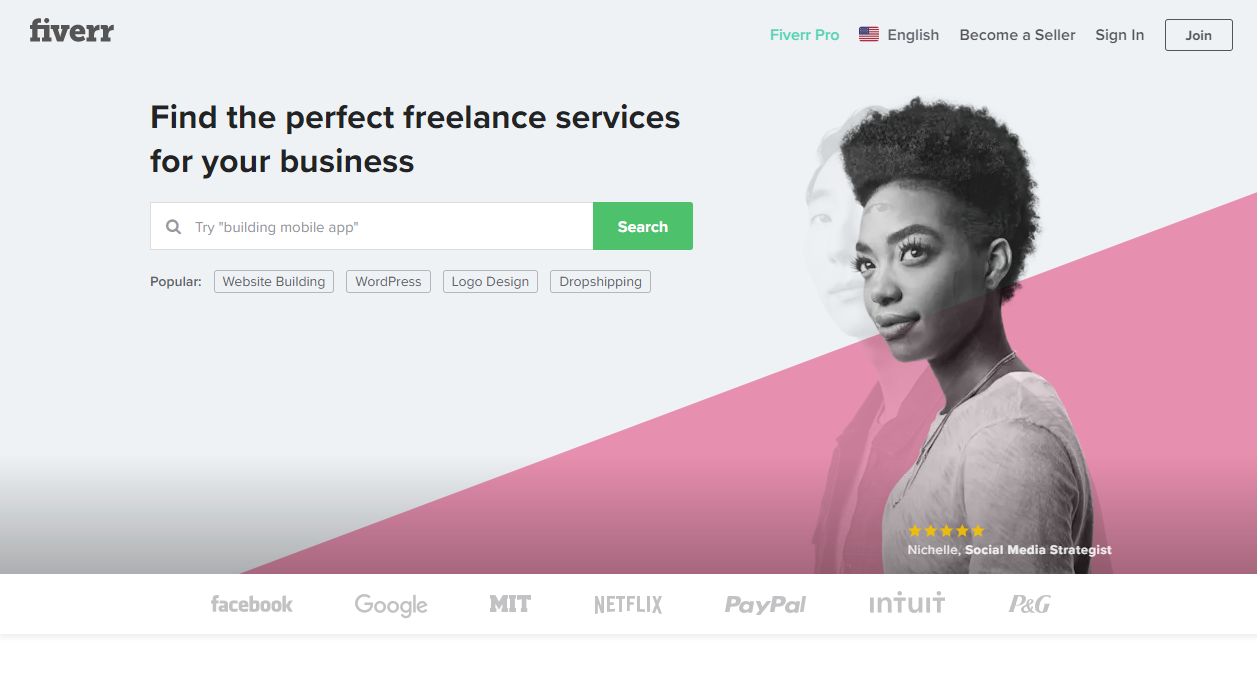 Fiverr started in 2010 when people could post a job that they would execute for $5. The price would increase based on skill, demand, tenure and complexity of the job.
Initially, it had many tasks related to blog posts and checking the precision of the homework. With time, as they became more popular, they expanded their services to more than 30 areas and the fee that a freelancer can charge for services.
It is considered as an excellent place for beginners as they can look for many jobs here and get jobs at economical pricing, which would build their portfolio. You can learn different courses to improve your skillset and pitch to clients with Fiverr's free learning courses.
The client can share a gig for their specific requirement. If you have the required skills, you can bid for the gig and get it. For beginners, this is a great portal to start their professional journey with gigs in various domains like writing, painting, designing, programming, editing and coding, among others.
Following is their hiring process:
Clients can post job listings, and you can respond to it.
Clients can visit a freelancer's profile and contact them if they like their skillset, and it matches the job's requirements.
Key Features
It is reasonably affordable as there is no membership fee and provides services at only $5.
It allocates every freelancer a seller level that helps clients look for the top freelancers.
Further, it comes with many search filters that help you find the jobs you are looking for.
You can create a video to pitch yourself in a better way to clients.
You can provide more choices to the client by offering three different bundles in a package. This gives your opportunities to increase your order's value.
4# Smartsociates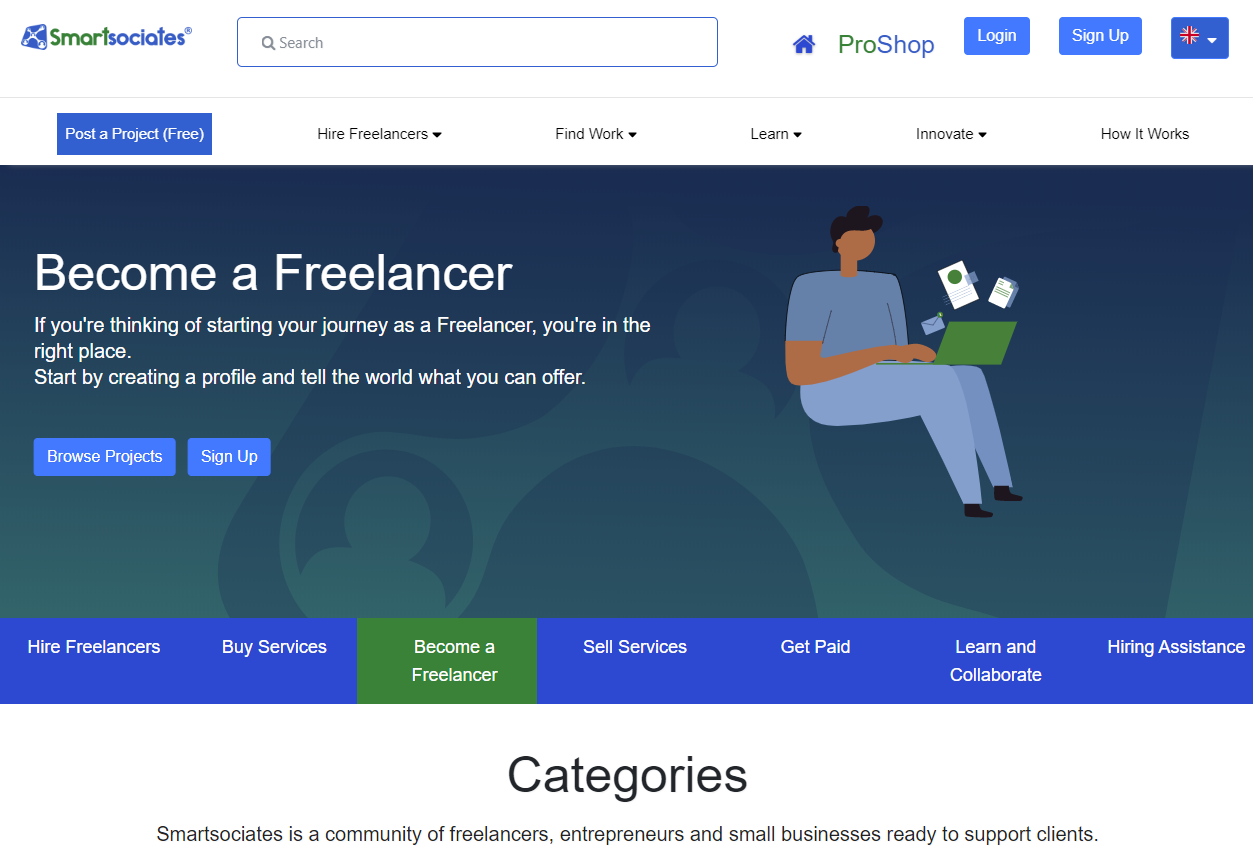 Smartsociates is a community of freelancers, businesses, and entrepreneurs. It offers freelance jobs in many domains such as computing, design, media, business, digital marketing, remote support, marketing and engineering, among others.
With direct client inquiries or bidding for posted projects, you can find projects. You can use Smartsociates' messaging tools to interact with the client. You can sign fixed-price contracts and hourly/rolling contracts depending on the scope of work. The high quality of work that freelancers get from here makes this freelance portal one of their preferred choices.
Following is their hiring process:
You can use their filter to narrow down your search for projects and bid on the projects that interest you.
If you want to present a proposal to the client, you can express interest.
Once the client pre-qualifies you, create a quotation. You can also contact the client if you need more explanations about the project.
Depending on the scope of the project, delivery time and payment milestones, you can divide it into work packs. A billable quantity of work is called a work pack.
After this process, you can share your quotation with the client.
Once the client confirms the quotation, you can start work.
Key Features
Clients can post for a job for free.
It has a robust dispute resolution program in place that is helpful for clients and freelancers.
It offers you a chance to be a part of their ambassador program, which gives your profile a better reach.
Also, it offers a feature called ProShop, which is an online marketplace. Freelancers can bundle their services and sell them here. Freelancers can also access training courses to make their skills better.
It has an expert team of recruitment consultants. If required, clients can contact them to assist them with hiring the right freelancer for their project. Using new-age digital technologies, the team helps them find suitable candidates for their long-term and short-term projects.
It provides local hiring to clients in which it helps clients in finding and hiring talent within their specified area.
5# Toptal
Toptal is considered to be one of the most selective platforms that hires only the top 3% of global freelancers. It has the top freelance software developers, designers, web developers, app developers, coders, and UI/UX designers registered. It offers non-tech IT jobs as well such as finance, accounting and project management, among others. Many successful companies prefer hiring freelancers from Toptal for their critical projects.
The freelancers are selected at Toptal only after they pass a 5-step screening process. This process measures their communication skills, professionalism, and subject matter expertise. A freelancer spends almost 2-5 weeks in completion of the entire screening process. This ensures the high quality of the registered freelancers.
The freelancing portal continuously works in developing the registered freelancers with the help of various tutorials and research blogs. They also provide a no-risk trial and quality guarantee. If you have the required skill set, you can easily find relevant jobs here.
Their hiring process is mentioned below:
The client can post a job posting mentioning all their requirements.
A Toptal expert contacts them regarding the job posting.
They then select the freelancers that are most suitable for the job.
The client can select the best freelancer out of the selected freelancers.
The client can work on a trial basis first, and if they like the freelancer's work, they can go ahead with the work.
Key Features
Clients do not have to spend time in searching and shortlisting freelancers, and the Toptal team does this task.
Freelancers on Toptal have excellent knowledge about tools like Google Apps and project management software. This makes the process of adapting to the client's workspace faster.
Their stringent selection process results in the top 3% of freelancing talent in their platform.
Many freelancers across the world prefer these freelancing portals. They are helping freelancers make a successful career in an organised manner, just like full-time employees at organisations.
Read Also:
Author Bio: Pascal Pemha is UK based Engineer, Entrepreneur & Blogger he often posts career related blogs on various platforms to inspire youngsters.