When the business scales, the entrepreneurs face the need for workflow optimization by automation to avoid human errors, switch the staff to more important working activities and boost the workers' productivity.
The development of the proper custom software for the company will help the clients gain the said purposes.
The current essay will research the question of custom digital product creation, offering you the basics you require to know.
The Essence of the IT Products Development
To understand the subject better, let's find out its meaning. So, developing custom IT solutions means creating unique software (e.g., mobile solutions, websites, or web apps) for particular businesses of different sizes.
The specially created business software is intended to support certain users (e.g., the workers of the client company) with particular duties. Making a bespoke product entails creating one-of-a-kind software with an interface containing corporate colors, symbols, and other aspects from the brand book of the specific business.
The following are the most prevalent kinds of corporate custom software products:
Marketing management tools

HRM/onboarding software

Task management solutions

Business Intelligence (BI) tools

Industry-specific digital products, etc.
In case you apply to a skilled software vendor to assist you during the development flow, you pass the following stages of the digital product creation:
1. Research
You come to the provider's professionals, telling them about your concept. They talk to you to collect more information (such as establishing the corporate aims, investigating competitors, core audience, etc.).
2. Planning
The IT specialists write a project specification for your future project as well as the team composition to boost your digital product creation. They also start building a solution's design by creating wireframes and preparing the feature list.
3. UX/UI design:
The designers work on the upcoming product's interface, creating it screen by screen. Then, the project is handed over to developers.
4. Development and QA
This stage implies creating code during sprints — definite periods of time to build and deliver a particular feature or full-fledged software. The QA engineers watch the process, checking the built functionality for bugs after each sprint and creating bug reports for the developers (if something is found).
5. Launching and maintaining
On the day of the solution's launch, the team publishes it in the intended marketplace (if it's a mobile app) or moves it to a live server in case it is a website. However, the flow isn't finished after the product's creation: the experts constantly monitor it debugging or upgrading.
Pros and Cons of the Ready-Made Digital Products
Naturally, not every organization requires specially created software.
Companies with optimized business processes and startups can benefit from out-of-the-box products. In this case, Google Spreadsheets, Excel, or a pre-made CRM would work perfectly for them.
But when the company expands, such people run across constraints and limitations imposed by the software's designers. As a result, there will come a time in the future when utilizing the program as-is will no longer be acceptable. The end consequence is time and money wasted on the incorrect product and falling behind rivals that started on the custom-built road.
The Undeniable Advantages of the Custom Software Products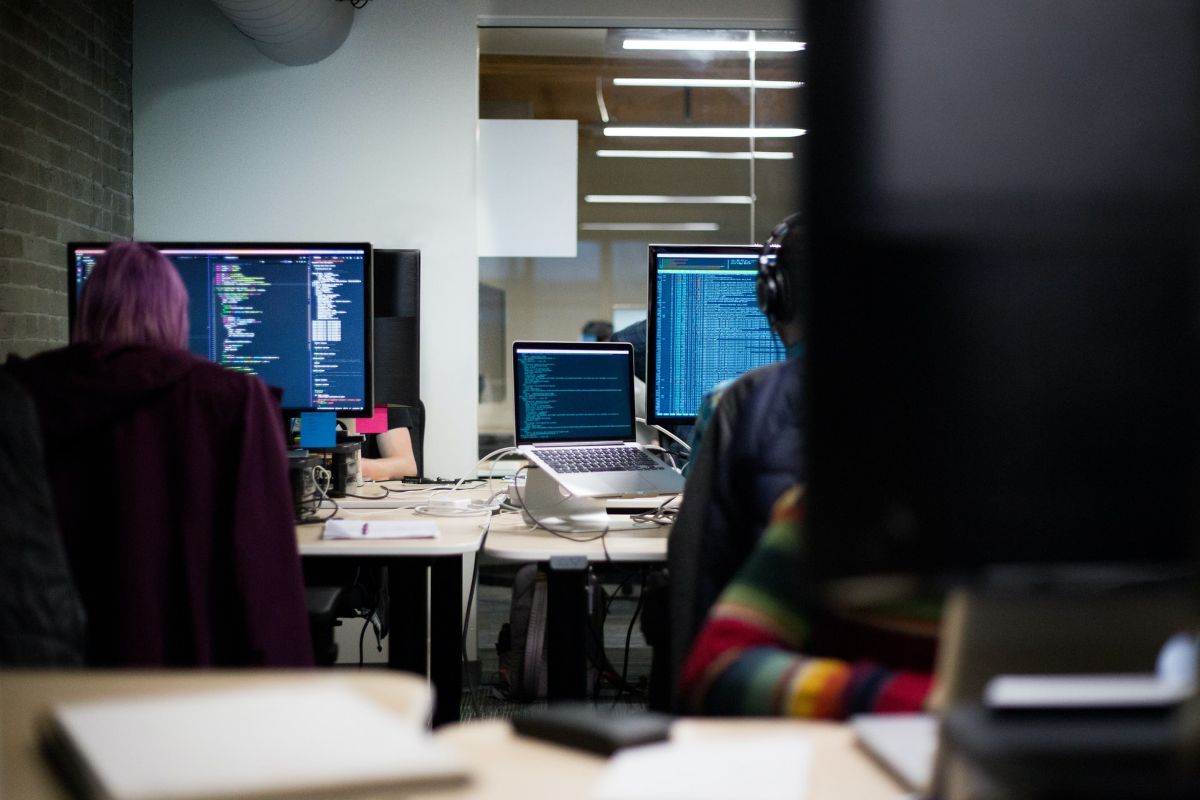 When you create a custom solution from scratch, you develop a unique instrument capable of increasing your profit and gaining the particular aims of your company. We'll discuss the common advantages of using custom corporate software for you to consider.
1. It pays off in the long term
Of course, the cost of software development intended only for your company's needs will be quite high (for instance, the customized CRM platform may cost from $30,000 to $300,000). However, the custom software option is still more affordable than adopting a pre-built platform.
2. Custom software is simple to update
Bespoke software allows you to start working with the fundamental components and ensure everything functions properly. Then, you can integrate it with other services you need or add additional features.
3. Staff training for custom solutions use requires less time
In comparison, off-the-shelf corporate systems like SAP need intensive team training on how to utilize the solution and need funds investment.
4. Custom IT products are engineered to meet your security needs
Software that manages funds, keeps customer data, or must adhere to rules has to be secure (GDPR or HIPAA). You have the freedom to implement any security measures you need (especially when collaborating with a skilled outsourcing vendor) if you decide to create bespoke software.
How to Prepare For Building Custom Digital Products?
Complex corporate software cannot be built in a short time (according to Flat Rock Outsourcing's statistical data, building the basic app with a set of the most necessary features will take about 500 hours) and for some dollars. 
The more complicated your solution is, the longer it will take to review all the requirements, agree on UI/UX design, set up infrastructure, and so on.
Before the development starts, carrying out the following actions will speed up the entire process:
1. Think Out Your Project and Identify Its Goals
Before searching for IT businesses that offer bespoke software development services, you should do some homework from your side. The questions below are some of the numerous amounts to help you create the full picture of your upcoming development workflow peculiarities.
Do you require a digital product for web or mobile gadgets? Which operating systems will you need?

What will be the peculiarities of the future UI/UX interface?

Would you like to integrate any third-party services?

Will you transfer data from your current app to the new one?

What functionality do you need for your solution? etc.
It will be simpler to decide which features to develop initially when the goals are more clearly defined. This will enable your developers to concentrate on the essential features. Even if anything goes wrong—such as money, unpredictable problems, or deadlines—your team will still provide specific outcomes.
2. Hire Competent Software Developers
The product development may already be handled by an in-house IT or software team at your company. Just be sure it won't affect the regular work they do.
However, you can outsource the development to another country if local custom software developers with the required expertise are not accessible to you or if their services are too expensive.
By the way, IT outsourcing is quite a widespread way to obtain top-quality software collaborating with experienced software development providers: thus, 68% of American companies apply to it, according to the statistics. 
3. Become Familiar With the Process of Developing Custom Software
It's always a meaningful idea to consult a skilled tech vendor before you begin developing custom software or applications. They will create an approximate estimate of time and costs, offer guidance on technologies and architectural design, and present roadmaps for scalability and security.
Working with an internal, external, or IT consulting corporation doesn't really matter. In all situations, you'll need a comprehensive specification, an organized development strategy, and precise time estimations.
Bottom Line
In case you need to boost your business, the specialized software customized for your needs will be your reliable helper. You can apply to a competent software development vendor to streamline the digital solution's creation process.
The provider's experts will eagerly consult you as to all the disturbing business questions and assist you in building profitable and user-friendly software that will satisfy your needs.
Read Also:
Author's Bio: Yuliya Melnik is a technical writer at Cleveroad. It is a software development company in Ukraine. She is passionate about innovative technologies that make the world a better place and loves creating content that evokes vivid emotions.