The world is shifting to a digital landscape at an exponential rate. Businesses are competing globally to distinguish their online presence among myriads of others. The role of an effective CMS becomes indispensable in these circumstances. 
A CMS is a software that helps businesses create, manage, and modify their content requirements in a flexible and specialized way. In short, a CMS allows you to build a website without indulging in its technical counterparts and offers the freedom to focus more on the creative aspects of your website development.
In this post, we'll discuss the advantages of an effective CMS and how it awards a critical competitive advantage to businesses.
CMS Market Share
There are various notable content management systems across the world. However, the competition between the top-most CMS and its counterparts is stark.
WordPress remains the most preferred CMS worldwide, with a market share of 64.2% [Source]. Moreover, nearly 43% of all global websites use WordPress as a CMS. It is followed by Shopify with a market share of 6.3% and used by 4.2% of global websites. Wix, Squarespace, and Joomla are the next choices of businesses with respective market shares of 3.4%, 3.0%, and 2.5%. 
You can see the difference and dominance of WordPress in the world of CMS and the margin with which it stands alone.
Why Do Businesses Need To Invest In CMS Development?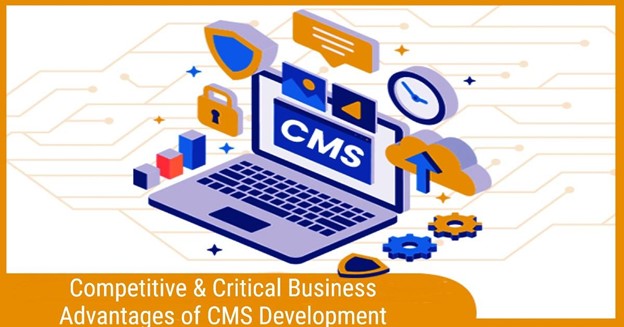 A website must be well-designed, intuitive, and easily manageable on the backend. However, present-day digital content is extremely dynamic. To keep your page design up to speed, a good deal of manual change implementation will be required, which can be very time-consuming. The role of a CMS comes into play here.
With minimal technical skill requirements and a wide range of features that facilitate convenient and quick content updates and management, a good CMS changes the entire game in so many good ways. 
Here are some major advantages of CMS development that can help businesses scale up their content requirements and deliver value-oriented products and services through their websites without much hassle.
1. A CMS Supports User-friendliness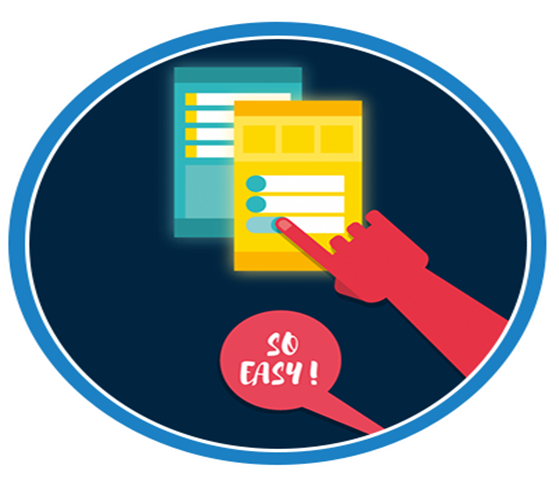 The best part of using a CMS for website development is its user-friendliness which enables any non-technical person to leverage its fullest potential.
Sometimes, installing new software and getting acquainted with its features and intricacies proves to be nerve-racking. This is not the case when you use a CMS that is designed deliberately to ease of use while considering diverse content management needs. 
In fact, ease of use has a huge hand in making WordPress so popular, as you can easily navigate features and functionalities to create, manage, and modify content in no time.
2. Ample Customization Options-Themes & Plugins
When you use a CMS like WordPress, Shopify, Joomla, or Wix, you will find several customization options to modify your content according to your audience's needs and preferences.
eCommerce sites rejoice in this aspect because it amplifies the possibilities to offer personalized product descriptions and other value-oriented content for their customers and hence, the chance to capture more sales.
Apart from this, you also get ample plugins and themes to expand the functional capacity of your website. Businesses can use these options to offer lucrative contact forms, handle spam protection, manage emails, and offer personalized shopping carts to the end-users.
3. Simplified Collaboration Among Teams-Getting Things Done on Time
A CMS supports effective collaboration among different teams when your business needs to scale up its content requirements according to the growing website traffic.
It eliminates the scope of any trouble in catching up with the changing strategy and makes it easier for multiple users to collaborate on a single piece of content.
Moreover, a CMS also allows you to assign roles and permissions among multiple users to ensure timely delivery of content-related tasks. This simply eliminates the possibility of errors or any type of confusion among the team members.
4. Enhanced Security: Keep Your Data Safe
A data breach is becoming a common concern for most online businesses. Encountering this issue requires a great deal of monitoring and prompt actions. Proven content management systems like WordPress and Shopify offer great security features to enhance your website's level of operational security.
The efficiency of those functions lies in the understanding that cybersecurity issues can not be stopped once and for all; however, prevention, quick action, and an immediate response can save websites from a lot of hassle. 
According to WPSecurity.com, more than 70% of WordPress installations are prone to hacking. But the unmatched security offered by WordPress still makes it the most dominant player in the CMS market. Hence, if you take your website seriously, you must adopt an effective CMS that supports security to help you keep your data intact from intruders.
5. SEO-friendliness: Be Easily Found
The ranking war among businesses in the online industry is at its height, and the essence of SEO has been well-realized by worldwide businesses of all kinds. Using a CMS like WordPress, Wix, or Shopify can offer immense capabilities to your business website by optimizing it for search engines. 
Three major factors define the level of SEO-friendliness of a website; Content, Architecture, and HTML. The role of a CMS involves managing all three to ensure better visibility on search engines.  
Using a CMS, you can easily add relevant keywords, title tags, metadata, URLs, and other SEO-friendly components to your website to help users easily reach it. Most CMS solutions automatically handle Technical SEO, thus reducing your load.
As a result, you get complete control over on-page and off-page factors besides getting valuable insights on violations that you must avoid to gain good rankings.
6. Flexible Accessibility: Anywhere Anytime
Modern-day content management systems are often cloud-based, which means that these can be accessed flexibly anywhere, anytime, with a proper internet connection.
This also facilitates teams to work remotely and collaborate with others on updated information to make informed decisions. The interconnectivity offered by a CMS allows you to utilize many resources with better management which are also deployable in multi-site installations.
The overall website management also becomes quite flexible with a CMS as you can easily store all your web content in one place and then create dynamic web pages depending on the flow of traffic on a particular web page.
7. Affordability & Effectiveness: Economically Smart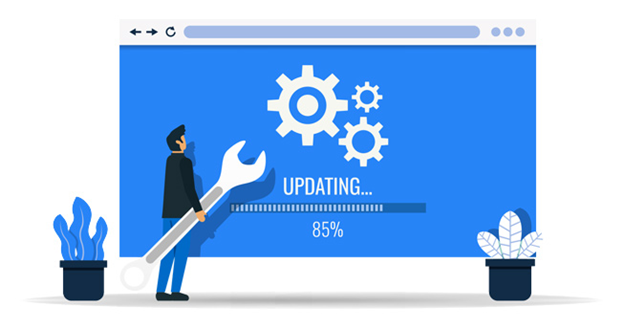 Website maintenance may prove to be a much more costly affair, depending on how you handle it. Hiring a dedicated developer for this job would require significant investment. Opting for a momentary solution (to get this done affordably) can lead to mediocre or poor website maintenance, which can later snowball into a bigger issue. 
A CMS eliminates the need to hire a dedicated professional to make small changes in your website and thus, proves to be a cost-saving element in the long run.
You can easily customize the design and functionality of your website by downloading themes and plugins. Moreover, CMS like WordPress offers exceptional community support. You can make small changes in your site without having any technical expertise.
8. Supports Mobile-friendliness: Enticing More Customers   
There are more than 4.67 billion active mobile internet users worldwide, almost 90% of whom use mobile to go online. Considering the growing importance and interference of mobile devices in the online industry, a business must focus on offering a mobile-friendly website to its customers. 
A CMS intends to add mobile-friendly functionalities to a website so that it can be easily accessed over a wide range of mobile devices. The only thing is that you must ensure that the themes and plugins that you have used for your website development are compatible with small-screen devices.
Additionally, a website that uses PWA is likely to improve its speed and performance by 63% when compared to its previous mobile site. So, keep that in mind when working with a CMS. 
Endnote
Hopefully, this article gave you enough reasons to prove that a CMS is critical to the growth of a business and a major market differentiator currently.
CMS development has become a major element to remaining competitive and offering personalization to your customers that will certainly impact your brand value, profitability, and overall performance.
So, choose a suitable CMS for your website and enhance its performance and efficacy to grab more attention from online visitors.
Read Also:
Author Bio: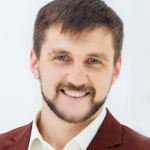 Nathan Smith is a Web & App Developer and the current Practice Head at Technoscore- a leading cms website development company. He constantly brings updated information on the latest tech trends. His passion for transforming technologies encourages him to inform and educate people through his write-ups.