The process of creating, purchasing, and selling real estate, constructing infrastructure, constructing homes, and laying down roads and highways.
Most countries throughout the world have construction companies. Even though a construction firm is a multifaceted organization, it is not a single entity.
The construction industry encompasses not only the building of residential but also non-residential and commercial structures, as well as the construction of infrastructure and industrial structures.
5 Types of Technology in Construction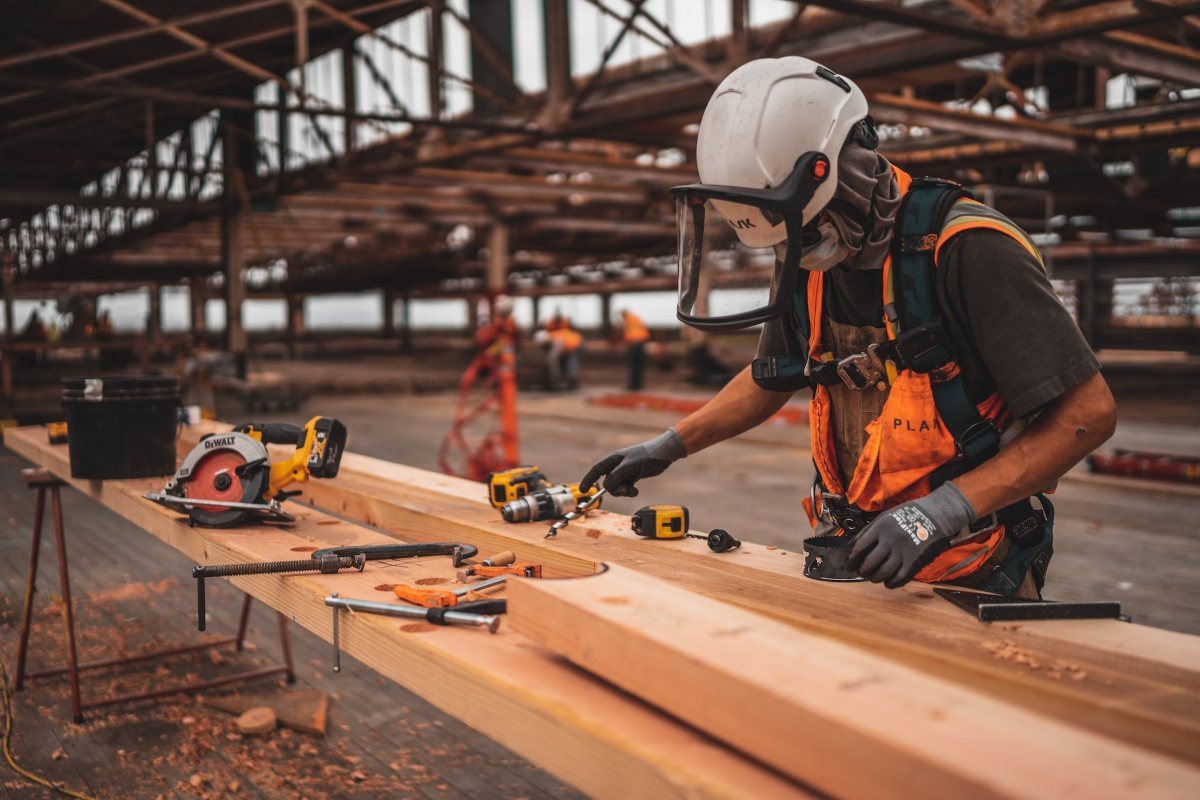 Without tech, almost all industries can not survive today's competitive market, which is why construction technology Is also growing rapidly.
1. Using cutting-edge technologies to reduce construction costs
Future building and construction management approaches are predicted to be more technologically advanced as corporations see such strategies as long-term efficient and cost-effective.
As building technology has advanced, so has the desire for speed and quality. Building information modeling (BIM), aluminum formwork, tunnel formwork, prefabricated buildings, and other technologies can help reduce construction costs significantly.
For example, developers can improve communication among all project participants by including 3D model representations of buildings in BIM models. Building design and construction could be improved as a result. Steel-fabricated forms are used to construct the tunnel structure to cast the beams, walls, and columns all at once.
Using steel formwork repeatedly reduces labor costs and saves time because the walls and slabs don't need to be finished, hence increasing construction efficiency. Additionally, prefabricated technologies provide developers with advantages such as increased site security, reduced waste, cleaner air, and better quality management.
2. Accelerating innovation with disruptive and exponential technologies
Construction businesses now rely on data to make better judgments and maximize efficiency. With artificial intelligence (AI) and machine learning technologies, companies can use the data they've gathered over the years to forecast future project outcomes.
In addition, they have an advantage in estimating and bidding on building projects because of their knowledge of the industry. A further way AI can boost worker productivity is by minimizing the time spent going around the building site in search of various equipment needed to carry out various activities.
Virtual reality (VR) allows workers to experience dangerous conditions like tight spaces or operating at high altitudes in a safe, controlled setting. Worker training may include everything from operating cranes and excavators to completing welding or masonry with virtual reality simulators, which have been used for years by the military, aviation, and even the medical field.
Another emerging technology, augmented reality (AR), has the potential to make construction sites significantly safer. AR may be used in the workplace in various ways, from allowing for a complete safety plan to be produced to providing training on heavy machinery using genuine equipment on real sites with augmented risks.
Companies are also using bricklaying robots or rebar tying robots in addition to this. After being set up, these robots can operate continuously without stopping or going home, doing jobs faster than humans.
3. Drones and sensors on the site allow for more rapid surveying
Developers can now easily conduct workplace checks and identify potential hazards every day, thanks to drones in the building business. It is possible to use them throughout the day to verify that everyone is working in a safe manner.
As the work advances, drones are being utilized to take images and create as-built models of the Jobsite to keep everyone updated on the status of the project.
It's time for the construction sector to focus on digitalization, cutting-edge technology, and cutting-edge construction methods to increase production and efficiency.
Companies will be able to improve the quality and safety of projects by using technologies such as BIM, AI, IoT, and mobile applications, among others.
Construction firms across the board will have to work together to improve their abilities as digitalization opens new doors.
4. Virtual Reality and Wearables
Using virtual reality in conjunction with BIM is a common practice in the construction industry. Imagine if you could design a building with BIM and then walk around it in virtual reality. Isn't it cool?
You and your team will have an easier time visualizing the ultimate product once the project is complete. A better understanding of the project's scope before it begins allows you to avoid costly and time-consuming mid-project adjustments.
As a construction technology, wearables have a favorable effect on both worker safety and productivity. According to a recent AsphaltPro article, wearable technology in the construction industry can boost productivity by 8.5 percent and improve job happiness by 3.5%. Safety vest sensors such as those from Redpoint Positioning, Spot-r, and XOEye were mentioned in the report.
5. AI in Construction
Over the last few years, AI has helped construction projects by increasing safety, streamlining processes, and completing tasks faster and better. On the other hand, construction companies have yet to discover how best to apply this new and complex technology to their operations.
Several of the world's largest corporations are developing their own AI systems to aid in operational and decision-making processes. Nevertheless, some businesses employ outsiders, like AI consultants and service providers, to assess their present procedures and pinpoint potential AI and machine learning applications.
Read Also:
Author Bio: Vijay Rathod is a Content Writer, blogger, and content analyst. He is writing about various topics such as construction equipment suppliers, digital marketing, and content marketing. Also, he did his post-graduation in journalism. He loves to learn new things by exploring the content. "I propose you to engage with my content."