Looking for best productivity apps? Let's explore together.
In a business sphere, productivity at micro and macro level is greatly important for organizational success. That's why successful companies highly focus on productivity.
Michael Mankins, an author at HBR says "research indicates that average company losses around 20% of its productivity capacity, more than a day in each week" which we can call as organizational drag.
Organizational drag refers to unproductive activities which consumes valuable time and prevents employees to get things done. These unproductive activities are the real productivity killers.
The best companies strive hard to find the issues which exist in their processes and they implement effective time management strategies and best productivity apps to fix these issues.
Whether you're a solo freelancer, collaborating in a team or running your startup, you need the right tools and best productivity apps or software to optimize your processes, streamline your activities and ultimately increase your productivity.
In this article, I am going to list some of the best productivity tools which will help you to get things done efficiently.
Note: I have listed some following productivity applications with respect to their niches which include
Best to-do lists
Note apps,
Time Tracking Apps
Focusing software
Communication tools
Further, I tried my best to find top productivity tools possess good features and also freely available online. However, some applications are also available which offers premium features but these are paid ones.
Growing startups may use paid productivity applications to unlock premium features as well as to boost productivity.
14+ Best Productivity Apps To Enhance Your Productivity & Efficiency
1# Google Tasks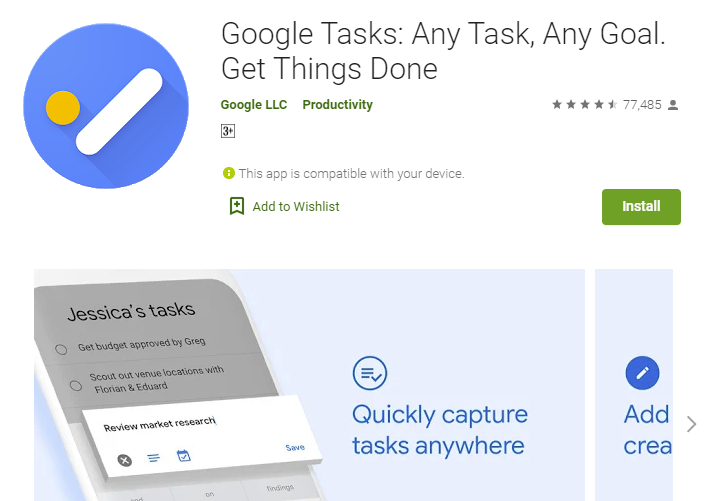 Google Task is one of the free online productivity tools that lets you create to-do list within your Google Task App or Gmail. It helps you get more done.
Google Tasks is fully integrated with other Google tools such as Gmail, Google Calendar, G Suite and many more.
Key Features:
Quickly capture tasks anywhere (create, edit, view and manage tasks)
Add details and create sub-tasks (Add, Edit and breakdown your tasks)
Check tasks created from Emails (create, view and trace tasks)
Always stay tuned with due dates (set tasks, organize tasks and receive due date task notifications)
Cost: Free
Availability: It is available on Chrome, Android and iOS.
2# Google Keep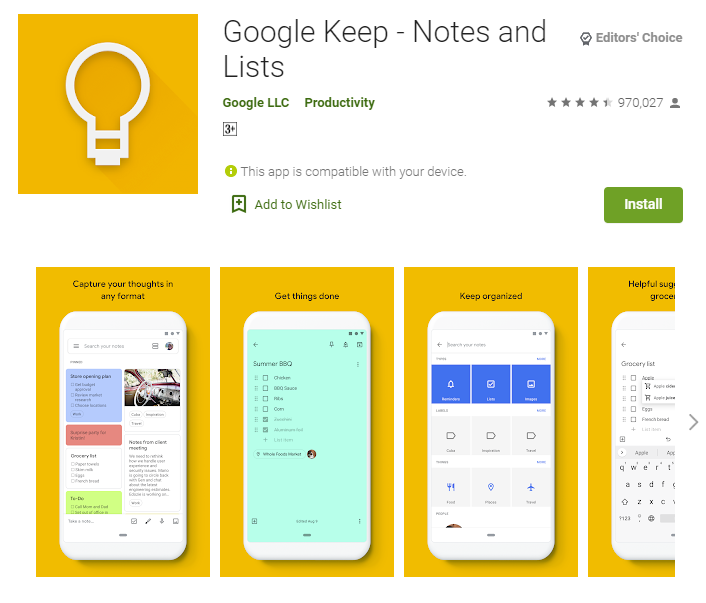 Another wonderful to-do list app by Google. Google Keep is a note taking app that quickly captures what's on your mind and it gives reminder at the right time and place.
With Google Keep, your texts can be automatically transcribed. Further, it can help you to take notes in variety of ways including texts, lists, images, and audio.
Key Features:
Voice Memo
Includes voice notes, photo notes and checklists
App is synchronized with Drive
Web app is fast, minimal and functional
 Cost: Free
Availability: It is available on Web, Chrome, Android, and iOS.
3# Microsoft OneNote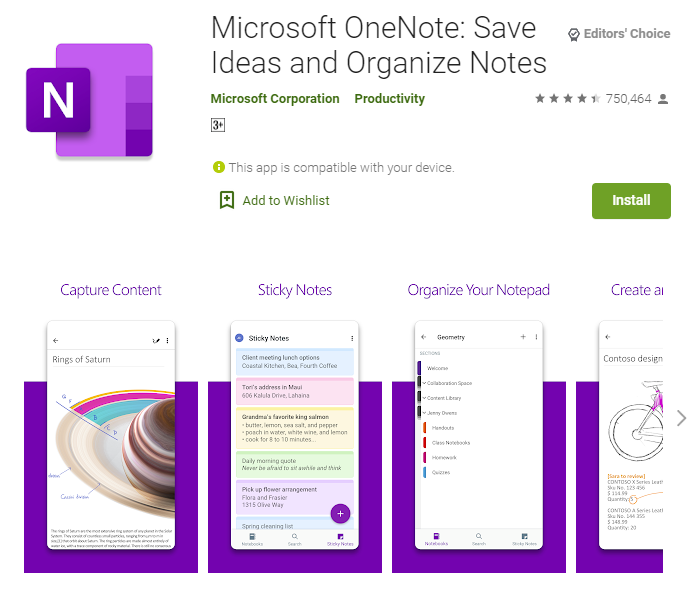 Microsoft OneNote is a digital note taking app for the devices. It is an information gather and multi-user collaboration tool that lets you create drawings, screen clippings, users' notes, and audio commentaries.
Key Features:
You can divide pages and sections in Notebook
Edit or review your notes with category type, ink annotations or simple highlighting
You can record notes in audio, insert online vides and add files
You can easily share your notebooks with your team members, friends and family.
Cost: Permission Required
Availability: It is available on Web, iOS, Android, and MacOS platforms.
4# Todist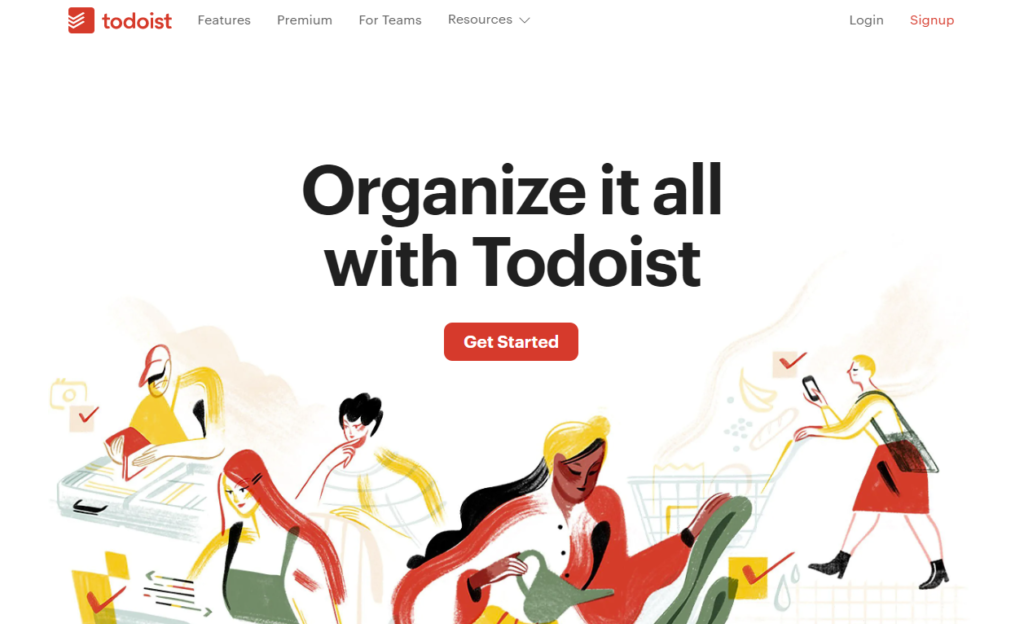 Todoist is one of the largest and best to-do list apps to organize work and life. Till now, 20 million people have joined this productivity tool to organize, plan and collaborate on tasks & projects.
Key Features:
You can easily create, organize and prioritize your tasks.
Add due dates, use label tasks and color code
Get instant email and SMS reminders
Cost: Free use at basic level. For premium features, it starts from $29/year.
Availability: Use it on Android, iOS & Chrome.
5# ClickUp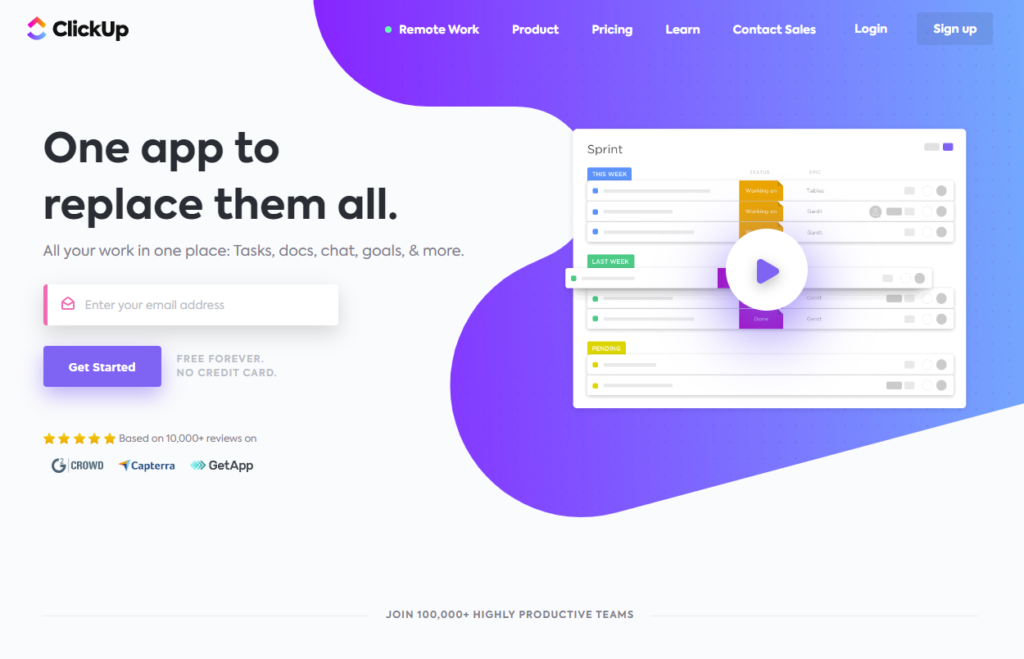 Clickup is an amazing cloud-based collaboration as well as project management tool for all sizes of businesses and industries. Major features of this app include collaboration and communication tools, important task assignments and current statuses, reminders and a task toolbar.
Key Features:
You can easily assign comments.
Collaborate on a single task with multiple people.
Regular alerts and reminders for recurring tasks.
Cost: Free
Availability: Use it on Android and iOS.
6# Milan Note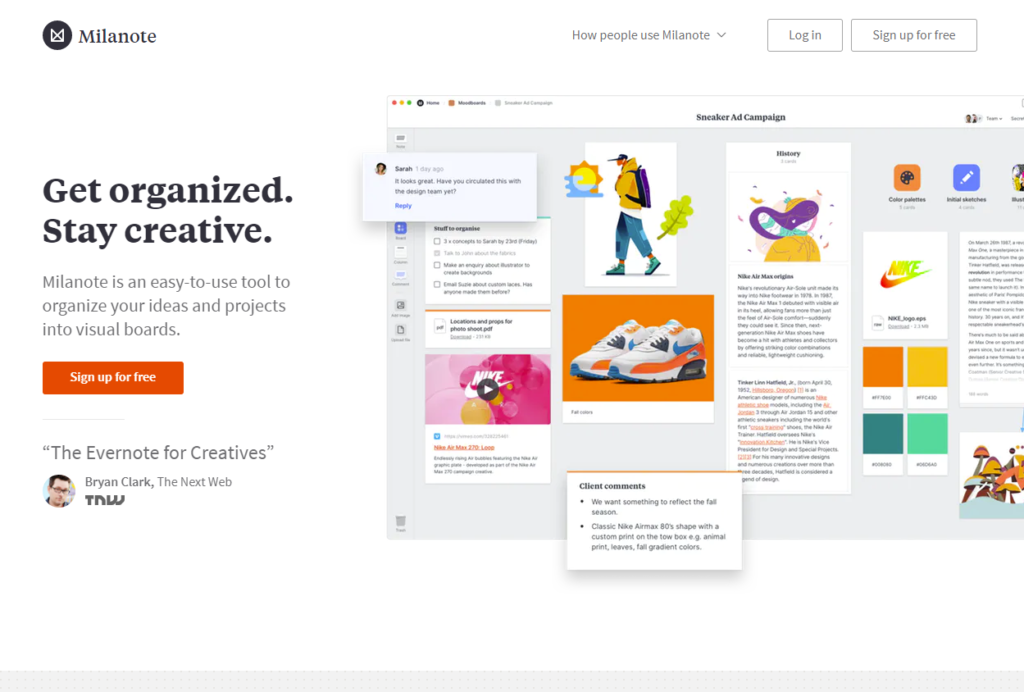 This is another great tool for organizing creative projects. It is easy to use online tool that lets you to organize your ideas, thoughts and projects into visual boards.
You can use it for note taking, project management, mind-mapping, white boarding, remote working, designing, story boarding, brainstorming, design collaboration and creative briefs. In Milan Note, you can add notes, links, files and images.
Key Features:
Easy-to-use
Built-in-templates
Great Sharing Features
Cost: Free. But pro version is also available in $9.99/month with premium features.
Availability: It is available on Android, iOS, Web Clipper and Windows.
7# Evernote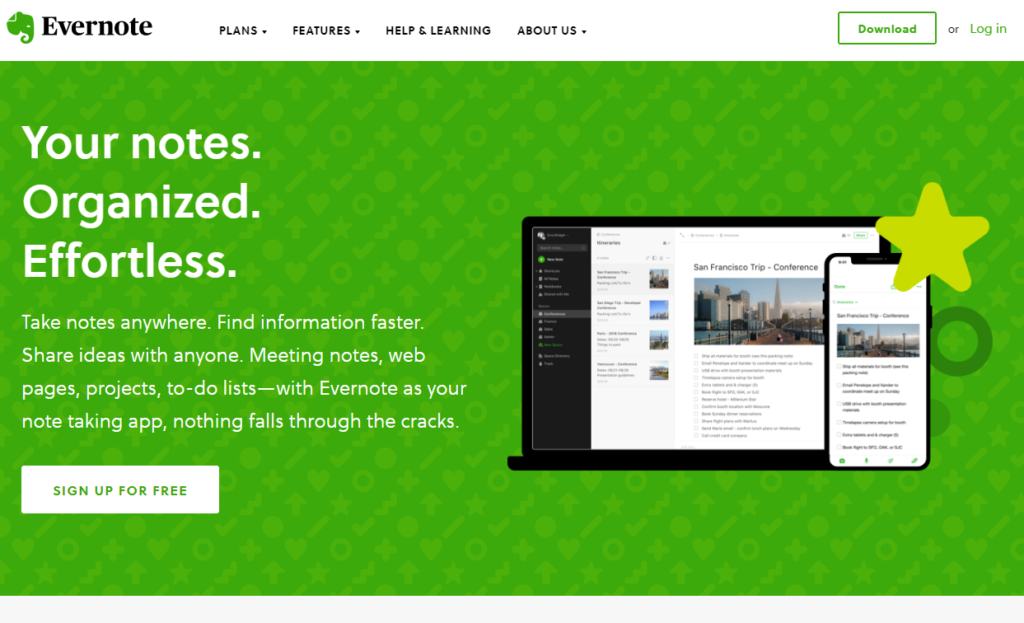 Evennote is one of the best notetaking apps and productivity tools for follow up things. It is like a second brain that help in personal things as well as at work.
With its Web Clipper, you can capture awesome ideas, arguments and important links from the internet. This tool greatly helps in boosting productivity.
Key Features:
Organize notes efficiently
Synchronize and organize
Beautiful templates
Integration with all favorite apps and many more
Cost: Free, Basic and Premium
Availability: It is available for Android and Apple.
8# Due Time Tracking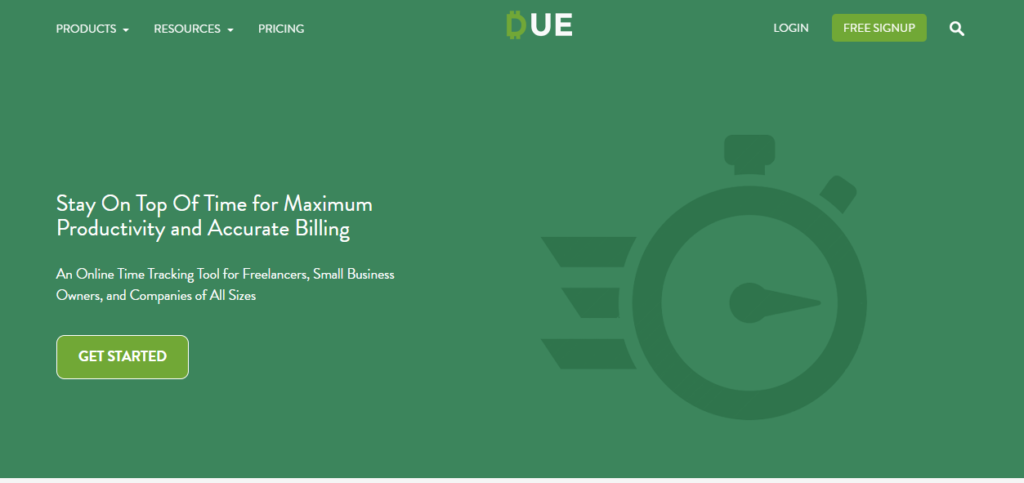 Due is a great time tracking app for freelancers. It allows you to track your time with automatic idle time detection. You simply need to start the timer and a new time session will start instantly. With Due time tracking feature, you can generate invoices on the hourly rates for your clients. This app is also helpful to organize your clients' information by name, contact address, time rates or even different currencies.
Key Features:
Time Tracking App with Invoice Generation
Support Multiple Currencies
Cost: Free signup. They have also premium plans (Basic, Pro & Premium) starting from $7.99/mo.
Availability: You can access online.
9# Calendar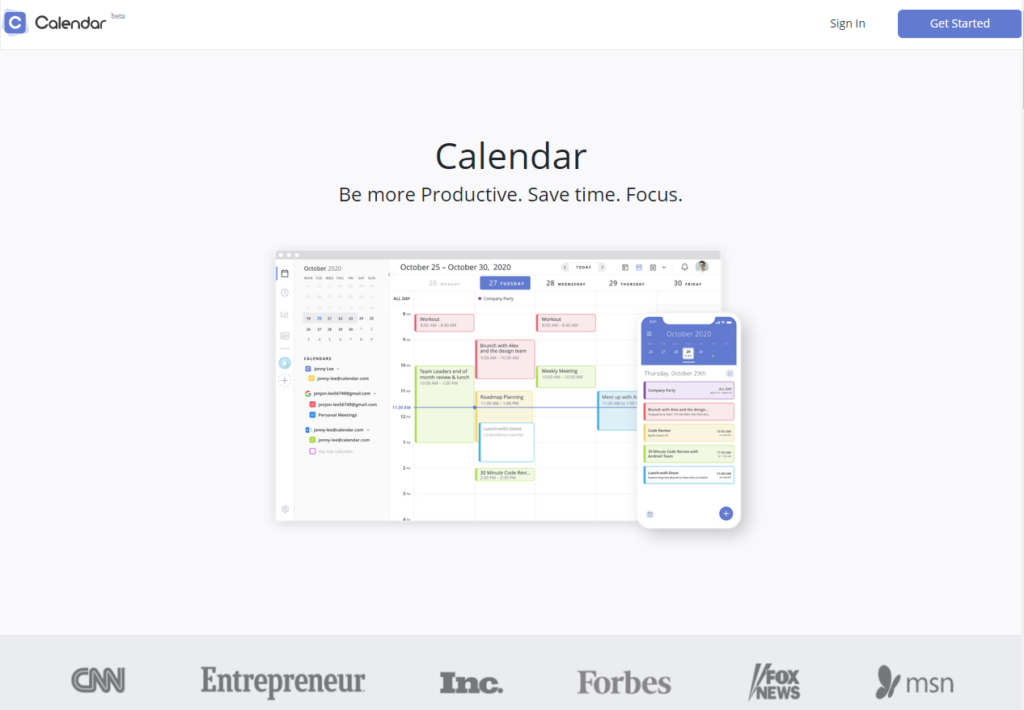 Calendar is another next generation time tracking app. It is a virtual assistant cum digital calendar that lets you focus on schedule management and meeting schedules. With its machine-learning algorithms, you can track and manage your time spending and you can become more efficient at events and meetings.
Key Features:
Calendar Analytics
Schedule management with your team
Integration with various best productivity apps like Google, Office 365 and Outlook.
Cost: Free. Its pro version is available in $10/mo.
Availability: It is available for iOS and Android Platform.
10# Top Tracker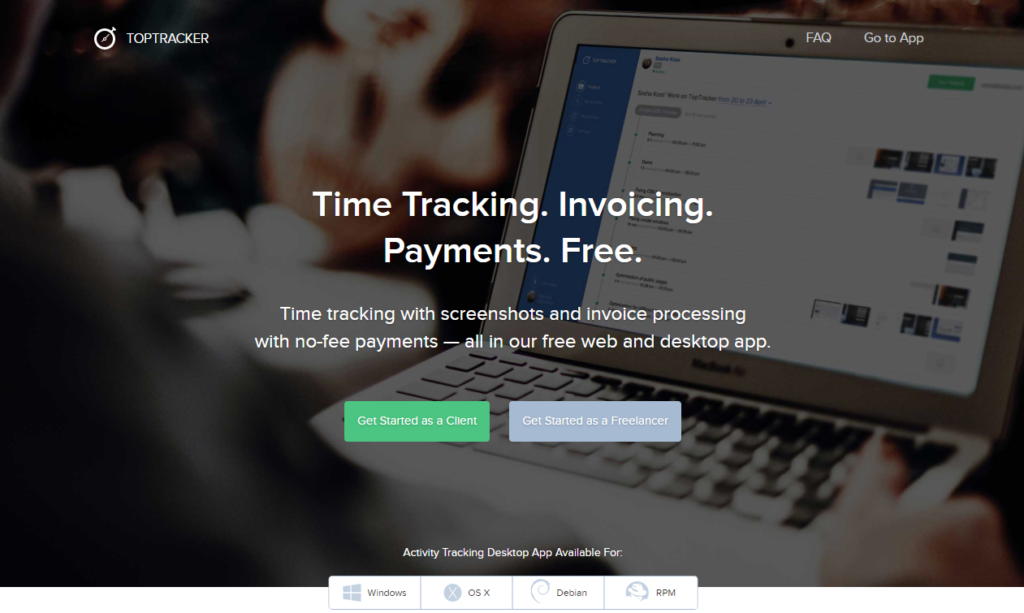 TopTracker is one of the best and free time tracking apps by TopTal (a Freelancing Network). This application is developed specifically for freelancers as it is greatly helpful for both clients and freelancers. Specifically, for freelancers, it is helpful to increase productivity.
Key Features:
Comes with Timers, Screenshots, and Webcam Shots along with privacy option
Free invoicing and payments
Effortless time tracking from any device
Cost: Totally Free
Availability: It is available for Windows desktop app, web version, and on mobile phones.
11# Hocus Focus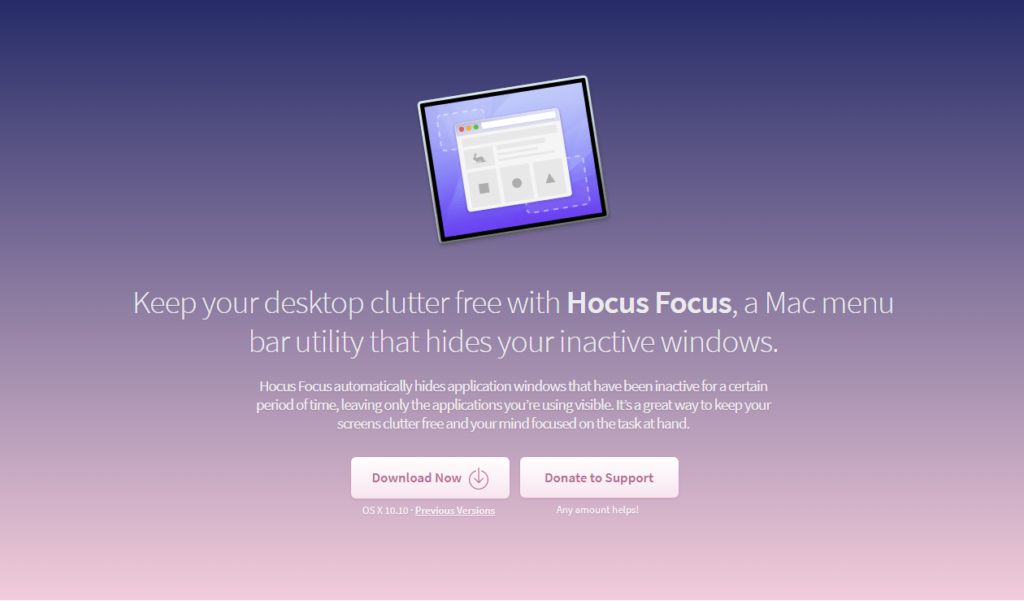 Hocus Focus is a great focus app which help user to block distractions. Yes, this app restricts user to view window at time on macOS. It hides apps when during the set period or immediately when not in use.
Key Features:
Clearing Clutter on Screen
Strick to one application at time
Cost: Entirely Free
Availability: Only available for macOS.
12# Mindful Browsing (Chrome)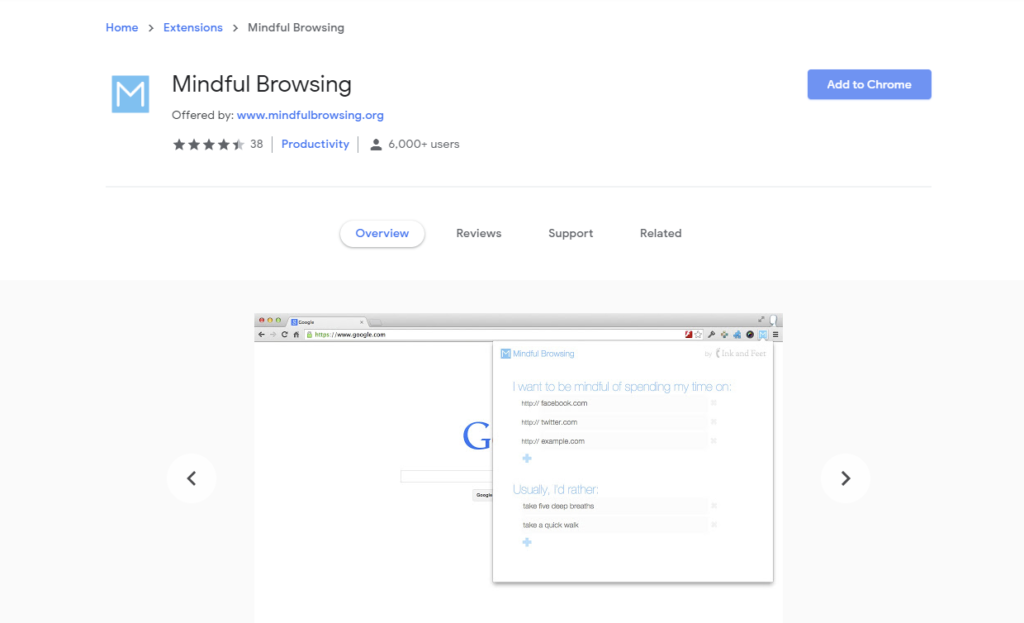 This app lets you focus by staying away from time-wasting websites. It gently flags your attention when you try to visit sites which are supposed to be time-wasters. In this app, you can add list of websites which you'd like to avoid during work.
Key Features:
Beautiful interrupts while browsing on chrome
Entirely in your control
Cost: Free
Availability: Chrome
13# Hubspot CRM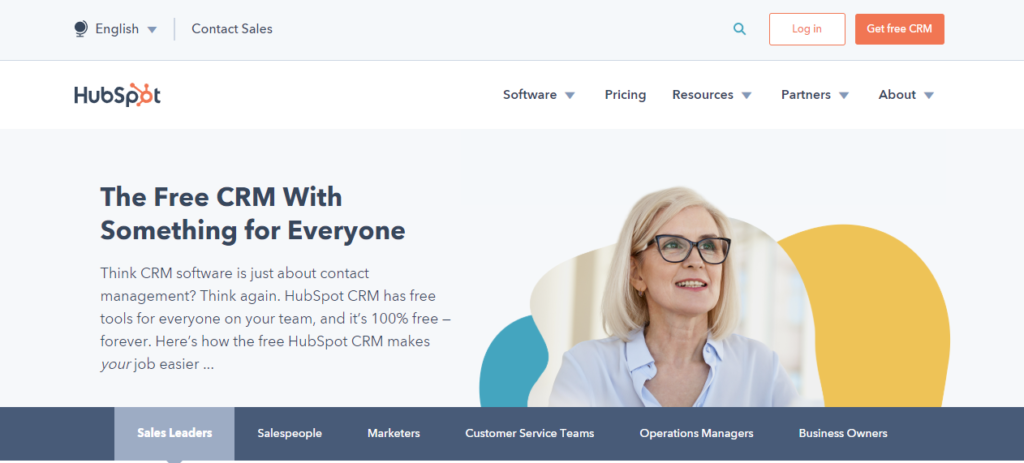 Hubspot CRM is a best communication app for emails, recording calls and managing your data. This app is best for small business as it allows to schedule meetings, build forms, track emails, live chat and chatbot features, reporting dashboard, contacts and awesome pipeline management.
Key Features:
You can easily manage your pipeline
Keep an eye on warmest leads
Proven email templates for communication
Cost: 100% free for small business to enterprise businesses
Availability: Windows
14# Slack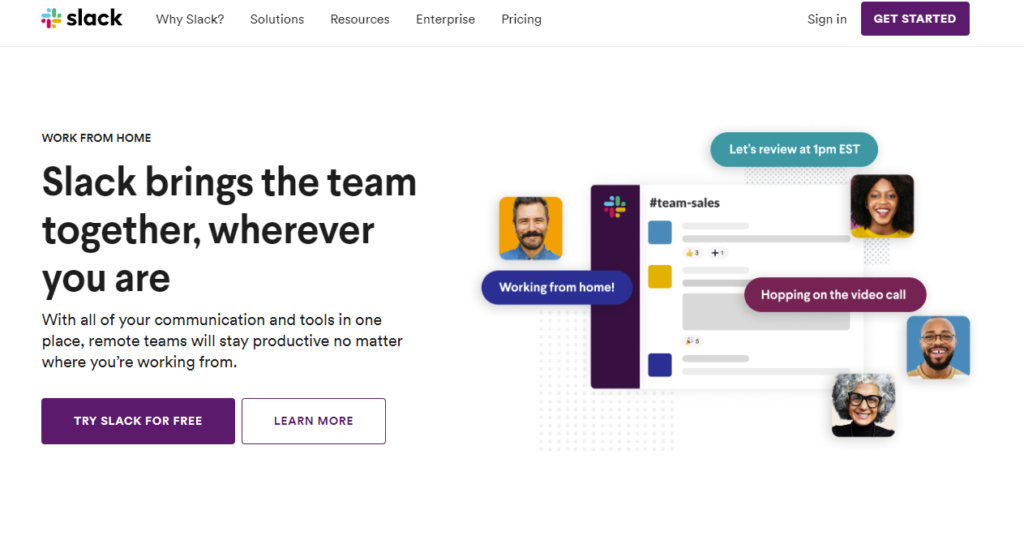 Slack, a unicorn company, currently valued at 20 billion dollars, is of the top growing of all time. It is a communication and collaboration tool.
With Slack, you can easily organize your of your office communication. To increase your productivity, you can integrate with other tools/software like Google Drive, Dropbox, Office 365, Salesforce and CloudApp.
Key Features:
Organize Conversation
Searchable History
Work Faster with tools in one place
Cost: It is free but if you intend to get premium features check their other plans.
Availability: Android, iOS, and Windows
Best Productivity Apps: Wrapping Up
There are dozens of other useful productivity apps available online which are helpful for time tracking, task management, focusing things, organizing stuff, collaboration and communication. But the productivity software and tools mentioned above are not offer great features but also free.
Hope, you find this list useful. Now, let me know What are your favorite productivity apps?
Feel free to mention it in comment box 😊
You May Like To Read: