Have a small space that needs redecorating? Well, don't worry. I can be your personal decorator.
Not in person of course, but I can guide you in many ways about how you can redecorate your entire by spending fewer bucks than you would otherwise have spent. So, without further ado let's start discussing these various methods and office decorating ideas.
Office Decorating Ideas for your Startup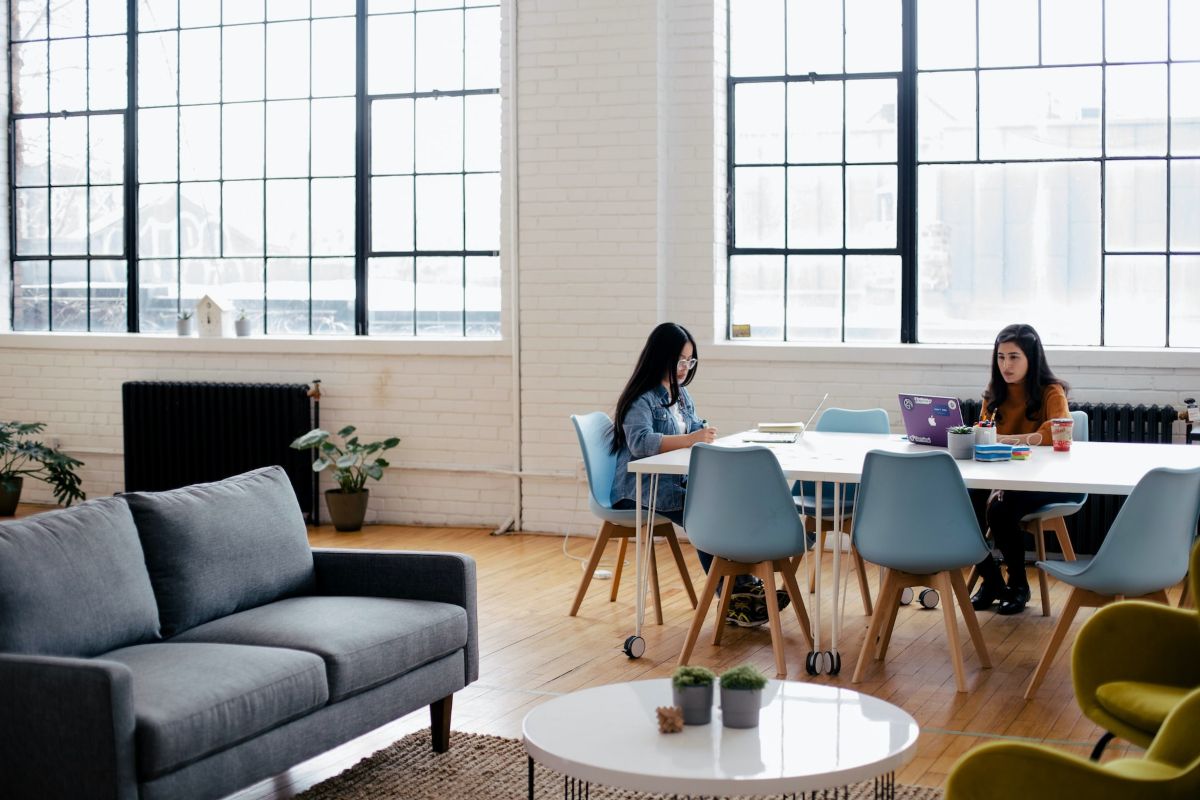 1. Keep Handy Accessories
Accessorize your workplace. You have to understand the concept of keeping the space tidy and make sure that it is not stuffed with things at all.
There's no point in investing in all those amazingly made statues, instead, get yourself a set of accessories that will serve you better in the long run when you work at your office.
For example, you can get a monitor arm for the table. You can get one of the best monitor arms here. The monitor arms are very well-liked nowadays in the offices. They look stylish and trendy that beautifies the office's interior.
Monitor arm is also very supportive in the healthier working environment. It helps encourage the right and healthier posture. But, I recommend that you get a standing desk as well. It looks great and comes in very handy as it allows you to work while standing.
If you're looking to upgrade your workstation, ergonomics should be top of mind. Work more efficiently and comfortably with the electric standing desks in Australia.
2. Keep Stuff Organized
Invest in organizers! Gone are the days of almirahs that kept dossiers locked in, most of your data must now be on the cloud.
With no needs for cupboards, it gets really hard to keep the stuff in its right place. Don't worry; I have got just the perfect idea for you.
You can easily build some storage under your desk. If it is a standing table, you can have the storage sections build under a large table; otherwise, you can just keep portable storage containers underneath.
For this, you can also get different types of simple organizers for paperwork, files, and for daily reading books and magazines. Even for the tiny stuff like stationery, you should keep some organizers handy. Read more here about office decor ideas.
3. Keep It, Airy
Make sure that the workplace you have has ample supply of air. It gets really difficult to work in an environment where you have no supply of air whatsoever.
One way to ensure that space remains airy is by adding some windows in it. These windows can offer a view of the outside and provide some fresh air.
If that is impossible, then it is your duty to ensure that a great ventilation system is installed in your workplace. The environment dictates everything at a workplace so make sure it is very comfortable.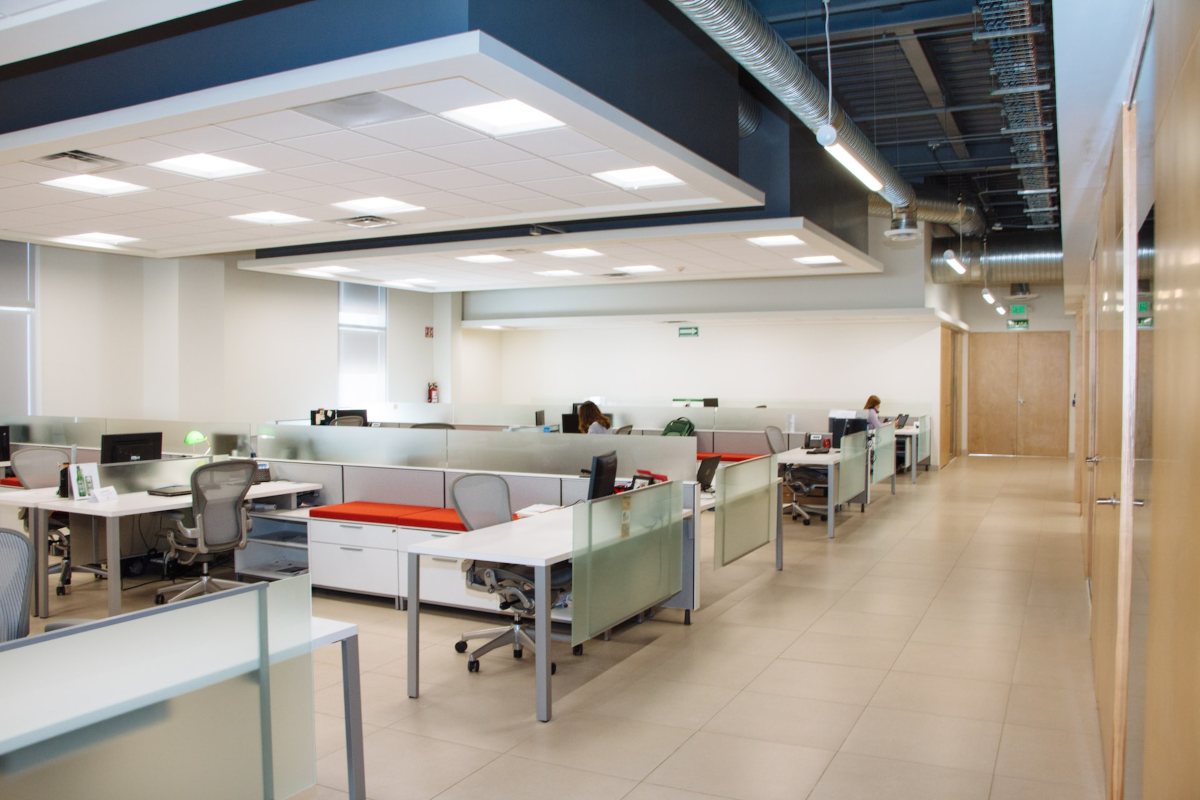 4. Keep It Colorful
Add a pop of color here, and a bit of splash there; not sure what to do? Well, there's a fun technique that goes by the name of balloon painting.
Fill some balloons up with paint and mount them on top of a wall in one line, then all you have to do is gather all the employees hold some darts and shoot at the balloons. This fun balloon bursting activity could just give you a new masterpiece wall for your new office, and some amazing memories.
If that is a bit too much for you, then you can probably opt for just adding a few throw pillows here and there and you should be all set. If you set the area with throwing pillows, then you can also add the colorful rugs along with them. It will create the mesmerizing look to your office space.
5. Add A New Lamp
Did you ever consider adding a new lamp? It could change the whole appearance of your workplace. I mean, just a change in shape could alter the look of your table.
If you don't really keep a table lamp, then I suggest that you buy one because they come in really handy at times. They can be great for having some extra light for the fine-printed documents, and they just give off a very professional and sober vibe. So, I suggest that you consider investing in buying a new lamp that would help make the office look more presentable.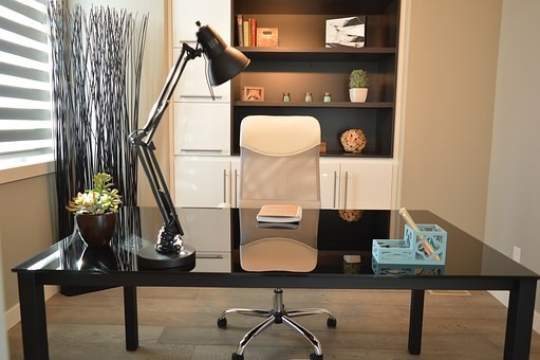 6. Give It An Industrial Look
Honestly! What's so tacky about this look that people seem to be afraid to DIY it? You can never go wrong with the industrial look because it is supposed to look raw and grungy, unless of course, if you go overboard with the wrong kind of advice.
Give your office a perfectly stable, old-school, and yet modern look by mounting some hanging lights on the ceiling. You can leave an uncovered pipe in a corner, and it would serve great as wall décor. The best part of trying to achieve this look is that it isn't very expensive.
7. Mount Some Photos
Don't leave the space behind your desk on the wall empty. You can put some of your family's photos on it, and they will look great. Also, they will keep you from feeling awful should you end up feeling bad because of something.
It's always good to have a touch of your personality in your workplace, it can be very encouraging, and at times it can even prove to be downright supportive in stressful situations.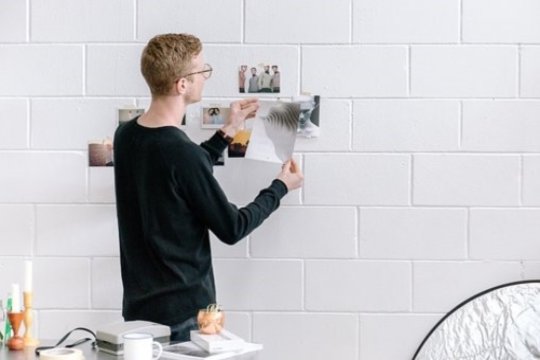 So now I am sure you know about a few ways in which your tiny office could look splendid, I wish you best of luck with the record!
Related:
Author Bio: Hannah is an interior designer by profession, and she knows all the ins and outs of using the right quality of the furniture and accessories for home decor and workplace. She is also a blogger who loves to write about the home and office maintenance tips and tricks. Read more about her posts at ergoedge.com.