A home office has many advantages, allowing both homeowners and remote employees alike to work efficiently and stay on task.
Home offices can be simply a quiet corner where one manages personal finances, or it can even have a separate entrance where clients come to visit to discuss projects.
But whatever size of home office you need for the work you do, it helps to set it up for success. From choosing the workspace itself, installing furniture and lighting to keeping it clutter-free, it's essential to create a home office that you love as well.
And to make all of this happen, it's best to have a plan of action to make it personal and inviting. Here are six tips for setting up a home office.
6 Productive Tips For Setting Up a Home Office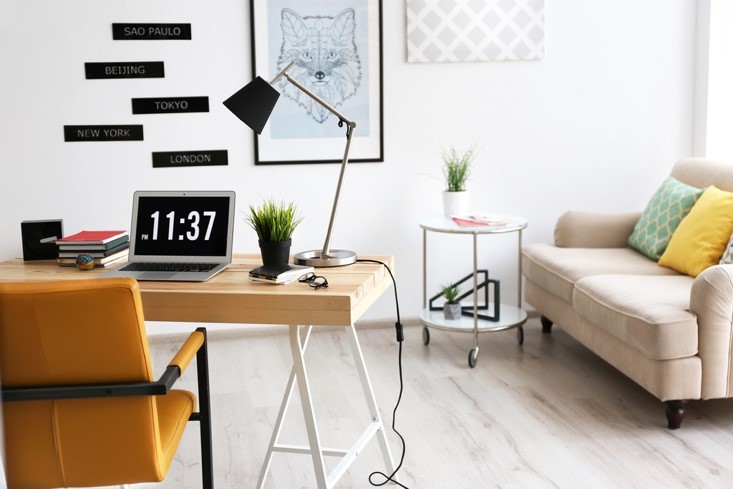 1.  Choose an Appropriate Space
A home office should be a quiet place where you can focus. It's also important to have a healthy work-life balance. For some, this means adding a desk in the corner of a room, away from common areas. For others, this means building a cottage in the backyard, apart from the entire house.
If you work remotely, consider a larger space for your home office. Transform a guest bedroom into a home office or convert a walk-in closet. A stair landing also makes an excellent area for a home office.
However, if you are limited on space, you can position a desk in a section of the dining room or a living room. Hide a computer or a laptop inside an armoire or install a drop-down writing desk for a more discreet, integrated appearance.
2.  Get Properly Set Up
Now that you have chosen an appropriate space to create into a home office, you need to get it correctly set up. This means planning ahead for necessities like internet service, lighting and window coverings and shades to keep reflections off monitor screens.
Depending on the type of work you do, you may need to upgrade your internet service. You may even need to have a landline and telephone installed. At the very least, you may need to run extra wires and cables to connect your computer.
For lighting, be sure there are both overhead lighting and task lighting. Proper lighting in your home office can reduce eye strain. Be sure to keep your office chair a comfortable distance to avoid squinting.
If you do, in fact, create a home office out of a mother-in-law suite, which includes a separate entrance, be sure to add more amenities to keep you connected to your work.
Consider a mini fridge to store your lunch and refreshments, preventing you from distractions like a trip to the kitchen.
3.  Find a Workstation or Desk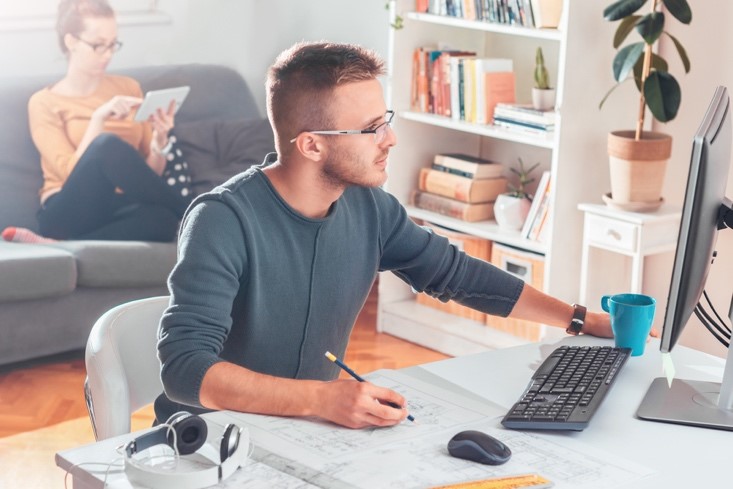 Find a workstation or desk for your new home office. More importantly, make sure it's spacious enough for the required tasks and to support your monitor.
Also, ensure that it meets a correct ergonomic height and works with your office chair. Consider an adjustable writing desk or investing in a standing desk.
As you seek out a desk, measure out the home office or work area. You want to ensure the desk will fit, leaving room for the chair and other office furniture, such as file cabinets and bookcases, should you need them.
Consider the placement of your office furniture as a whole. Position bookcases and file cabinets within easy reach.
4.  Invest in an Ergonomic Chair
Don't settle for a chair just because it's stylish. Test it out and sit in it. Take it for a spin if it has casters. Your office chair should be ergonomic and supportive, offering comfortable back and armrest supports.
Make sure to choose an office chair with casters so that you can easily slide in and out. Be extra careful with certain flooring like hardwoods and place a plastic mat or rug underneath for extra protection.
In relation to your chair, you may also want to consider a slide-out keyboard tray to prevent carpal tunnel, which contributes to one of the most common types of surgeries. While you're at it, make sure your mouse is positioned in an accessible spot, offering cushion supports for your wrists.
5.  Personalize and Inspire
When setting up a home office, be sure to make it your own. Add some personal touches and splashes of color. This will make it more inviting–both for you and for potential visitors and clients.
And there are many ways to add color and decor to personalize a home office. Hang artwork, photos and inspiring messages on the wall. Consider a stylish bulletin board or magnetic board on the wall to keep track of your schedule. Store your office supplies in organized baskets on a bookshelf.
In essence, make it a welcomed retreat, even if it's a work retreat. Wherever you work, you want to feel good and inspired as you start the day. And by making it your own, you'll truly appreciate it that much more.
6.  Think Minimal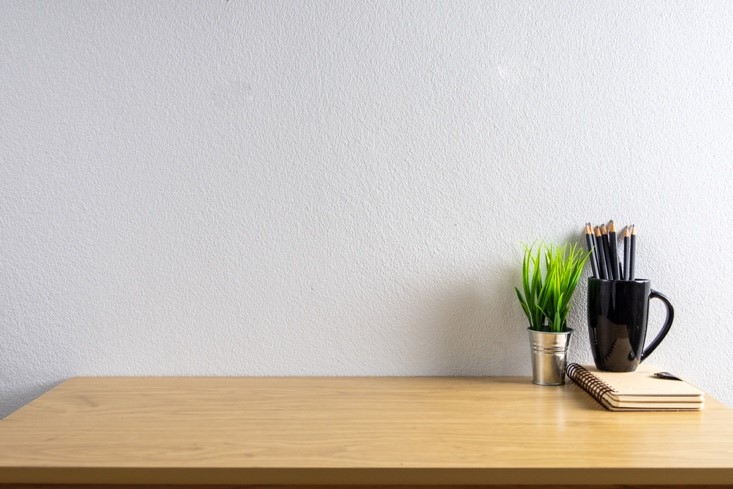 When it comes to setting up a home office, less is more. As you personalize your home office into an inspirational workspace, it's tempting to fill it with tons of accessories and pick up every stylish pen holder you come across.
However, it's best to create a minimal workspace. A clean, clutter-free desk can offer a fresh slate as you begin your day. It can help you stay focused and improve your mood overall.
And this goes for more than just decorative items. Keep cables and wires tucked away. When you shut your office door to enjoy time with your spouse or family for a healthy work-life balance, grab that coffee mug or empty snack plate.
Resources:
Author Bio: Lauren Silver is a Marketing Coordinator for Abt Electronics, the largest independent retailer of consumer electronics and major appliances. Lauren oversees all content creation from their Glenview, Illinois Headquarters. In her spare time, she enjoys reading, yoga, and cooking for her family.