If you are thinking of buying or selling items online, but don't know how to get started, worry not, for this article will help you in figuring that out! With so many e-commerce platforms available to you these days, it is easy to get confused about which platform to choose.
Here we have six e-commerce platforms you should definitely check out:
Best E-Commerce Platforms for Making Online Store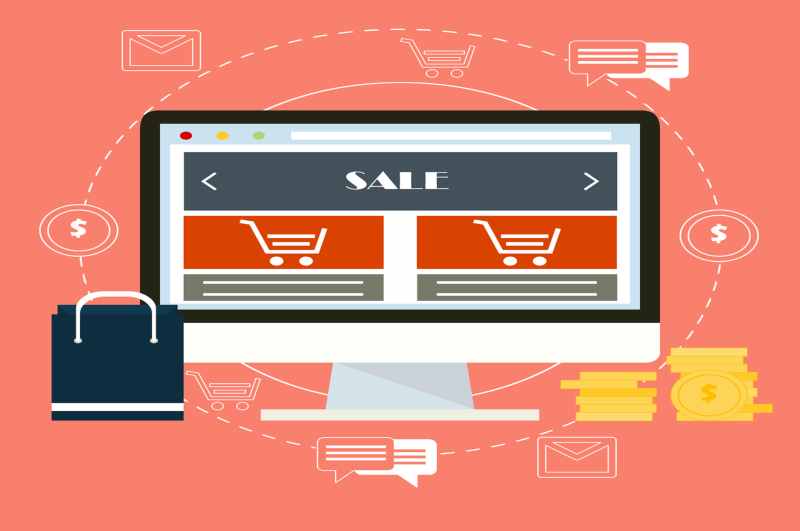 1. Shopify
Shopify has been helping many online businesses with its focus on the trending social commerce and mobile shopping.
They've always tried to keep up with the pace of evolving e-commerce technologies and trends and has broken ground on additions such as social shopping in which your customers never have to leave their social media platform to buy from you. You can integrate it directly with your Facebook account for only $9 and make it an e-commerce store.
E-commerce entrepreneurs who are at a Beginner level and need a conventional e-commerce solution can easily benefit from Shopify.
It is really easy to use and can help in launching your e-commerce business quickly. You can choose from its packages ranging from $29 to $299 per month, based on your requirements as well as budget.
2. Magento
If you want to run a store on your own server without managing blog-focused features, Magento is the perfect app to use.
An open source e-commerce website platform, Magento's scalability, and reliability have made it one of the most famous e-commerce platforms that are available in today's date. It is the right choice for Enterprise level online stores that have a huge volume of products. It is an eCommerce tool that has many features that you will need to run a store and manage everything about it.
Magento's tools let you automate the tasks, and your online store will not be so hard to run, in fact, it will be easier than you think. You can change your website's theme on specific dates, schedule promotions, and send email newsletters from your site.
Its marketing tools are really handy and it has SEO options that redirect the old product links to new pages and the promotions it shows to the customers are based on what they have ordered. Magento is focused on the core tools that you need to sell your products.
3. Yokart
It is specially designed for startups and SMBs and is an e-commerce marketplace solution, rich in features, to build multi-vendor stores. YoKart, with its multilingual and multi-currency features, allows store owners to expand their reach on a more global level.
There is quite a variety of inbuilt analytics tool, payment gateways, and discount coupon management features. The marketplace owners get the source code of the website along with a lifetime license. The startup package is very affordable and offers hosted solutions for one year license.
4. Bigcommerce
BigCommerce has more than 50 thousand online stores and is considered as one of the most prominent e-commerce software providers out there.
This is the ideal solution for e-commerce entrepreneurs in need of a full-fledged store without the hassles of integrating plugins, coding and other technical issues. In the case, you do not want to spend on a premium theme; BigCommerce is your e-commerce platform solution.
BigCommerce has everything that you need to run a successful store including more than hundred themes, a point-of-sales interface for running a real-world store, live shipping price quotes, and much more. It integrates with everything else that you might use, connecting to support tools and popular accounting to manage your customers and finances.
5. Vtex
VTEX is a cloud-based E-commerce Platform provider with their customer base consisting of local business chains of some of the major companies in the world.
A factor that differentiates VTEX from the rest of the eCommerce platforms is its Password Free Checkout. This particular feature has boosted organic traffic by 30%, a 28% increase in revenues. It is connected with other services to help retailers sell like payments service, providers and gateway.
The features include a Smart Checkout which consists of Secure and fast checkout steps that allow the customers to finalize their purchases without creating an account or password. Vtex is a very strong and stable platform.
6. Woocommerce
WooCommerce is a free WordPress plugin that comes along with a shopping cart and a secure payment gateway. It needs an additional plugin in order to start a multi-vendor e-commerce store.
WooCommerce is a great option if you want to stick to your WordPress website and do not expect to have a high-volume store.
If you have any WordPress blog or website or have used WordPress before and know your way around it, WooCommerce is the best company to add a fully customizable store to your site. You need to install the WooCommerce plugin, just like you would any other WordPress plugin, and you will get a new section on your website for products and orders.
We hope now you can easily settle on an e-commerce platform that fits your criteria. I believe this article will help you out. Have an amazing day everyone and stay safe!
Related:
Author Bio: Melissa Stanley is a veteran tech writer and editor who has worked in several eCommerce companies so far. She enjoys programming and algorithms and she has been covering technology online for over five years. She regularly shares her bright ideas at PCGT – PunchOut Catalogs.