If you have decided to dive into e-commerce business then selecting the right platform is probably the most difficult choice you have to make, once the business plan is devised. And, you might also come across the difficulty in choosing between Magento and WooCommerce.
There are plenty of powerful e-commerce platforms, but let's stick to only Magento and WooCommerce in this blog. Though both the platforms are used to build e-commerce websites, they have huge differences. Magento is a robust platform that can be used to build e-commerce websites with custom requirements. WooCommerce is a is more like a plugin built on top of WordPress.
Magento vs WooCommerce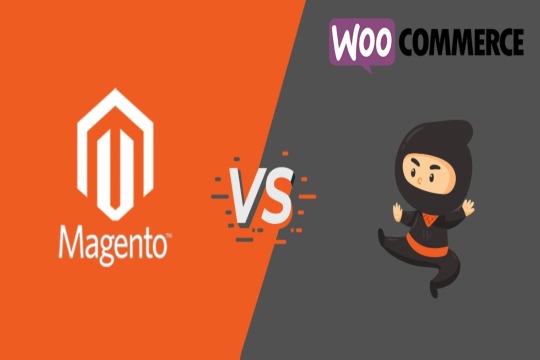 #1 Magento
Magento is a platform built exclusively for the e-commerce industry. It has powerful tools and features to cater to the needs of all kinds of online stores.
Magento has a huge community of solution partners and developers spread across the globe.
Magento also has a well-regulated marketplace where Magento developers can sell their extensions and online store owners can buy them.
This e-commerce platform is known for scalability and flexibility. Especially with the latest Magento 2.3 release, Magento has proved that it is the best platform for creating potential online stores.
#2 WooCommerce
WooCommerce is a WordPress Plugin built for running online stores. It is mainly used by small-scale businesses. WooCommerce is more popular among WordPress users.
It can be only used on WordPress sites and since it works on top of WordPress it has limited features and capabilities.
Basic differences between WooCommerce and Magento
| | |
| --- | --- |
| Magento | WooCommerce |
| Both free and premium versions are available. | It is completely free to use. |
| The free version is self-hosted, and premium version includes hosting. | It supports WordPress themes and customisation of themes is possible to some level. |
| It provides advanced security and offers patches for vulnerabilities. | Also, it has basic security systems to protect your store. |
| It can incorporate multiple extensions and can extend its functionality to a greater extent. | And it comes with an extension system and a number of options. |
1. Performance
Performance is a crucial factor for any e-commerce store. For instance, if your site takes too long to load, your customers might leave and move on to your competitor's e-commerce website. Also, it should be able to smoothly run the special features that are added based on your business requirements.
However, performance is not solely based on the platform itself. Other factors such hosting provider, optimisation of images and many more affect the performance of the website.
Magento scores well in performance when compared to WooCommerce as the former offers more customisation and flexibility. Magento can be optimised to fulfil the requirements of an online store. Therefore, Magento is the winner in performance.
2. Security
Security is the next important element of an online store. Customers share their sensitive personal and banking details in almost all e-commerce websites; this information should be protected at all costs.
Since Magento has a massive community that comprises a huge developer base, security patches are issued quickly. It doesn't mean that WooCommerce does not provide security at all, Magento provides better security than WooCommerce.
3. Product Management
The right e-commerce platform should provide an advanced management system to help vendors to effectively manage their products with ease.
WooCommerce allows vendors to set up products easily as it has limited options. On the other hand, limited options result in lacking some features that are available in the basic version of Magento.
WooCommerce is for vendors who are looking for a simple product management system.  However, plugins can be added to WooCommerce to have advanced product management features. But, vendors might have to pay some money to buy these plugins, whereas in Magento these features are available for free.
4. Payment options
Payment options play an important role in online stores. It also directly affects the cart abandonment rate. Customers might not complete the purchase if their preferred payment option is not available on the e-commerce website.
Magento comes out-of-the-box with PayPal, bank transfer and Authorize.net. In addition to that, there are plenty of extensions to add payment options such as 2Checkout, Skill, WePay and more.
WooCommerce comes with PayPal and Stripe by default. Similar to Magento, required payment gateways can be added through add-ons. Also, WooCommerce supports regional payment options.
It is almost a tie between Magento and WooCommerce when it comes to payment gateways.
5. Pricing
Magento is available in two versions – free and premium. WooCommerce is completely free.
Magento free version has basic features that are required for running an online business successfully. Even though both the platforms are free if you want to add extensions to increase function then it might cost you some money. Pricing for Magento premium version can be attained by having a chat with the sales team.
6. The Winner
Magento is clearly the winner when it comes to providing scalability, flexibility, security and advanced features for an e-commerce website. Special solutions for a business can be achieved in Magento. Hence, it is the best solution for any online store that wants to deliver customised solutions to their customers.
WooCommerce can be used by businesses that plan to have a simple and small online store. It can be only used on WordPress sites and has less scalability.
Moreover, small businesses can also choose Magento. This is because some businesses start small and expand rapidly in the future. Using Magento small online stores can be scaled up easily. This also eliminates the need to switch to another platform if advanced and custom features are needed.
Author Bio:Manohara H works at Codilar Technologies and writes about a wide range of topics related to e-commerce including website security, updates in e-commerce related technologies and online store optimisation. Follow on Twitter.