Most of us use a credit card on a day to day basis for every big and small ticket purchases. It has almost become a necessity for the salaried Indians, especially those who do not want to utilize their savings for big purchases.
A credit card offers you a credit line from the bank or an NBFC, up to a certain limit, depending on your income, assets, and credit scores.
It is offered by almost all banks and financial institutions, and owing to huge competition, the features and offers in every credit card varies. A consumer is therefore tempted to possess several such credit cards for his or her varied expenses.
This, in turn, leads to mismanagement of finances and a debt crunch. So, it would be wise to know how having a credit card debt affects your credit and CIBIL scores.
Credit cards offer both the option of an EMI and an interest-free balance repayment for the credit billing cycle. The installment debt of EMIs is not particularly a huge concern here, as a consumer knows beforehand the exact amount and charges they are required to pay monthly.
The issue happens with the revolving debt when one does not pay up the entire billed amount for the month. Paying the minimum amount leads to the transfer of the rest amount next month at a 3-4% monthly rate of interest.
Not paying the full amount for consecutive months, leads to a big overall interest charged, which often becomes 1.5 to 2 times of the actual balance. This high balance carried in your credit card affects your credit score negatively. Also, not paying the due amount at all in a month seriously affects your score.
One should know the signs of a credit card debt before it becomes a financial burden. You might have the best credit card for online shopping with a huge limit, are impulsively spending on it without tracking your expenses, and hence leading to almost 80-90% of the card limit being blocked.
This is an early warning sign of a debt spiral, and one should try not to utilize the full credit limit unless necessary.
How To Use Credit Card To Minimize Outstanding Debts?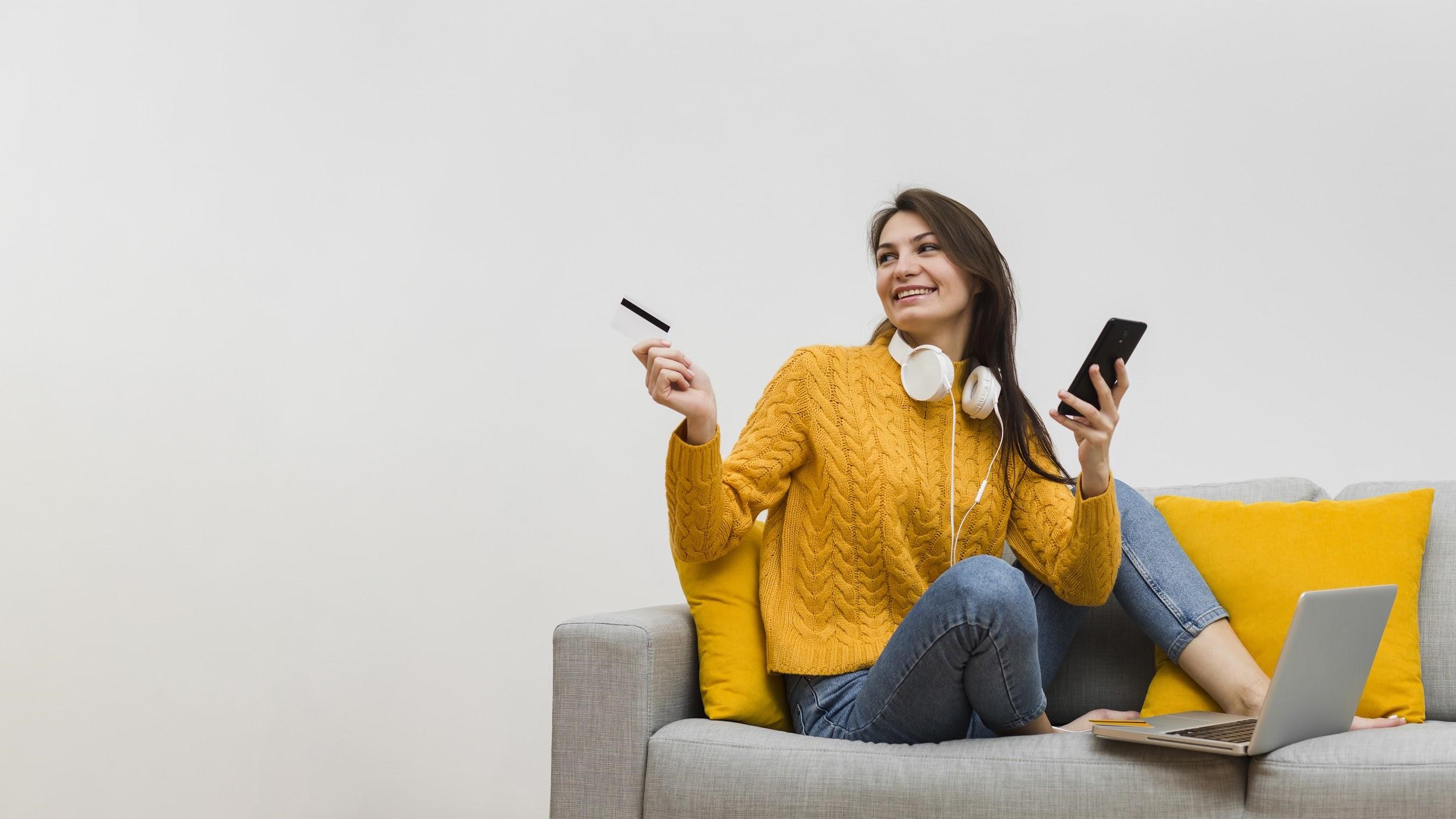 Here are a few pointers which would help you in utilizing your credit card wisely :
1# Limit the number of Credit Cards
It is ideal to have a minimum number of credit cards to deal with your expenses. Do not get carried away by various offers on the market as you would likely not be using many of them.
Prioritize your spending, and try to pay with one credit card wherever possible as this would help you to track your expense efficiently. Spending and repaying big amounts on one credit card also helps you in fetching extra reward points and cash-backs, which you may redeem at partner outlets.
Many credit card companies offer an annual charge reversal on spending a certain amount with the said credit card. All the more reason to use fewer credit cards!
Get the best credit card for online shopping and save more on every such purchase. Similarly have a credit card for offline and in-store expenses. Having an extra credit card comes in handy for emergency purposes.
2# Timely Repayment of Billed Amount
It cannot be stressed upon enough how important it is to pay your bills on time. Not only does it help you maintain a good credit history, but it also relieves you of a financial headache.
The credit billing cycle offers a fair amount of time for repayment, often sometimes extending up to 45 days. Try to pay the entire amount, and if possible some additional amount to cover your expenses for the next billing cycle as well.
Paying the minimum amount would lead to a huge incurring of charges depending on when you repay the total dues.
3# Avoid Taking Cash Advances
One should restrict themselves from using this feature at all. Being one of the most expensive credit card transactions, this offers no grace period for credit settlement.
The interest is charged almost immediately and is reflected on the next month's bill. There are no reward points or cashback awarded for using this feature either. So reserve this only for extreme emergencies.
4# Keep a Check on Balance Transfer
It is a smart move to transfer your credit balance to a different credit card with lower interest charges. This does involve a balance transfer fee somewhere between 1-2%, depending on the institution.
However, it is advisable to not transfer balances back and forth between credit cards to increase the repayment tenure or skip the billing date. This can affect your CIBIL score negatively.
5# Take Advantage of Offers on Existing Cards
Many credit cards give temporary offers of No-Cost EMIs or low charges on balance transfers.
One should take advantage of such offers to save up on paying high charges. Partner stores and websites offer several discounts on credit card usage which are quite beneficial to the consumer.
6# Lending out your Credit Card is a Bad Idea
Many e-commerce sites give frequent sales and discounts on certain days. And if you have the best credit card for online shopping, you are sure to benefit more.
At the same time, your friends and colleagues might ask you for your credit card to get more benefits. However, if they end up spending too much, and not paying back in time, you will be in a difficult situation.
Overall, a credit card is a good instrument to have if you use it with caution. Be sure to check out Standard Chartered's best credit card for online shopping for making the most out of your online transactions.
You May Like To Read:
Author: Prajakta