In today's business world, more and more companies are placing a bigger emphasis on creating an office atmosphere that is not only efficient, but also modern. But with so many choices available, making that final decision can be a difficult one.
However, by taking into account the needs of the office as well as what would make your employees happy, it's possible to turn your office into a true masterpiece by adding only a few ideas to design it.
It will neither be so costly nor time taking. So if you're tired of your current office setting and are ready to take the decorating plunge, here are three awesome additions that are sure to complete your high-end modern office design.
3 Additions to Improve Modern Office Design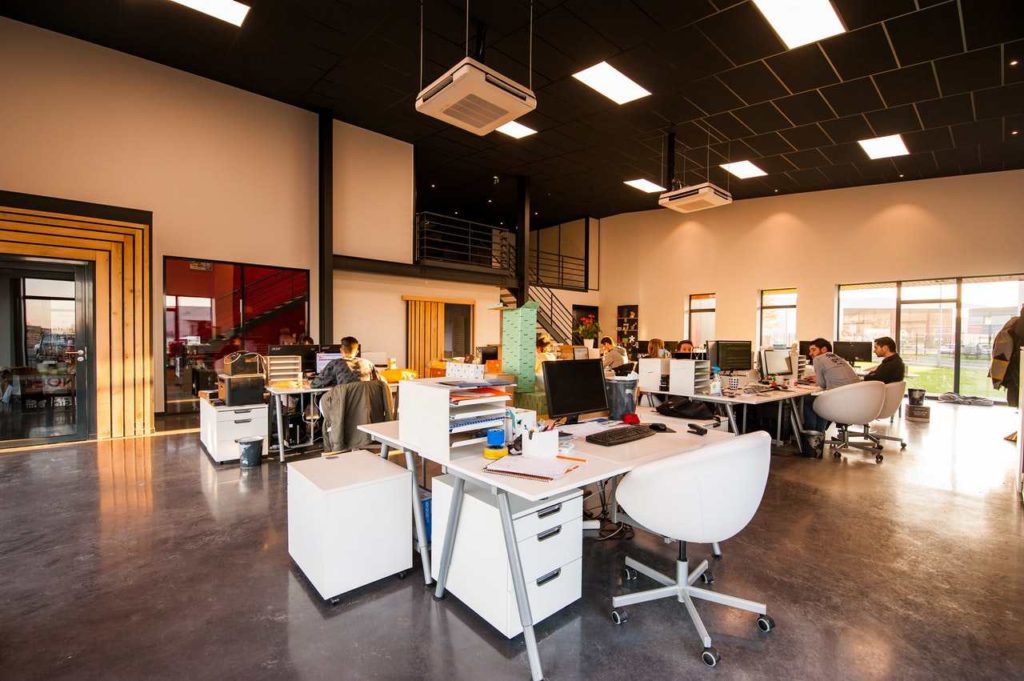 1- Interior Doors 
While some people may think a door is a door, the fact is new doors can turn any office into a showplace. In many of the most modern offices, sliding glass doors are all the rage. By choosing various types of glass, frame finishes, and frame designs from a company such as SpacePlus, you can turn an ordinary wall into a beautiful line of modern sliding doors made entirely of glass. Not only will it look great, but it will allow people to come out from behind ordinary walls and doors to see one another and thus interact more often.
Along with these doors, modern interior barn doors are also quickly becoming popular in modern office designs. Available in suspended and frameless models, these doors offer a variety of options for offices of all kinds. For example, suspended glass barn doors slide smoothly open and closed with no bottom track, making them a favorite of all of those people who enjoys convenience.
Or if you prefer frameless modern interior barn doors, SpacePlus offers these as well. With no bottom tracks, these doors save space by hugging the walls, making them barely noticeable. Yet with the beautiful exposed hardware above the doors, these doors can provide a touch of elegance to any office making it beautiful and more convenient or all the persons in your office who enjoys convenience.
2- Lighting Fixtures and Chandeliers
Whether it's pendant lighting, linear suspensions, or modern chandeliers, there's no doubt these lighting fixtures will add a touch of class to any office setting. In fact I think lightning is the best way to add a beauty on anything.To beautify your modern office design, to add on some lightning to it is the best idea.
However, rather than putting a standard fixture or chandelier in your office, you can look forward to choosing one that is sure to get noticed. Available in futuristic and trend-setting shapes and sizes, you can find fixtures and chandeliers that incorporate globes, pendants, rectangles, and other shapes and sizes.
However, while these items may look beautiful, they often come with a hefty price tag. Many chandeliers can cost well over $1,000 or more, while fixtures can also run into several hundred dollars. With many of these fixtures, what makes them so attractive and unique is the appearance that they are suspended in mid-air, making them an attractive and unique addition to your office decor.
So, if you want your workplace to be the talk of the town, get the company credit card from your boss, purchase several fixtures and chandeliers, then stand back and watch everyone admire the new look of your surroundings.
3- Office Partitions
If you are determined to complete the look of your office and give it that sleek, modern look, do away with any cubicles you may have remaining and replace them instead with office partitions made of high-quality tempered glass.
A popular choice for many offices since they maximize space while remaining very affordable, the open atmosphere they provide has been shown to improve the productivity of employees due to the increase in natural light and their ability to interact with one another more frequently.
In addition to these reasons, glass office partitions also help lead to greater energy efficiency, especially in areas where winters are very cold. On cold days when the sun is shining, the partitions allow much more sunlight to shine in throughout the office, helping to heat the building naturally. So, in addition to making the office look much more modern, these partitions can also help pay for themselves many times over.
And if you're a fan of plants in the office, having glass office partitions can also help them get much more light to help them grow. By letting your green thumb do its best with your plants, chances are you'll be enjoying much more light as well as bigger and more beautiful plants. And also by doing so you are adding a greenery to your surrounding which would definitely make you feel good.
Final Words
With so many options available to make your office more modern, deciding what direction to take can be confusing. However, whether you're looking at sliding glass doors or other modern sliding doors, using any of the above-mentioned options is sure to transform your office into one that will be talked about by all who see it.
As the use of glass continues to be a great trend in decorating, implementing chandeliers, glass partitions, and sliding glass doors will provide numerous benefits to your business, especially when it comes to making employees much happier and productive.
Read Also:
Author: Evie Adlay