Poor cash flow management is one of the main reasons behind the collapse of several start-ups.
Here're seven tips that can help firms in managing cash flow.
7 Best Cash Flow Management Tips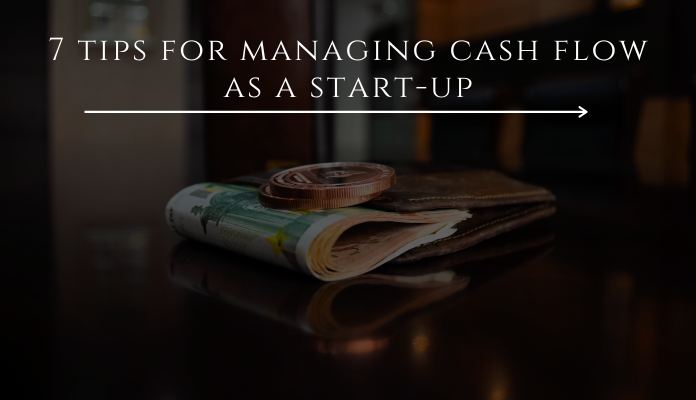 1# Check the Inflows & Outflows
Entrepreneurs should know where the cash comes from and where it is spent. The best way to analyze inflows and outflows is by focusing on cash flow statements.
Revenue from sales, leases, interest generated from deposits, and debt collection are crucial income examples. Expenses or outflows include salary payments, loan installments, power and water bills, tax payments, debt write-offs, and invoice payments.
Aspects like average revenue per account and consumer lifetime value are crucial in inflows. On the other hand, the customer churn rate and acquisition cost are essential aspects of outflows.
Unfortunately, numbers for inflows and outflows are often overlooked by start-ups even though they indicate the firm's liquidity.
2# Create a Cash Flow Management Plan in Advance
It is always advisable to create and keep a cash flow projection ready before starting a new financial year. Good accounting software offers the option to create a detailed cash flow projection.
The report highlights monthly inflow, outflows, and expenditure in the form of big-ticket purchases along with details for cash flow hiccups that the organization may face. Such projection helps in anticipating possible slow periods and preparing in advance.
Checking the firm's actual cash flow position and comparing the same with the projection can help in dealing with any divergences promptly.
Start-ups need to be ready for cash flow ebb and flow. Thus, the cash flow strategy needs to be a mid-to-long-term one rather than a short term strategy.
During its journey towards becoming an established business, start-ups end up performing definite financial transitions.
Increased flow indicates rapid growth; at the same time, the firm starts registering ebbs due to higher borrowings in the form of development loans.
Financial experts at ATM solutions recommend every start-up to ensure it stays on the top of things when it comes to cash inflows.
3# Keep a Focus on Accounts Receivable
Financial experts recommend every start-up to ensure it stays on the top of things when it comes to cash inflows. Invoices should be sent quickly, and slow-payers should be charged interest or penalties.
Start-ups can save a considerable amount of carrying costs on their line of credit by promptly collecting the amount that others owe.
Not collecting dues on time can hurt a start-up more compared to an established firm. Day-to-day operations of small firms heavily rely on timely remuneration.
Thus, even late payment from a single customer can result in cash flow issues. Programming the accounting software to send payment reminders can be a superb solution.
4# Setting the Spending Priorities Right
Not just start-ups but even established brands are going through a tough patch since the arrival of COVID19 pandemic around the world. Every penny matters, so it is vital to set the priorities right when it comes to spending.
Divide the overall spending into two parts, crucial and 'nice-to-have.' Spend money on buying products or services that are essential. The new interior theme for the office, purchasing Yoga class passes, and iPads for the staff can be postponed.
Minimize the expenditure on software subscriptions, office space, and hiring cabs for guests. Ensure that funds are spent on growth rather than letting them pass down the drain.
5# Use Low-Interest Finance Options Instead of Draining Cash
Unfortunately, bankers often hesitate to lend businesses during rough market conditions. Here, the cash flow projection report can help an entrepreneur make plans for fulfilling financing needs way ahead of time.
Rather than opting for a low-interest loan, entrepreneurs prefer buying new assets with cash. Financial analysts often highlight this as one of the most common mistakes.
Spending reserves on such expenditure can result in a shortfall of money during a rapid growth period or when the firm experiences sudden revenue shortfalls.
6# Let Professionals Manage Your Accounting & Finance Tasks
Start-ups in most countries operate with skeletal staff. In some cases, the entrepreneur handles all the financial and accounting tasks single handedly to save costs. Experts recommend entrepreneurs to avoid the same as financial and accounting functions are complicated as well as time-consuming.
Founders behind the start-up idea often feel they are the best ones to handle their start-up's math. Such persons may end up spending more than 80 percent of their time in financial and accounting tasks. This leaves them with just 20 percent of their time to focus on core business.
Money matters demand constant time and attention. Unfortunately, every firm may not be able to afford a CFO. So, entrepreneurs can also consider outsourcing bookkeeping, accounts receivable, taxation, financial reporting, payroll, and other accounting processes to a specialist firm.
Such specialist firms provide business accounting services to clients from several countries. Their financial services outsourcing services are in high demand these days.
7# Use Accounting or Bookkeeping Tools
Technology, in the form of advanced accounting software, can help in controlling cash. Start-ups can benefit from features like supplier management, cross-currency purchase control, and accounting reconciliation.
Software solutions can be way too better than Excel spreadsheets. A single screen with a real-time view of the company's financial health can help ensure everything is under control. It enables you to focus on essential things for turning your start-up idea into a successful business.
Software solutions like Xero, Sage 50cloud, Pabbly, Wave, FreshBooks, Zoho Books, NetSuite ERP, Zipbooks, Accounting Seed, and Holded are some of the most preferred options.
Resources:
Author Bio:
Krupali Mandavia is a Content Strategist and Growth Head at FinAcc Global an Accounting Outsourcing Company. She is fond of reading books on business and has helped many local businesses in making their online presence. You can contact her on LinkedIn.