Customer Retention Strategy Vs Customer Acquisition
Customer retention strategy is defined as plans or schemes that a company should use to keep their customers staying with their product.
The ultimate aim of having a successful user retention program is to assist businesses to retain customers and how they make a contribution to business growth.
On the other hand, the procedure of obtaining novice players or users into your game or mobile app is known as customer acquisition.
The purpose of this process is to make a flexible and organized customer acquisition plan that is flexible with new directions and platform changes, such as product changes on Google or Facebook acquisition platforms.
6 Tips To Improve Customer Retention Percentage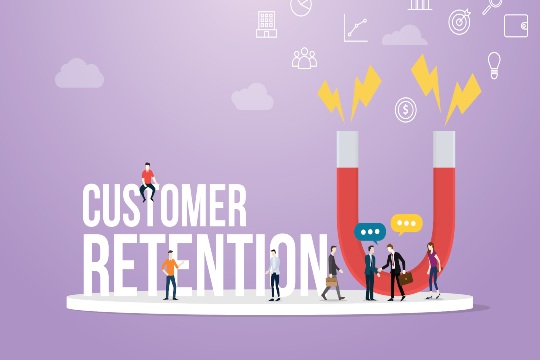 1. Deliver real-time customer engagement
Businesses that empowering technical support to their client support team with live client engagement tools such as collaborative browsing and video chat can bring instant solutions to their first contact. Live engagement tools lessen the number of client contact points and bring practical solutions to the first move
With a quick reply, you can lessen the number of client's contact points. Live sessions show a huge impression on the satisfaction of customers. With the help of collaborative browsing, you can distribute shared real-time experience to your clients.
2. Reward clients
People love to get prizes, specifically rewarding prizes. Many stores have devoting program in place, but they are not designed to build relationships, they have the plan to make those customers disburse more money with them by offering discounts.
But when it comes to building a loyalty program, we feel that all clients should get the benefit. To be confident about your products and to be faithful to your product, you should give them motivation. These motivations can come through loyalty packages.
Loyalty packages help clients to see how much you appreciate them and value them. You can give them a product for free of cost on every 3 they buy or so on.
Or you can give them free delivery if they buy from you for an 8 or 5 time. There are many different ways to provide a package of a loyalty program, and it is completely on you to select one of them.
Here is an example:
Suppose a customer bought three dresses of H&M in the past 12 weeks. From the analysis, we can see that he has never gone for any other dress product.
Would it make a reasonable idea to send a 20% discount on the dress of Burberry? Would it make a reasonable idea to provide free shipping the next time she purchases new dresses of H&M?
3. Instant reply to customer issues
Longer Response Time is the basic cause of the bad experience of the customer. By applying the idea of live chat can be one of the best strategies of customer retention and it can notably lessen the impact of the point that badly affects the experience of the customer.
It can be observed that when brands give answers to the queries of customers within a minute, 59% of customers probably want to purchase the products. In this way, clients become faithful to your brands and will last for a long time.
Customer Active Engagement: You can actively engage customers in the right direction before doubt becomes a big issue. Therefore, focus on the common touchpoints to meet with our customers and discuss their digital marketing plans for success. We are open and transparent about how we can reach our goal and what needs to be done for the axis if necessary.
Immediate support: This helps provide a quick fix for all sales and supports related  queries. Questions are resolved faster by converting the conversation to the appropriate support team.
4. Customer Service
This may not surprise you, but customer service is one of the most important trust builders. This is where most of the Guru customers talk about service and during the checkout sequence.
They share their knowledge on improving the average order price by showcasing related products and crossing their fingers; The customer adds the item to their basket. But first, we are talking about being there to help people.
5. Segment Your Audience
Personalization plays an important role in communicating with businesses. Technological advances over the past decade allow us to communicate with our current customers and clients like never before. Because of this progress, consumers expect brands to focus on building personalized experiences.
Segmentation is one of the best ways to improve your personalization marketing strategy. Dividing your audience based on your personal preferences, pain points, and goals can help you deliver targeted marketing that meets their personal needs.
If you are a subscriber to a website, feel free to contact us and they will sometimes send you letters that address the pain point they are making to you at the right time.
You can divide your audience by creating feedback forms, tracking site behavior, and social media engagement, and monitoring email. Once you have split your list, you can start thinking about ways to market to each group.
Related marketing means more people will open your emails, which will lead to repeated purchases and a better customer retention rate.
6. Keep client's newsletters and contacts
By touching your customers with email is the best way of communication and also maintaining long-lasting collaborations with them.
It verifies to be one of the finest behaviors to remember customers and supports businesses to attract new chances and retain them with your business.
Businesses that are viewing onward to shipping nutritious client loyalty should notify your email subscribers about the newest and utmost news from your product.
Conclusion
Retaining customers may seem tough, but bringing in new ones is very difficult. Make sure you follow these tips and you will be able to quickly retain your customers and make them loyal to your product.
With well-designed client storage strategies, you can understand the needs of your customers and improve credibility. You have to send extraordinary client service and develop esteem among people to treat clients well.
Make your clients feel that they are part of your business by taking their thoughts. Use their proposals and let them know that they have attained the achievement of the clients they deserve.
Author Bio:
Venkatesh is a serial entrepreneur with a distinct passion for taking nascent businesses to great heights. An early entrant in the mobile application technology, Venkatesh grew his flagship company, Dot Com Infoway (DCI) to be recognized as one of the world's leading digital marketing, web, and mobile app development & marketing company.
Additionally, Venkatesh is the Co-founder of Magzter Inc., the world's largest and fastest growing cross platform global digital magazine store. An inspiration to all DCI teammates, Venkatesh drives multiple businesses and priorities with uncanny ease and enthusiasm. He is often heard saying, "Everything is possible, especially the impossible," to his colleagues.