Of businesses with 50 or more employees, 66% outsource jobs consistently.
Outsourcing the right business tasks will not only save costs upfront, but will also promote efficiency, improve your management's focus, and help your staff produce a better quality of work.
Plus, if your staff is working alongside or closely with contracted workers, they get the opportunity to learn and perfect their skills!
Keep reading to learn what outsourcing is and how it will benefit your business. We'll also provide a list of ten business tasks that all enterprises should consider outsourcing.
What is Outsourcing?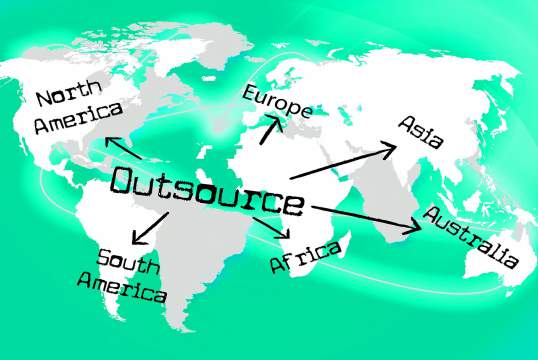 When companies outsource jobs, they are hiring outside specialists (companies or freelancers) to perform tasks that are typically handled within their organization.
The tasks can be routine, such as calendar management and travel services, or more involved such as event planning. Outsourcing is becoming increasingly popular for businesses across all industries because it helps companies save money and grow while offering several additional benefits.
What are the Benefits of Outsourcing?
Saving money is a big reason many enterprises choose to outsource tasks, but it's not the only one. Outsourcing is cheaper, but it also allows full-time staff members to focus on new tasks and initiatives.
Outsourcing business tasks allows you and your staff to spend time refocusing in-house resources to make your business more profitable, without sacrificing the quality that your customers are accustomed to.
1# Faster Turnaround
When you have tight deadlines to handle, outsourcing is an excellent way to get things done quickly.
If you outsource specific tasks, you are hiring someone to work on solely that task. They don't have to worry about the other day-to-day functions of your company. In theory, this means that they will be able to complete the work in a timelier, more focused manner.
2# Access to Better Talent
Specialists are highly sought-after individuals, and most companies don't employ a full-time staff of them.
Save your money for outsourcing specialists who can help you tackle challenging business problems or make visions come to fruition.
For example, imagine you need to hire a graphic designer who is skilled in creating vector art. It's much cheaper to hire a specialist for this one-time-job than to employ a full-time, run-of-the-mill designer that you won't need every day.
3# Prevent Burnout
If you value your employees, you understand the importance of keeping them happy. If you don't have the money to hire a full-time staff member, but need to provide relief after a busy quarter, consider outsourcing work periodically.
This is especially helpful when you can outsource simple, time-consuming tasks. By taking projects off of your full-time employees' plates, you're giving them room to breathe.
A healthy work-life balance reduces workplace turnover. A quarter of employees working at organizations that don't provide a work/life balance initiative are planning to quit their jobs within the next two years.
4# Risk-Management
Each time you hire an employee and teach them how to manage daily tasks, you are assuming that they will stick around for a while.
The truth is, employees do leave, and inevitably you're stuck with no one to complete their tasks until you've hired someone new. Outsourcing organizations have people on staff dedicated to completing a specific job, so there is always someone trained and ready to perform the work you need to be completed.
Therefore, outsourcing routine tasks eliminates some of the risks associated with employee turnover.
5# Employee Development
Sometimes you're forced to outsource tasks because your staff doesn't have the necessary skills to complete them. However, your team may be able to learn from the contractors you bring in.
As an example, imagine that you're upgrading to equipment that you're engineers don't have the skills to operate. You can outsource this project to contracted engineers who will work on-site for an extended period. While they're in your facility, your engineers on-staff will have the opportunity to work alongside them and perfect their skills.
Next time, you won't have to hire an outside company because your engineers will be capable of working on the equipment alone. Consider this a substantial business investment.
6# Business Tasks to Consider Outsourcing
When growing your business, it can be difficult to budget for outsourcing tasks that you usually handle internally. Inevitably, you must learn to let go to develop your business.
Instead of thinking about how much outsourcing business tasks will cost, consider it an investment that adds value to your company and encourages team productivity.
11 Business Tasks Small Enterprises Should Outsource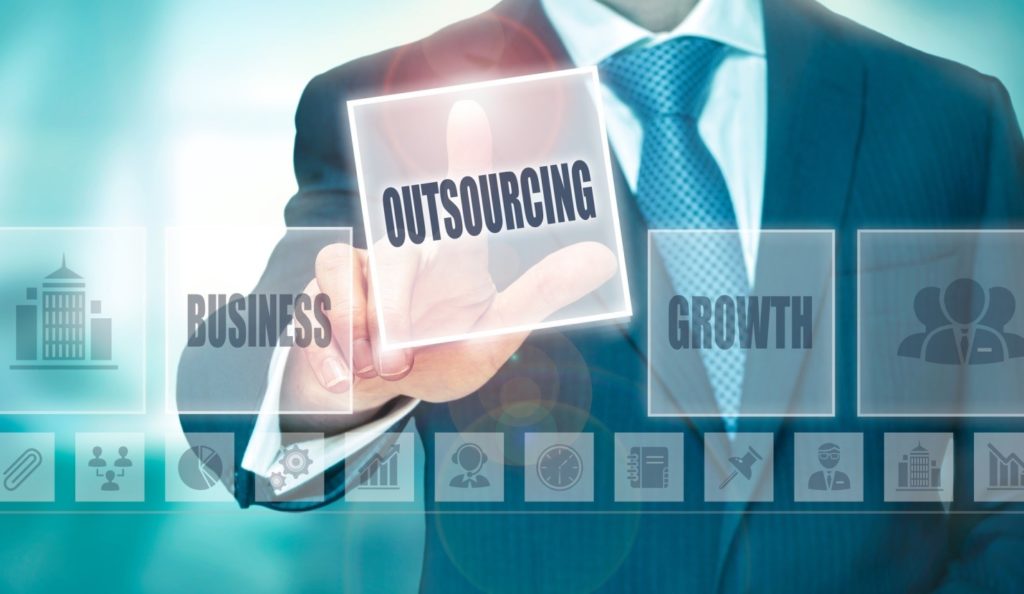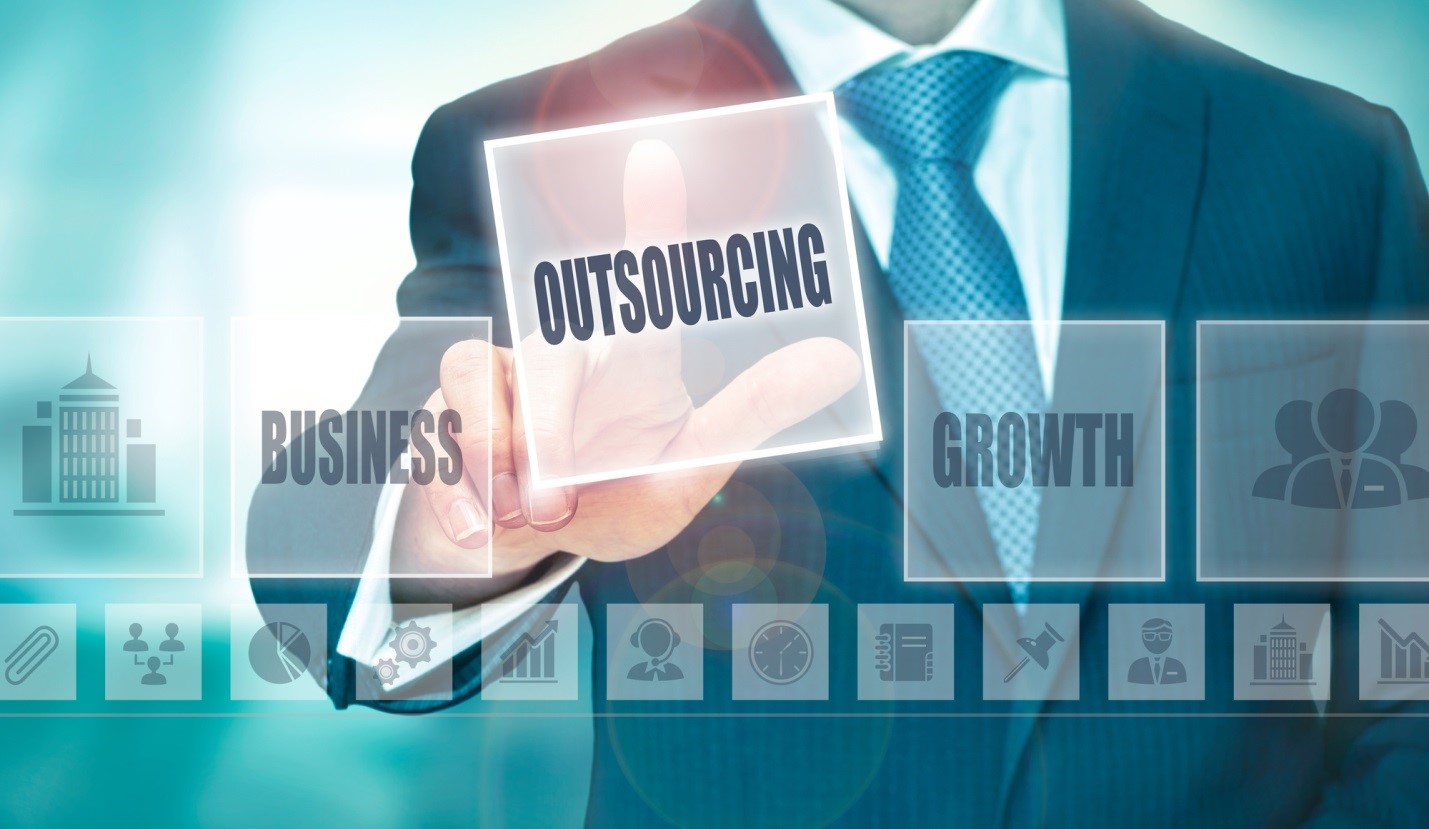 1. Accounting and Bookkeeping
Your business's accounting information must be accurate, and your records are up to date. Becoming familiar with taxation policies in additional to financial laws and regulations is a full-time job.
Certified Public Accountants (CPAs) can do this for you. Not only will they juggle your finances and keep everything in working order, but they'll also have financial advice for the future. Their insight can be invaluable in times of financial stress.
2. Human Resources
Human resource associates are responsible for acquiring new talent, but also keeping your employees happy. They also have to shoulder the tasks of handling employee benefits, managing health insurance, implementing retirement plans, and creating work-life initiatives.
There are plenty of HR firms out there who can help you attract new talent while managing the day-to-day tasks of an HR office. With a professional talent acquisition firm, you know that the onboarding process is streamlined and organized.
3. Payroll
Payroll might be one of the most essential functions of your company. If your employees aren't paid correctly, they won't react well.
A payroll department not only ensures that employees are paid accurately and on time, but handles employee holdings and deductions. A fully-managed payroll service can handle all of this for you.
Outsourcing payroll reduces the costs associated with onboarding employees. It also eliminates the cost of the equipment and software required to process payroll.
4. Creative Work
Unless you're an ad agency, you don't need full-time graphic designers and copywriters on staff.
There are plenty of websites where you can hire freelance artists for one-off jobs or long term projects.
As long as the message comes from within your company, you can hire the right people to bring your visions to life. They can create marketing collateral, provide copy-editing services, and even create a graphic identity for your company. Your visual identity might include assets such as company logos, color schemes, and fonts.
5. Information Technology Services
Your systems must always run smoothly, especially if customers rely on them. Many IT companies offer 24/7 support, so you can rest easy knowing your databases are continuously monitored.
You also must consider privacy laws and meeting regulations regarding customer data. It's vital to remain compliant, and rules and regulations change frequently.
Some companies offer monthly agreements for IT services, which ensure that your systems are running at full capacity, and you will always have access to your data.
6. Social Media Marketing
There is a reason so many advertising firms offer social media marketing as part of their overall package.
Social media marketing is essential to all businesses today, but taking the time to understand each platform and stay on top of analytics is a lot of work.
Increase your audience reach by outsourcing your social media efforts to a professional. Let them do all of the work and watch your business grow.
Digital marketing managers can promote your business on social media while generating a target number of interactions. They will also provide you with the data to discern what's working and what's not when it comes to promoting your business.
7. Skills You Don't Have
All successful business people understand that you should leave the most intricate tasks to the experts.
If you're not skilled at something, why waste your time learning how to do it if it's easy to outsource?
From writing product descriptions to content creation, you should consider hiring a company or freelancer that will elevate your business whenever possible.
8. Special Events
Event management is an important role to fill at an enterprise-level company. From internal events to public celebrations, it's essential to plan every detail.
The number of details that go into event planning can be overwhelming, not to mention time-consuming. An experienced event planner has established relationships with vendors, hotels, speakers, and more. They will provide reliable services at the best value, saving you money will providing your guests with a great experience.
Plus, you get to relax and join in on the fun if you're not the one planning an event. This can be considered a necessary stress reliever for management.
9. Data Entry
Whether you're adding new products, deleting old ones, or marking certain ones out of stock, these data entry tasks are boring, yet necessary.
Outsourcing data entry will save you and your team time so that you can focus on other, equally important, business tasks. This is a relatively easy task and a low-risk option when it comes to deciding which duties to outsource.
10. Public Relations
For your business to be successful, you must have a brand that customers trust. Public relations is vital to building a company with a positive future.
Don't make the costly mistake of handling public relations internally if you do not have high-quality PR professionals on staff. PR professionals will ensure that your business is noticed for positive reasons.
Successful public relations efforts also connect you to top influencers in your industry, which will increase the exposure of your company. PR professionals will monitor the conversations around your business and alert you when something is being said about you or your top competitors.
11. Search Engine Optimization
Most modern businesses understand the importance of optimizing their website. Starting a new site is expensive, so outsourcing is an option for those who want the job done right the first time.
While SEO is expensive, often, the cost of the service reflects the actual quality of the work. Outsourcing SEO will almost always save you money, and it's essential for enterprise businesses.
Keep in mind that you're paying for expertise. SEO is highly technical and ever-evolving. It's a full-time job to keep on top of trends and adapt to new procedures. Most business owners don't have this amount of time to dedicate to one task.
SEO is a long-term solution to a common business problem – forming a symbiotic relationship with the right company will be beneficial for years to come.
Increase Productivity by Outsourcing Business Tasks
Outsourcing is not a one-size-fits-all solution for every company. It's essential to evaluate your day-to-day operations to determine when and how outsourcing business tasks is right for your business.
When you've been heavily involved in the day-to-day activities of your business for an extended period, it's hard to let go of tasks. But outsourcing some tasks will give you the time and energy you need to do your job effectively.
Employing the help you need will increase staff productivity, efficiency, and morale. It can also give you and your employees a chance to develop new skill-sets.
Be a true leader and choose to delegate the tasks that are preventing you from scaling your business.
If you're looking for more information on the latest small business trends, news, and insights, you're in the right place. Keep browsing our website for up-to-date, informative content.
Read Also:
Author: Cathy Carter