Do you want to start a profitable startup and looking for new business ideas for the future businesses that will boom in 2023? If yes, here are some best future business ideas 2023-2030 you may like to read.
Every year, entrepreneurs start millions of small businesses around the world. But do you know that 8 out of every 10 small businesses get failed and shutdowns? There might be several reasons behind the startup failures such as shortage of funds or having no competitive advantages.
But the thing is we often ignore the latest trends while starting a business. We do not develop any futuristic approach and that's why we get failed and become serial entrepreneurs.
If you really want to start a sustainable and profitable business in the future, you will have to explore the current and future business trends for the next 10 years. You will have to analyze the problems of the people; they are facing right now or will face in the future. You will have to come up with unique and affordable solutions that will solve these problems of the people.
Developing a futuristic approach is not rocket science. All you need is to check out the latest business trends and keep your eyes on declining industries as well as on the fastest-growing occupations. You will get a clear idea.
Top 21 Future Business Ideas For Entrepreneurs
In a recently published report, World Economic Forum portrayed the demographics of future work. Considering the pandemic situation and other factors, e.g., the advancements in technology, this report depicts the most suitable future business ideas.
To help you succeed, here is the list of best future business ideas 2023-2030 which you can pursue with little too high investment.
1. Outsourcing Business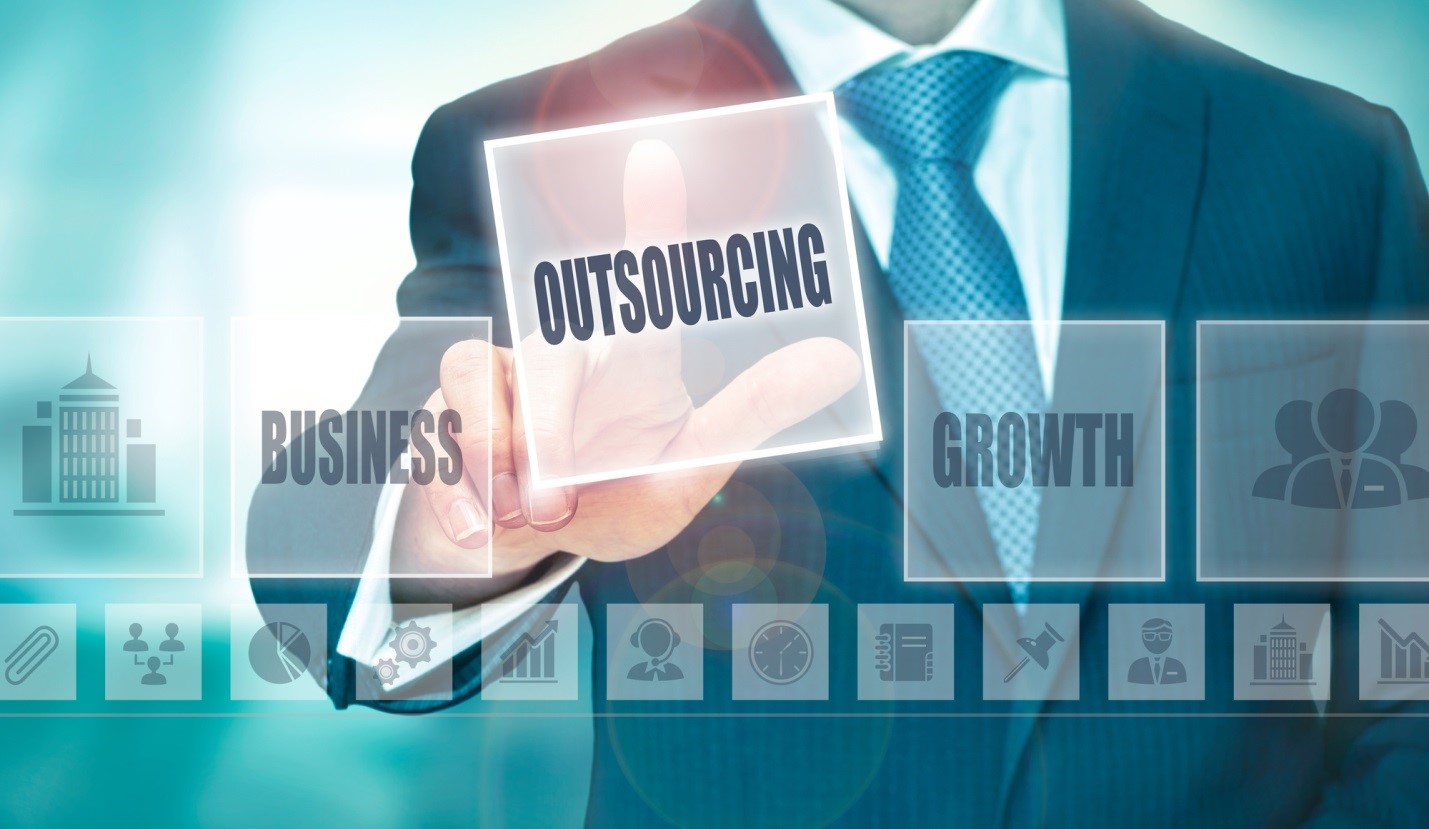 According to the WEF report, working environments will be changed in the future. The outsourcing business will boom in 2023.
Forbes revealed that 50% of Americans are working independently or making money from their own small businesses in the USA. The same trends can be seen in Australia, Canada, and the UK. But the worst thing is that if they hire native employees, they cannot make good profits due to the high operating expenses.
In order to reduce their startup expenses and maximize profits, the businesses are outsourcing their projects to the people of developing countries, where operational and manufacturing costs are relatively low. China and India are good examples for us.
At the same time, people from developing countries especially from Pakistan, India, China and the Philippines, are making good money from a freelance business. These people are offering their virtual services online and growing their businesses day by day. It can be content creating, online photo manipulation services or even customer services.
For instance: Companies often outsource their call center services to developing countries especially in India. Today, India is supposed to be a hub of the call center industry.  It means that freelancing is also becoming one of the best future business ideas in India.
Either you start an outsourcing business or freelance business, experts say that this is one of the best future business ideas you can pursue with no to little investment.  The basic things you will need to start a business are an internet connection and specific skills.
Related: 25 Best Freelance Websites To Find Online Jobs
2. Future Business Ideas For the Internet of Things (IoT) Industry
Internet of Things means every object which is being used by humans, have internet connectivity in order to send and receive data.
Mckinsey Global Institute has estimated that this industry has the potential to generate $4 Trillion to $11 Trillion in value worldwide by 2025. Believe it or not, it is one of the best future internet business ideas for upcoming years.
From the last few years, we have seen a rapid advancement in the technological sector, especially on the smartphone side. For instance, if you want to go to the office, use UBER or Lyft (a taxi service) to get an instant ride.
If you want to check the upcoming weather conditions, then there are some mobile applications through which you can check the weather conditions and take appropriate measures. Some other examples are wearable fitness devices and smart thermostats apps. In short, people are using the latest tech gadgets for their own convenience and comfort.
If you are a developer or a programmer, think about future invention ideas and make new smartphone applications that will help people in their routine lives.
Technology has also paved the way for new business models to revolutionize the way we work. Models such as e-commerce have totally changed the way we search and purchase products. And companies such as Amazon have proven the power of building an online store for shipping physical goods. Online training programmes such as Amazing Selling Machine even show people how to start and grow their very own profitable e-commerce business. The future of business is exciting!
3. 3D Printing Future Business Ideas
The 3D printing business is becoming one of the most profitable new business ideas nowadays. In the last few years, it is getting famous in all around the world because it has revolutionized the prototype manufacturing business.
Due to its popularity, the demand for 3D printers is on the horizon. Look at the following picture. You can get an idea about how much 3D printer sales have been seen in last year.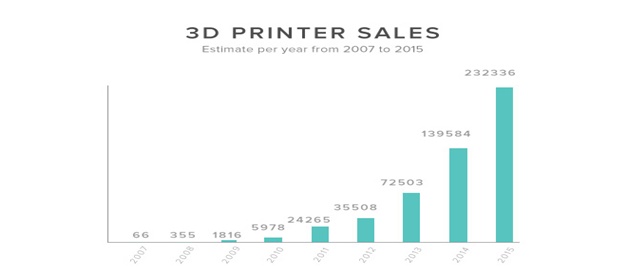 Initially, the 3D printers were highly expensive and not affordable for several entrepreneurs. As time passed, the prices gradually get decreased but still, these printers are not affordable for many people.
In the list of top 10 new business ideas, starting a 3D printing business will be a profitable future business idea. So, if you want to start your own 3D printing business, there are several 3D printing business ideas and opportunities you can avail yourself of with a little too high investment.
Currently, the prices of 3D printers start from $2000 to $15000. The prices basically depend upon the specifications and features of the 3D printers. If you want to purchase a 3D printer with good features then the price will be high.
All you need is to do is to purchase this equipment, set up a shop and start advertising your business to get high-paying clients.
4. Rise of Co-Working Spaces
The trends of future offices are going to change. Due to the high rental expenses, it is difficult for small businesses to afford a separate office. Today, people love to work in co-working spaces. It will not only help them to reduce their rental expenses but also help them to share expertise and skills with each other.
If you have a free space, then starting a Co-Working Space business will be a new business idea 2017 you can start with low investment.
Related: Can't Afford An Office? Try Shared Office
5. Future Business Ideas For Real Estate Sector
Due to the high rapid urbanization, every year hundreds of thousands of people migrate to cities. There are several reasons behind this migration such as to find jobs or to improve their living standards. Due to this trend, the need for affordable houses will rise.
In fact, it is a great opportunity for the real estate industry, brokers and construction companies to offer their services to people and make commissions. Starting a real estate agency will be a lucrative business idea for the future. If you want to start this business, you should have relevant experience and governmental license to operate in your area.
Related: 10 Steps to Ace Commercial Property Investment
6. Consumer Goods and Services Business
Experts say that the middle-class population will rise up to 3 billion by 2030. The countries where the middle-class population is increasing day by day are known as emerging markets.
With the rapid expansion of the middle class, the consumption of goods and services has been raised. It is a good opportunity for those who want to start a goods and services business.
There are several new business ideas you can transform into a real startup such as starting a chain Store, import and export of goods on a small scale and much more.
7. Healthcare Industry
According to Fortune, the healthcare industry will also grow in the future. Preventive medicines will increase rapidly, while the general healthcare practices will be replaced by personal healthcare practices.
On the other hand, the Labor department of the United States revealed that 10 out of every 20 fastest growing occupations are related to the healthcare sector.
These trends are due to the rapid expansion of the population. In fact, these trends will impact on the future healthcare industry. If you want to jump into this industry, you will surely enjoy a high return on your investment.
Read Also: 25+ Profitable Healthcare Business Ideas for Aspiring Entrepreneurs
8. Starting a Consultancy Business
In the list of top 10 new business ideas, consultancy business is a good opportunity for professionals and experts in the future. In upcoming years, the consultancy business will boom because of several factors.
Some are positive while some are negative such as increasing unemployment issues worldwide, high inflationary rates or the rise of entrepreneurial trends. You can help people in order to resolve their problems. You can start different kinds of consultancy business such as
Educational Consultant Agency
Recruitment Firm
Career Consultancy firm
Customer Consultancy etc.
9. Collaborative Economy Business
It is predicted that businesses that are based on collaborative economy models will enjoy immense success in the next few years.
Some good examples are Airbnb, UBER, and LYFT. These types of businesses not only help the final customers but also assist the service providers and ultimately, they make commissions.
This type of business needs good business planning and investment.
10. Renewable Clean Energy Supplies
No doubt, the world has advanced ever than before. But still, we are facing lots of issues right now. In all of them, energy is a big problem in many countries, especially for emerging markets.
To generate energy, some Asian countries are still relying on traditional sources of energy such as hydro, nuclear and coal power plants. Energy generation from these sources are supposed to be hazardous to our environment (Experts say).
But on the other hand, scientists are emphasizing on the renewable energy sources through which the environment can be saved. It is a great opportunity for those who want to start a business on a medium scale.
There are numbers of green business ideas you can think about. Select the right startup idea that requires minimal investment and experience and start your business today.
11. Health and Fitness Tech Industry
Maintaining your fitness to a healthy level is a dream for many. Joining clubs and gyms and visiting them on daily basis becomes tiring and mostly is discontinued after a while.
That is why virtual fitness training with various apps and equipment is becoming in. People opt for virtual training sessions over regular gym training.
If you are looking for a business to invest in, health and fitness technology will surely multiply your riches.
12. 3D Laser Scanning Services
3D laser scanning is a new field that is growing and blooming day by day. It allows us to get much complicated tasks done with little to no complexity.
The invisible laser beam measures the dimensions of the object and helps the customer in various tasks by providing 360 videos and 3D images.
3D laser scanning provides services in various business sectors, e.g., real estate, construction, map making, as-built surveys, 3D/2D manufacturing, etc.
The present estimated size of the 3D scanning industry according to the global viewer research is 5.4 billion USD in 2020 which is expected to incline to a total of 8 billion USD by 2025 with a CAGR of 8.4%.
13. Online Therapy
Therapy is something that is dearly needed in the presently tensed social and work environment. But unfortunately, social stigmas and busy work routines do not allow people to consult a therapist by visiting his clinic.
Online therapy is a game-changer in this respect. Therapy through skype calls, phone calls, texting, e-mailing, etc. is turning into a real thing. People feel easy and light-weighted by sharing their sorrows with someone who can console them and help them to work on their mental strengths.
Investing in online therapy businesses, e.g., opening online platforms, such as websites, social media handles, etc. are some ways to attract the audience.
The market value of the online mental health market grew at a CAGR of 22.5% from 2016-2023 and is expected to grow even at a larger rate in the future.
14. VR Technology Business
Virtual Reality is a huge business sector. It is connected with other various business sectors. VR technology in the future will assist teachers, manufacturers, tourists, engineers, healthcare workers, and many more professionals in their respective fields.
This technology provides an almost real representation of virtually constructed scenarios, buildings, and other things. Investors are advised to invest their riches in this field to get a profitable outcome in the near future.
The virtual reality market size was at 10.32 billion USD in 2019 and is expected to grow with a CAGR of 21.6% until 2027.
15. Electrical Cars and Electrical Charging Stations
The expected exhaustion of fossil fuels will need humans to find out a new energy source for various purposes, especially for running our cars. Electricity is thought to be a great alternative. Not only it can overcome the deficiency but also will be a pollution-free solution.
Many car companies have started their struggle of constructing a successful electric car. Besides electric cars, their charging will require charging stations instead of the presently available fuel or gas stations. Investors can invest their riches in electric car construction for now and in the future can invest in charging stations.
16. Cyber Security Industry
With the increased usage of the internet and computer technology in various sectors, criminals are getting into this business too. Stealing content and other useful information, cyberbullying and many other crimes are being evolved and are spreading rapidly.
To stop this crime rate, companies and governments make their own cybersecurity wings that protect their information from cybercriminals.
The global size of the cybersecurity market is $152.21 billion which will increase with a CAGR of 11.02% until 2023 to a total of $208.28 billion.
17. Home Solar Energy Setup Business
Solar Systems are the most effective energy production solutions. Running a whole house electrical production by installing solar panels is being practiced in various regions in the world. This practice is expected to become a common household in the near future.
Also, be careful about legal perspectives, licensing, registering, etc.
Opening a solar energy setup business will prove to be highly profitable. You can open your own home solar energy setup business with high to low investments.
18. Virtual Doctors/ Medical Apps
With the advancement of IT and AI and also due to the present pandemic situation, virtual services are becoming a big thing. People are preferring virtual services over physical ones. Similarly, providing virtual medical services is a great idea.
Investors and developers are developing medical apps where doctors provide their services and patients use these services. Besides doctors, there are apps where you can find pharmaceuticals and get them delivered to your doorstep.
Due to the convenience that they provide, these apps and services are rapidly gaining popularity and are expected to take over a large part of physical healthcare services.
According to BusinessWire, the virtual healthcare delivery market was estimated to be around $21 billion dollars in 2016, which is expected to grow to a total of $95 billion by 2026.
19. Online Gaming
Online gaming is surely a very much lucrative business option. Also, online betting and other gaming sites are earning a handsome deal of money by properly utilizing the advantage.
You will have to work on various perspectives to run a successful online gaming business. But if you efficiently manage all that, you can surely get your hands into something highly-profitable and beneficial.
The gaming business being online won't require much investment. If you can develop a game by all yourself, it would save even more of your investment. However, if you are a mere investor, you can still run an online gaming business with a little too high investment.
20. Manufacturing of Artificial Body Parts
The merging of biological sciences and engineer had emerged many new business sectors. The manufacturing of artificial body parts is one of such most amazing sectors.
Finding a solution for the birth disabilities and others that occur during life due to some accident has been one of the prime focuses of doctors and researchers. The merging of engineering with medical sciences evolved a very efficient solution for this problem.
Being an investor, you can invest your riches in this business. However, being either an engineer or a medical professional will surely help you out in your business.
21. Vertical Farming
The human population is increasing at a very fast pace. This increased population is being forced into the farming lands occupying a major portion of the fertile land. Although the larger population requires more food, it is limiting our resources of food production.
This imbalance in food production and consumption needs to be resolved for the survival of the human race. Vertical Farming provides a very efficient solution to this problem. It is the utilization of farming techniques, i.e., hydroponic, aeroponic, aquaponics, in vertically arranged soil layers in an agriculturally altered environment.
Investing your money in vertical farming might prove highly beneficial for you, in the near future. This business proves to be more profitable than greenhouse agriculture because of denser products.
Some Other Future Business Ideas
Following are some of the more business ideas that you can adopt in the future to earn a good profit within 2023-2030.
22. Food Vending
23. Veteranians
24. DNA Design Firms
25. Holographic Theatres
26. Ghost Kitchens
27. Cryobank and Stem Cell
Are You Ready For Fourth Industrial Revolution? 
According to many experts, the world is moving toward the fourth industrial revolution (industry 4.0). The fourth revolution will be composed of biological, digital and physical spheres. In easy words, it will be cyber-physical systems.
Large multinational companies are investing a huge amount in Nano Technology, Bio Technology, Genetics, Al and machine learning, the internet of things and 3D printing. They are investing because they know they can avail good opportunities in the future.
Lastly, it is hard for anyone to predict future business ideas and trends. But if you analyze the previously available data and current trends, you can easily imagine the future trends and develop new business ideas for the future accordingly. Best of Luck!
You May Like To Read: