Marketing your business to ensure growth requires you to master the best marketing tips. When you have the right information, you will employ the right marketing channels to boost your business.
That is why I am here to tell you that social media is the most effective form of marketing in terms of engagement, conversion, and creating brand awareness. It also allows you to connect with your prospects directly via messaging.
7 Tips for Social Media Advertising in 2020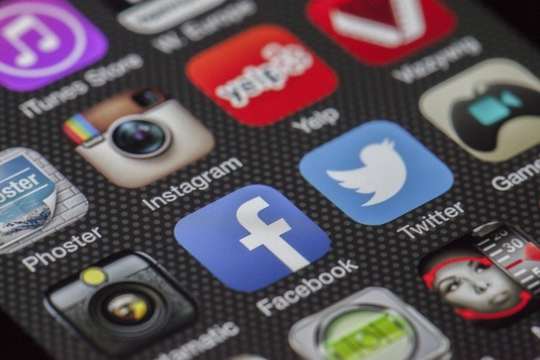 Businesses have also discovered that social media is more affordable when you compare the investment and ROI.
But before you dive into social media advertising, you need to understand what platforms are ideal for business marketing.
And remember each social network works uniquely from the rest, and your targeting is the main consideration before you decide to start advertising.
In this post, you will learn about the seven best social networks for promoting your business. You will also learn about the tips that will help you get the best results with your social media advertising goals. Here are the best social networks to market your business for effective business growth.
1# Facebook
The number one widely used social media network hosts over two billion monthly active users. This number represents more than one-quarter of the total population around the world.
Of these, 1.1 billion users speak English. Facebook has also thrived into the deepest villages of the ends of the earth, giving you an opportunity to reach the entire globe easily.
Facebook is the best place to be if you intend to gain leads for your business. Facebook ads that take users to the landing pages convert better.
You can use this option to harvest leads for further marketing needs. Discount coupon codes and ebooks or custom e learning are some of the common adverts that entice Facebook users to drop your their email address.
2# Instagram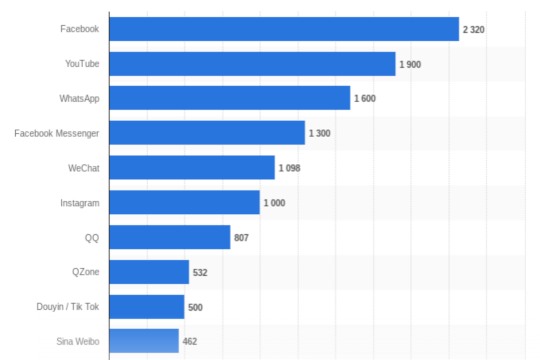 Social media users (in millions)
Among the networks you can advertise on, Instagram is the fourth common social network by use. This ranking does not count Messenger because it is part of Facebook. I also excluded WhatsApp because, currently, we cannot push ads to WhatsApp users.
Instagram has a better engagement rate compared to other social media networks. 75% of Instagram users are likely to visit your website once they come across your post.
So, you need to get Instagram followers who are more interested in your business model to boost the engagement and conversions further.
3# LinkedIn
LinkedIn features B2B advertising, but it also works well with B2C marketing. On LinkedIn, you can expect high returns for recruitment ads, higher education, and B2B aimed connections.
You can tell the reason is that the network is common among college graduates and people looking for opportunities for growth.
4# Twitter
Twitter has 351 million active monthly users, and it is the second largest social network in the UK. The use of hashtags trend on Twitter enables businesses to reach more people interested in their business industry.
But engagement on Twitter is not as high as Instagram and Facebook. Twitter is, however, an ideal place to reach your followers organically. For advertising, Twitter is good for product promotions and creating brand awareness.
5# Pinterest
Pinterest is not as common as Facebook. But it works well with brands that promote visual content the same way as Instagram. Users on Pinterest are twice as glad as those who use other social media platforms.
And the image results from Pinterest dominate on Google Search, making the site's use wide among women – 83% in America. Targeting your business to women can boost your performance on Pinterest.
6# YouTube
YouTube is the second website in terms of traffic, and it is also the largest video sharing website ever. YouTube users consume more than 1 billion hours of video per day.
You have a good opportunity to showcase your business on this incredible network. And, averagely, 18+ people in America spend more time on YouTube than watching TV.
You can create a short video for your YouTube advertising. If you have no videos, YouTube will guide you through, and you will still publish your ads.
Targeting on YouTube makes use of the user's Google account (when signed in) and the cookies on their computer based on recent searches on YouTube and Google.
7# Snapchat
Snapchat advertising might be young in the list of social media advertising channels. But, you can still make use of it to meet your business needs.
But you need to remember that Snapchat is ideal for companies that target youths and young adults. The good news about Snapchat is that on any day, you can be sure to reach 41% of the youth aged between 18 and 34 in the US.
Summary
Now you know that marketing on social media networks can boost your business with fast, effective, and reliable results.
You can choose the best platform based on your business model. One thing, however, you will need to remember is that the cost of advertising is different on each network.
Targeting your ads to the audience that meet specific criteria will help you to get your business before the right audience.
You can filter who will see your ads by age, gender, and their country, city, or region. On some networks, you can still narrow the users down based on their interests, job titles, and device types.
Author's Bio: Harold is a passionate writer. She enjoys writing about the latest trends all around the globe. Through her writing, she hopes to influence as many people as possible to help build a beautiful world.